Cuba cultural highlights
---
MAKE THE MOST OF YOUR TIME
Most visitors are surprised at the size of Cuba – it's the largest Caribbean island by far, and if you're travelling all the way over to the southeast, it's likely you'll take internal flights to avoid spending entire days on the road. Outside the cities, roads are poorly signposted and fairly potholed but empty of traffic – so travelling between Cuba's cultural highlights in a private or public bus (usually surprisingly comfortable, air conditioned coaches) is no problem. Self-drivers will need good maps plus GPS or a mobile app which doesn't rely on the Internet. Basic Spanish is highly recommended too – at some point you'll need to ask directions.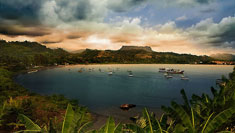 Baracoa
The road to Baracoa was only laid in the 1960s; until then, this little seaside town was only accessible by boat. Even today, it feels remote – but those who make it here find themselves falling in love with its unique character. Baracoa sits at the edge of towering mountains, verdant rainforests and the flat-topped El Yunque Mountain – a perfect mix of nature and culture.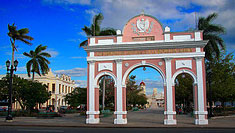 Cienfuegos
The UNESCO city of Cienfuegos is known as the "Pearl of the South". Set on a dramatic bay, the relatively well preserved colonial architecture and 20th century palaces make it appear brighter and fresher than most other cities. The museum documents Cienfuegos' French colonial history, but this is a lovely spot for just wandering (hassle free) and relaxing by the Malecón.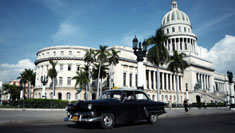 Havana
Havana is everything you've seen in films and photos – and more. The capital's old quarter is a UNESCO Site, and the Malecón is patrolled by 60-year old classic cars. Musicians dominate every corner, plaza and bar, while the sound of dominoes and distinctive Spanish echo around the half empty homes, their windows open to the narrow streets.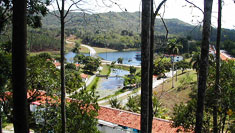 Las Terrazas
Chile's answer to the Swiss Alps is chocolate-box beautiful, with slivers of lake between snow-tipped volcanoes and verdant valleys. German settlers brought beer and bakeries, but this is also the heartland of the Mapuche, adding a potent weave of native culture to an idyllic landscape where visitors can enjoy kayaking, white water rafting, volcano hikes and hot springs.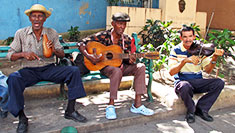 Santiago de Cuba
Edgy, industrial Santiago is not a charmer at first glance; this proudly Afro-Cuban city is loathed by some but utterly loved by others. Santiago sees Havana's offerings and ups the stakes – more crumbling, more heat and humidity, more hawkers, more vibrant music – all with the mysterious religious backdrop of Santeria brought over from West Africa by the Yoruba people.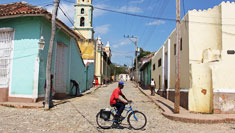 Trinidad
Trinidad's gloriously preserved colonial architecture reflect its Spanish and French history – while the ruins of the surrounding sugar mills and deeply Afro-Cuban culture tell of its dark slave past. Today, the city is vibrant and friendly – and one of the best places in Cuba to see live music; head to the plaza in the evenings for seductive salsa rhythms.
Cuba cultural holidays travel advice
---
TIPS FROM OUR FRIENDS IN CUBA
Tracking down
authentic culture
---
Georgina Johnson, from our supplier Chimu Adventures: "Certain things are touristy like the Tropicana show. You also have the Buena Vista Social Club evenings at the Hotel Nacional. The hotel has loads of history and it's amazing to go there, but now there are only one or two original members who are still alive. It's great, but when I went there the whole audience was full of Western tourists all sitting very still, not dancing, and there's not that Cuban atmosphere that you'd expect. You want more local places like Havana's Casa de la Música and Cafe Cultur; even the Casa de la Música in Varadero is really good. They have fantastic live acts that you'd pay £50 to see in the UK, and you see them for a fiver up close in Cuba."

Adam Roberts, from our supplier Exodus, shares his Cuba travel advice:
"Learning some Spanish goes a long way – especially if you are staying in casas. Your hosts may not speak a word of English, so if you can tell them what time you'd like breakfast and how you'd like your eggs, not only does it make your life easier but it puts your hosts at ease. People are so friendly in Cuba, so if you do go that extra mile you'll find it really rewarding."
Money advice
---
Adam Roberts, from our supplier Exodus: "Get hold of some national pesos. Although you don't strictly need them as a tourist, some places only sell drinks in the national currency so if you want to go to the places that the locals go to then you will need the local currency. For getting around in Havana, you can get a colectivo taxi, where you pay 10 national pesos and get into one of the old vintage cars, which is a shared taxi with the locals. They go on a set route. Some of the street food too you have to pay in national pesos, so it's good to have some with you."
Staying with the locals
---

Clarita Derwent, from our supplier Cuban Adventures:
"A lot of people think the quality of the homestays won't be the same as a hotel. They want more luxury so they stay in a hotel What they don't realise is that state-run hotels are not better quality and a lot of them have problems with hot water and staff who don't particularly care as they don't get paid according to the service they provide. One of the best things Cuba has is its casa particular network; they're like B&Bs – family-run little businesses."
Keeping an open mind
---
Adam Roberts , from our supplier Exodus: "I went with a general idea of Cuba and what it meant to live in a socialist country, but after spending time there some of the realities really sank in - of living on a ration system, of getting paid in one currency but needing another currency to actually buy stuff that you need, not having a choice in what you're doing... The people seem quite content with their rather small lot, then when you actually speak to them you realise they are all desperate for modernisation. People say "you have to go now before it changes", and I think it will - slowly - but I also think that it's a good thing and that it's necessary for the Cubans, whether that means them being allowed foreign investment, or privatising more enterprises. As much as I'd love to preserve it the way it is now with all the 1950s cars and crumbling buildings, I really hope that people suddenly get more opportunities in their life, so that if they work hard they can get rewarded for it."
Hello.
If you'd like to chat about cultural Cuba or need help finding a holiday to suit you we're very happy to help.
Rosy & team

01273 823 700
Cuba cultural holidays travel advice
---
TIPS FROM OUR TRAVELLERS
At Responsible Travel, we think the best people to advise our travellers are often... other travellers. They always return from our tours with packing tips, weather reports, ideas about what to do - and opinions about what not to.

We have selected some of the most useful Cuban cultural travel advice that our guests have provided over the years to help you make the very most of your holiday - and the space inside your suitcase.
Read up on the history a bit before coming. It is truly a fascinating country and to understand why/how it is at present you need to know what has taken place over the last couple of decades. - Audrey Lum

We were delighted that we could make a positive impact through tipping, giving gifts and items not readily available due to the long running embargo to guides, local people, schools and musicians. The information provided by our agent in advance of our holiday ensured that we collected some of items that would be of most use (toothpaste, toothbrushes, books, pencils, toiletries etc) which we were then able to pass out to people as we travelled. These gifts were graciously accepted, and at no time we get a sense of being patronising in the process. - Colin Peak

Take ear plugs for the homestays in the more rural areas as the cocks, pigs and dogs wake up very early and make a loud noise! - Pat Bland

What ever it is you've been told about Cuba it will probably be somewhat different when you go. Don't expect a typical tourist trip where everything is to hand but do give your time to wander through the streets, talk to the people, look at the amazing buildings which may not exist anywhere else in the world and enjoy the food – especially the fish and seafood. - Charmian Hobbs

Take precautions – whilst most people are really friendly, don't be fooled into letting your guard down. Don't do anything that you wouldn't be happy to do in your own home country. Would you for example go off with a complete stranger without telling someone? I think not. I travelled with a female friend and I can't think of a time when we felt threatened or uncomfortable. Yes we were hassled, but you just deal with it with a good humoured no thanks and that generally did the trick. - Shireen Alsalti

Be flexible and prepared for anything! Cuba can be a very frustrating place, as government control means that things operate in a completely different way to most countries you will have been to. Don't let it get to you - it's all part of the experience! - Helen Peake