There are hundreds of kilometres of wide gravel trails leading through the forested river valleys on the western slopes of the Troodos Mountains, ideal for MTBs. The island's highest peak, Mt Olympus (1,952m), is also in the Troodos, if you fancy a steep climb and cooler temps. Quiet, car free roads lead to pretty harbour villages on the northwest coast, like Latchi, and the beautiful blue lagoon beaches either side of the Akamas Peninsula, including the fabled Baths of Aphrodite. In Northern Cyprus the fist of the Five Finger Mountains provides a challenge before seeking flatter coastal routes to seaside villages, either side of Kyrenia. There's also a 200km road route from Nicosia to Akamas – worth undertaking over five days before enjoying an additional day at the beach to toast achievements.
Our Cyprus cycling Holidays
Self-guided cycling & cultural holiday in Troodos
From
€1120

to

€1700
8 days
ex flights
1. Akamas Peninsula
The rugged coastline around the Akamas Peninsula provides ample opportunities for cyclists to park pedals and plunge into the Med. The flat and easy going 15km route from Latchi harbour to the Baths of Aphrodite is no exception. For more of a challenge, continue west along the coast on the Akamas Trail past creeks, sand bars and a few sharp descents for a further 15km to Cape Arnauti.
2. Akamas Ridge
The ride across Akamas Ridge from Latchi is really stunning with views over the Baths of Aphrodite to the east of the peninsula and Lara Beach to the west; certainly worth the 600m climb over 30km. Dusty, off road exits allow for even steeper climbs overlooking the coast, with almond trees, citrus groves and fields of wheat adding to the carob, juniper and pine filled salty sea air.
3. Northern Cyprus
Cycle either side of Kyrenia and you'll find flat coastal routes leading between beaches and seaside villages. The further east you venture towards the Karpass Peninsula, the wilder and sandier routes become. The fist of the Five Finger Mountains makes for a magnificent backdrop if you're up for some off road antics with sections of the Besparmak Trail worth clicking through the MTB gears.
Stavros Mountain to the sea
4. Stavros Mountain to the sea
This 38km route is largely downhill with vehicle wide trails through Paphos Forest allowing for a lovely, lazyish descent towards the coast. Around midway you'll reach Ayios Merkurios picnic site, so pre-pack panniers accordingly. A slight uphill through the citrus groves leading to Argaka village lets you work off lunch before downhill all the way to the beach and maybe a pint at the Fly Again pub.
5. The Lysos Loop
This 28km, on/off road, route winds through the pines prior to a well earned café break in Lysos. Another steeper climb – let the caffeine kick in – takes you up to a rocky ridge overlooking the village before committing to a lengthy descent past the abandoned villages of Melandra, Zacharia, Istinjo and Sarama. A final climb out of the gorge and you're back onto tarmac and home in time for humus.
6. Troodos Mountains
Temps up in the Troodos are cooler than the coast and even in the summer you'll find respite from Cypriot sunshine. High alpine forest and rugged rocks flank paved roads and dirt tracks for a 57km circuit without any major altitude variations on 400m. Start from Troodos Square for a good choice of trails, including a steep summit to the top of Mt Olympus, as well as a handy info centre and coffee shops.
Our top Cyprus cycling Holiday
Self-guided cycling & cultural holiday in Troodos
From
€1120

to

€1700
8 days
ex flights
Tailor made:
This trip can be tailor made throughout the year to suit your requirements
If you'd like to chat about Cyprus cycling or need help finding a holiday to suit you we're very happy to help.

CYPRUS CYCLING HOLIDAYS ADVICE
Helen Smeaton, co-founder of our supplier Wheelie Cyprus, shares her top tips for cycling in Cyprus:
Staying safe
"Never cycle without a helmet. Stay hydrated, especially during the warmer months. Carry a spare inner tube and sufficient tools for minor repairs (if a bike hire company doesn't provide a spare inner tube, use someone else.) Pack panniers with waterproofs, sun cream and energy bars. Be prepared for all eventualities. Always let a friend or accommodation host know which route you're following and how long you expect to be gone for. Make sure your mobile phone is charged and also contains emergency numbers; there's good phone reception on Cyprus apart from in the depths of forests. Finally, remember to ride on the left and watch out for red number plates; these are tourist cars."
Where to avoid
"We don't recommend routes or guided rides around ancient sites as they are in built up areas, such as the UNESCO Tombs of Kings and Roman mosaics in Paphos or the ancient city remains in Kourion. Of course, there's nothing to stop you cycling on the road to these sorts of sites but we prefer the quieter rural roads of the 'real' Cyprus far from tourist crowds and lots of traffic."
Summer cycling
"It's possible to cycle in Cyprus in the summer, you just need to get up really early – 5am – to make the most of the cooler temperatures at dawn. This is a truly beautiful and peaceful time of day with no one else around apart from birds, goats and the occasional wild mouflon [wild sheep]. You get to watch the sunrise which is often just as amazing as catching the sunset. Do be aware that coastal roads tend to get much busier in peak summer season."
Making tracks
"The Akamas Peninsula, Paphos Forest and the Troodos Mountains are best for MTB trails. Troodos is for more technical riding and steep climbs (if you want to ride to Mount Olympus). Cyprus has hundreds of kilometres of vehicle width gravel forest trails to satisfy MTB enthusiasts. For road cyclists some of the forested areas leading into the Troodos region are a delight – quiet, almost car-free, roads, stunning scenery and, in the heat of summer, 5°C cooler (10°C at top of the island on Mt Olympus)."
At Responsible Travel, we think the best people to advise our travellers are often... other travellers. They always return from our tours with packing tips, weather reports, ideas about what to do - and opinions about what not to.
We have selected some of the most useful Cyprus cycling holiday tips that our guests have provided over the years to help you make the very most of your holiday.

We also gained insight into the island's history when cycling through the deserted villages - a legacy of the 1974 Turkish invasion

Responsible traveller, Emma Parry, enjoyed a self guided cycling holiday in Cyprus during mid-February 2018; here are her top tips and experiences:

"The Akamas ridge was truly spectacular and very rewarding, with stunning views of both Lara Bay and the turquoise waters of the blue lagoons. We had some pretty special picnics too - nothing beats finding the perfect spot to eat delicious bread, cheese, tomatoes and ultra fresh oranges after a good morning spent cycling. For extra energy, buy the local peanut brittle bars, they were extremely yummy!"

"We loved exploring three different areas of northwest Cyprus. We had a different route for each day's ride, so whether it was exploring the mountains and valleys, or hugging the rugged coastline along the Akamas peninsula, each ride gave us plenty of stunning views to enjoy."

"Be prepared for all weather conditions. We took panniers, which were a God-send as we could pack all our wet-weather gear, as well as suntan lotion (we needed both). This also gave us room for taking picnic food, snacks and extra water, for the days when we wouldn't be cycling through any villages. That said, we arrived in mid February, so not all the tavernas were open in the mountain villages; sometimes eating at the hotel was the only option."

"Seeing almond trees in blossom as well as orange and lemon groves added to the beauty of the area. We also gained insight into the island's history when cycling through the deserted villages - a legacy of the 1974 Turkish invasion."

The Akamas ridge was truly spectacular and very rewarding, with stunning views of both Lara Bay and the turquoise waters of the blue lagoons

More about Cyprus cycling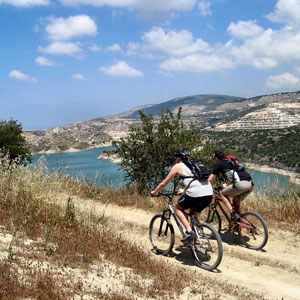 With forest trails, flat coastal routes and tarmac roads around the Troodos Mountains, Cyprus's routes appeal to mountain and road bikers alike...