Best time to go to Equatorial Guinea

Equatorial Guinea has a tropical monsoon climate, so aim for the dry season. Not only can you pack away your raincoat, you could also spy nesting sea turtles.

Equatorial Guinea lounges just above the equator, so heat, humidity, rain and cloud occur all year round. However, it also has distinct wet and dry seasons. Dry season is the best time to visit Equatorial Guinea, but it occurs at different times on the islands and continent. Bioko Island is driest November to February, when overcast skies and 25°C temps are the norm, and sea turtles nest on the southern beaches. The mainland is generally driest from June to August. Bioko's wet season usually runs from March to October, while mainland cities like Bata are wettest around November, the rains keeping the rainforests and mangrove rivers well-fed.
Equatorial Guinea Weather Chart
Things to do in Equatorial Guinea
Things to do in Equatorial Guinea...
Eat outside the hotel, where you'll find Central African recipes with a Spanish twist. Grilled crayfish, fish barbecued in plantain leaves, sweet potato and peanut stews and spicy pepe soup are all staples. Just beware of bushmeat: monkey is a common sight at markets. Equatoguineans also love their wine, drinking the most bottles per capita of any African country. Sweet palm wine is the cheap (and heady) favourite.
Listen out for festivals. While Roman Catholic in name, many Equatoguineans respect tribal traditions revived after gaining independence from Spain in 1968. Christian feast days are a big deal, often combining church blessings and all-women choirs with joyous balélé dancing to zither, harp and drum bands. French and Spanish are the official tongues, but you'll also hear songs in languages like Bube and Fang.
Avoid the malls aimed at expats and oil barons. Markets are the best place for authenticity and atmosphere; friendly haggling is encouraged. Poaching is widespread though, so if that wallet looks like it's made from crocodile skin, it probably is. Instead, watch out for gorgeously polished wooden bowls, fresh coconuts and CDs of local artists like Latin pop duo Hijas del Sol.
Travel with your eyes open. Independent watchdog Freedom House ranks Equatorial Guinea among the ten least democratic countries in the world. President Obiang Nguema has ruled since a military coup in 1979, and the elections and press are heavily regulated. Plus, despite the eye-watering wealth around, most Equatoguineans have a low life expectancy linked to poverty and a lack of accessible healthcare.
Things not to do in Equatorial Guinea...
Hobnob with the oil barons. Nothing quite illustrates the gulf between rich and poor like the sight of politicians and businesspeople sinking champagne in the sleek hotel bars of Bata. The rest of the population only glimpses the millions brought in by the offshore oil and gas deposits.Expect to see big game in Monte Alen. This national park in Rio Muni has been touted as one of the most underrated national parks in central Africa. These days, though, neglect has led to deforestation and poaching of the elephants and gorillas that once roamed in their thousands. Technicolor birds, butterflies and insects still mill around the treetops. Leave your passport at the hotel. ID checks are common, so always keep a copy of your passport and visa on you. Bank on getting a view from Pico Basilé. Coming in at 3,011 metres tall,  the highest mountain in Equatorial Guinea can occasionally afford you spectacular panoramas over the whole island and Cameroon. But although the vistas can be magnificent, the weather mostly makes for a foggy drive through forests; if the weather looks good, your guide can drive you to a viewpoint. Photograph government buildings like ports, bridges and presidential palaces. Snapping pictures of these admittedly grand structures can carry a hefty fine.
Our top trip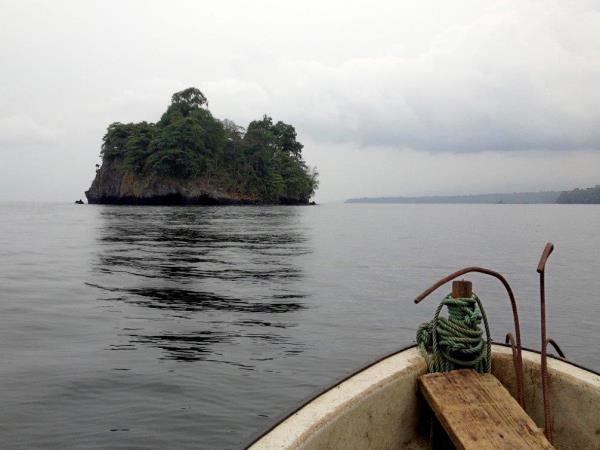 The highlights of one of Africa's least known countries
From
£3399

to

£3499
11 days
ex flights
Small group travel:
2024: 14 Jan
2025: 12 Jan
If you'd like to chat about Equatorial Guinea or need help finding a holiday to suit you we're very happy to help.

Equatorial Guinea holiday advice
Jim O'Brien, from our leading supplier of Equatorial Guinea holidays, Native Eye Travel, shares his travel tips for this under-visited country:
Political & natural history
"Equatorial Guinea tends to be the sort of place that people visit once they've visited everywhere else, but it's a fascinating destination in its own right, with some interesting – if often rather difficult – modern history. It's a great place for wildlife, in particular birds and primates."
Turtle country
"A favourite thing to do is to watch turtles come ashore to lay their eggs – always a special experience. As well as this, the trek to the crater of Lake Biao is worthwhile, with great views and the chance to see primates if you're lucky."
A warm welcome
"I'd been expecting difficult policemen, a lot of wasted time at roadblocks and a slightly 'sinister' atmosphere, but found the country to be open and welcoming, especially in the more rural areas. I didn't find that the politics affected how I travelled Equatorial Guinea."
Spanish past
"With the exception of Western Sahara, Equatorial Guinea was Spain's only colony in Africa, surrounded by a sea of French colonies. To this date Spanish is spoken here, although by virtue of its neighbours French is a second language."
More Equatorial Guinea articles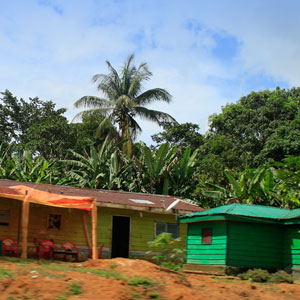 Equatorial Guinea is one of central Africa's smallest and least visited countries, comprising five islands, the biggest being Bioko, and a mainland territory called Rio Muni. Read our Equatorial Guinea travel guide to find out how to traverse the wild islands, endangered national parks and oil rush cities – and all with an understanding of the politics and people that shape the country.