The polar bear will see you first. It can smell prey from over 30km away, has the patience to wait you out, and has a lack of fear that comes with being at the top of the food chain – a few of the reasons why polar bears survive in the harsh and shrinking landscapes of the Svalbard archipelago, in the far north of Norway.
Once the polar bear clocks you, chances are that it won't be able to resist checking you out – as Simon Rowland, Managing Director of our
polar bear tour
experts Wildfoot Travel, found out.
"The polar bear came closer and closer over the next half hour," says Simon. "And within 35 minutes, it was up at the side of the vessel… It swam; it rested its paws on the vessel; it scratched itself on the ice like a dog would on a carpet. You felt like you could jump off and give it a big cuddle."

Svalbard is hands-down the best region of Europe for wildlife. You don't have to look hard – it's all around you.

The guides on your tour will probably advise against cuddling a 500kg polar bear that might not have eaten in 10 days. They're experts in their field – and they'll usually be the people who first spot the polar bear, thanks to their trained eye and knowledge of the vast landscapes around you.
Polar bears are generally shy, solitary animals that stroll a home range of hundreds of kilometres. Their territory isn't fixed like other carnivores, because the icy landscape is constantly changing. And although – as with all wildlife tours – polar bear sightings are never guaranteed, you're in for an excellent chance of seeing one in Svalbard.
It was a "life-changing" moment for Simon, who saw 11 polar bears in two weeks while on an Arctic cruise. But perhaps the biggest surprise was the rest of the wildlife around. "We came out of the port," says Simon, "and straight away there was a massive feeding frenzy of whales, dolphins and birds."
You might go with polar bears in mind, but it's impossible not to get caught up in the dramas of other local characters: walruses crashed out next to abandoned whaling stations; ringed and bearded seals snoozing on pack ice; 12 species of whales, including ghostly belugas; over 10,000 Svalbard reindeer; crafty Arctic foxes. Colossal black-legged kittiwake and Atlantic puffin colonies have to be seen (and heard) to be believed, and you can look out for more delicate birds – Svalbard rock ptarmigan and common eider.
"Svalbard is hands-down the best region of Europe for wildlife," says Simon. "You don't have to look hard – it's all around you."
Where to see polar bears in Norway
Polar bears live in Svalbard, an Arctic archipelago halfway between the Norwegian mainland and the North Pole. This wilderness is rugged and remote: tundra, glaciers, fjords, hulking ice shelves and freezing seas that seem inhospitable but in fact house millions of whales, birds, Arctic foxes, reindeer and whales – and the polar bears that feed on them.

Most polar bear tours start in Longyearbyen, a town on Spitsbergen, the biggest island in Svalbard. At a three-hour flight north of Oslo, it's the most northerly permanent settlement in the world. Here, you'll meet your expedition ship – a tough boat that often comes with luxury fittings like comfy cabins, a bar filled with great storytellers (both crew and passengers) and wildlife viewing decks.

Polar bears have huge territories that change daily and have a habit of following their nose for miles. They can turn up almost anywhere.

Your route will flex with the ice floes and wildlife watching opportunities. After all, polar bears have huge territories that change daily and they have a habit of following their nose for miles. They can turn up almost anywhere. Your expert guides and ship captain are invaluable and will steer your course using their up-to-date reports, so no itinerary is set in stone.
"Sometimes, the captains don't know what the ice conditions are until they leave," says Simon. "Things move quite quickly, so it's a very exciting trip. You're open to the elements and the sea conditions, and where the ice is going to be. The crew and the captain are very, very good. They'll be flexible, take a detour and stay longer than they should if there are good viewings. There's always a rough schedule to keep, but on a trip like this, seeing wildlife is something that most people want to do, so they'll bend over backwards to make sure you get to experience it."
The Hinlopen Strait between Spitsbergen and neighbouring island Nordaustlandet is an assault course of fractured pack ice for much of the year, but usually navigable in summer. Nordaustlandet has a population of polar bears year-round. Female polar bears build dens in Kong Karls Land, a group of islands south-east of Nordaustlandet, thanks to its reliable snow conditions. A little further south, Edgeøya – or Edge Island – is also an important migration and denning site for polar bears, as well as a resting spot for walruses.
You'll explore the fjords of Spitsbergen as well – of which there are many. Isfjorden spears the island's west side, where you might see polar bears browsing for ringed and bearded seals or – almost as impressive – their plate-sized prints in the sand. The huge cliffside colonies of little auk, Atlantic puffin, guillemots and kittiwakes attract Arctic foxes, too.

You can't believe that all this wildlife is going on around you…. It's a life-changing experience.

You can sail right up to towering ice shelves in Krossfjord, in North-West Spitsbergen National Park. There are lots of glaciers here, as well as sobering signs of glacial retreat; your guides will point them out. Lichens, moss and tiny Arctic flowers like Alpine fleabane brighten the tundra, which reindeer and geese graze in summer. Monacobreen is another Spitsbergen glacier; listen out for its shrinking pains – eerie creaks and groans.

Polar bears pay no heed to international borders, so some cruises follow the Barents Sea over the Russian border to Franz Josef Land – another haunt of the polar bears and other wildlife such as bowhead whales, toothy walruses and seabird colonies.

"You can't believe that all this wildlife is going on around you," says Simon. "Even now, just thinking about it, I get excited and animated. It's a life-changing experience."
Our top trip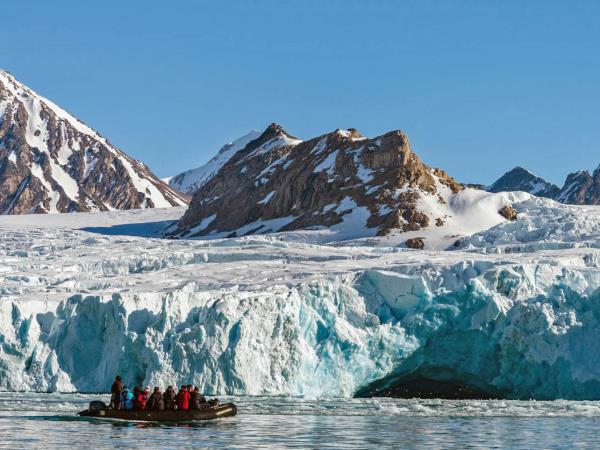 Spitsbergen tall-ship wildlife and natural history sailing
From
€6040
15 days
ex flights
Small group travel:
2024: 18 Jul, 1 Aug
If you'd like to chat about Europe wildlife or need help finding a holiday to suit you we're very happy to help.

How do I see polar bears in Norway?
Go on a ship-based wildlife tour run by experts who use expert guides
. There's no real road network on Svalbard outside Longyearbyen, so the best holidays are cruises, with twice-daily landings that give you the chance to stretch your legs. Expedition boats are small but strong. You'll sail with up to 120 passengers and an experienced crew, guides and captain. Some ships are much smaller –
sleek 30-person vessels
that you'll learn how to sail. They're not without bells and whistles, either, carving out en suite cabins and roomy communal areas like open dining rooms where you can mingle with different passengers every day. "I've never been on a trip where the camaraderie is so strong," says Simon. "You get to know everybody. You could be from totally different walks of life… But the common thread is that you've got a love of wildlife and appreciation of wilderness and nature, so to have that thread go through all of the passengers is amazing."
What are the chances of seeing a polar bear in Norway?
There is a high likelihood that you'll see polar bears in Norway
. Of course, no wildlife encounters are ever guaranteed, and wildlife watching tours are banned from following or luring polar bears. You'll stick to observing them when they cross your path, all while leaving them plenty of space.
"We've never had anyone who's gone out on a vessel-based trip and come back and not seen polar bears," adds Simon. "You'd have to be very, very unlucky. The last year I went out, I had about 11 sightings of polar bears. Debbie, my colleague, saw around 15."
When can I see polar bears in Norway?
Polar bear tours usually run from June to August in Svalbard
, when boats can finally sail through the melting ice. Conditions depend on the ice – and that can change year by year and day by day. Early in the season can be "sticky", as the sea captains call it. You can't always circumnavigate Svalbard then, but you will get some spectacular icy landscapes and there's a good chance that you'll hit the ice shelf without having to travel too far north.
Got your birding wish list ready too? Then it's best to go in June and early July to catch migrating birds. The big seabird colonies of little auks and guillemots stick around all year.
"There are some wonderful plants and colour in the Arctic early on in the summer," says Simon. "If you go there June till early to mid-July, there are Svalbard poppies, which are lovely yellow flowers. You've got the beautiful purple mountain saxifrage too – it's quite widespread. But everyone wants to see this Svalbard poppy."
How long should I go for?
From seven days to two weeks. A week is fine if you're happy just to immerse yourself in the landscapes and wildlife of Norway – but if you want the best chance to see polar bears, then
around 11 days is ideal
. That way, you'll have time to sail to the far north-east, where the polar bears are more likely to roam.
What other activities are there?
Wildlife watching, mostly, including whale watching and bird watching trips. All will be explained in on-board talks by guides who can tell you about the geography, geology and biology of the landscapes around you, as well as the realities of the climate crisis.

"The good thing in Svalbard is that the wildlife is quite bold," says Simon. "People don't hunt and they'll only kill if human life is at risk, so there's no fear as far as the wildlife is concerned. That's perhaps why the wildlife comes towards the vessels."

Optional Zodiac landings a few times a day offer the chance to explore away from the larger vessel. Trips are usually around three hours long – just enough time for hiking through Svalbard poppy fields, fossil hunting, a photography workshop or learning about the history of polar expeditions in the region. Pyramiden is an intriguing stop – an old mining settlement with abandoned Soviet buildings and a total permanent population of four people.

Longyearbyen on Spitsbergen – where most polar bear tours start and finish – is small but well-poised for tourists. Add on a couple of days here to go husky sledding and Northern Lights watching, peruse the award-winning Svalbard Museum and visit Svalbard Brewery, where beer is brewed using glacial water.
Are there ever polar bear attacks?
There have only been
five fatal polar bear attacks in Norway since 1970
, and that's thanks to pragmatic local people who are well-accustomed to traversing polar bear country. The guides will keep you – and the polar bears – safe by preventing a too-close encounter. Most polar bear tours are cruises, where you'll get the chance to pull right up to the ice while being safely ensconced several metres beyond the polar bears' reach. When you travel in smaller Zodiac boats, guides will stay 10-15m away; those huge paws are powerful swimming paddles.
Before landings, your guide will do a recce to make sure there are no polar bears nearby before exploring the beaches – and they'll herd you back on-board pronto if one pops its head over the horizon. Outside settlements, local people are required to carry flares or a gun to deter polar bears from approaching.
The future of polar bears in Norway

Wild polar bears could be extinct by 2100 if the climate crisis continues at the current rate.

The Barents Sea population of polar bears that lives in Norway and Russia is considered stable but endangered. Warming temperatures have thinned and melted ice that polar bears rely on to travel and hunt for food. They start taking riskier approaches to finding food – travelling for unthinkable distances, raiding bird colonies and approaching human settlements.
But despite the bleak outlook, polar bear tours are inspiring expeditions. "You feel like you've grown by the end of the trip," says Simon. "You've actually changed... A trip like this educates people – perhaps more than any other. It's etched in your memory for the rest of your life."

Bring your Kleenex, too: seeing such vast and fragile landscapes, and such large and vulnerable animals, can be overwhelming. However, it's also a powerful call to action to slow the climate crisis by changing our own habits and joining campaigns that force governments to listen and act.
More Europe wildlife articles