FAMILY ACTIVITY HOLIDAYS IN SPAIN
Some families might consider an activity holiday in Spain to be about banana boats, jet skies and how long you can stand up on a lilo in the pool. Hey, it can be. Whatever floats your giant, inflatable unicorn. However, if you're looking for an alternative to crowded Costas, head inland. Explore Andalucia or escape to the Catalan countryside. You can still enjoy time by the pool but you'll also have the chance to do a whole lot more besides, in some strictly Spanish scenery. A tailor made week in the Pyrenean foothills or Altiplano de Granada makes sense for mountain bikers, horse riders and hikers. Many trails lead alongside rivers and through shaded pine forests where you'll discover natural rock pools, perfect for keeping cool. Challenging preconceptions is all about daring to be different. It's strange, really. Spain is an absolute adventure playground for families but still we persist in opting for fake and familiar over authentic and exciting. "Where are you taking the family this year?" "We're going to Spain." "Really?" "Yes, really!" Say it loud, say it proud. We're all off to sunny Spain…
Our Family activity Holidays
Things to do
Adventure parks and high ropes courses; kayaking on local lakes and wild swimming in the Castril River; taking Spanish cooking classes or enjoying a picnic as bearded vultures wheel overhead; ride a horse to Hinojares; cycle to an archaeological dig in Orce; mountain bike along the Fluvia River; run around Lake Banyoles before diving in to cool off; go rock climbing; milk a goat on a farm; stay up late and stare at the stars; keep up with mum on a canyoning adventure; try something new at tapas time; brush up on your Spanish; stay in one place and make new friends or hire a car and explore, way off the typical tourist trail.
WHY SPAIN'S STILL SPECIAL
Why Spain's still special for families
Although some at the school gates can get a bit snobby about Spain, if your family are into discovering a new side to an old favourite then you'll certainly get to have the last laugh. Booking into a B&B in the Altiplano de Granada region of Andalucia is ideal for tailoring a week of activities to suit a range of ages. This is where you and your kids get off grid and back to nature. Elsewhere, in the Catalan countryside, you'll find an equally untouched setting to launch into a week of activities. Spanish people love kids and if you can get your brood to learn a bit of the lingo then it will be extra helpings of paella long into the night.
Our top Family activity Holiday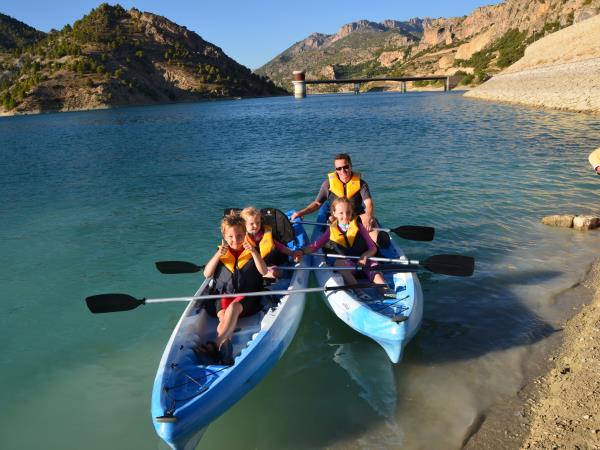 Multi-activity family holiday in the Spanish Lake District
From
€450

to

€900
8 days
ex flights
Tailor made:
This trip is available during UK and Ireland school holidays only and can be tailor-made to suit your requirements.
If you'd like to chat about Family activity or need help finding a holiday to suit you we're very happy to help.

TOP TIPS FROM OUR FRIENDS IN SPAIN
Choose your own adventure
Ilaria Grieco and Derek Suffling are co-owners and hosts at our supplier, El Geco Verde, in Andalucia.
Choose your own adventure
"Our holidays are tailor made, so each family can pick the activities which suit them best from a very wide range including kayaking, canyoning, climbing and horse riding. We also offer local specialities such as cheese and bread making on a nearby farm, guided stargazing, glass blowing and Sevillianas dancing. This area has fabulous walking for all levels, and lots of opportunities for wild swimming. Each family can go at its own pace and get the balance of activity and relaxation that´s right for them."
Family favourites
"The rafting is always a winner for families and a really good laugh but low key and not dangerous; all kids weighing at least 25kg can participate. You will be paddling downstream on a seasonal river (only July, August and September), stopping to float under rocks or jump into a deep pool from a boulder. Water fights between the rafts are almost inevitable!"
Keeping it Catalonia
Fiona Smart, from our supplier, Mas Pelegri, which runs family mountain biking and activity holidays in Catalonia:
"Catalonia is brilliant for families as you can take any child of any age to any restaurant. They're really happy with families, it's not like the UK! There's lots to do for children of different ages, from toddlers up to 18 year olds. The weather is such that you can be outdoors and enjoying the countryside – walking, cycling, mountain biking, canyoning, kayaking, rock climbing, quad biking, rope courses, ziplines… there's so much to do, it's an adventure playground!"
SPANISH STORIES FROM OUR HOLIDAY REVIEWS

We tried horse riding for the first time and it was great – although where we went will probably be a little tame for anyone who has experience.

"There are so many memorable moments from our stay - stunning views, beautiful sunrises and sunsets, crystal clear nights, amazing accommodation, great activities (kayaking , rock climbing, horse riding, milking a goat(!), making cheese and bread) and of course Ilaria and Des our hosts. Not forgetting Lola the dog who escorted my daughter and I on long rambles around the countryside. Certainly hire a car and don't be shy making friends with the other guests – it made the activities more fun by sharing the experience, our daughter had friends to play with and it allowed the adults to while away the evening chatting and drinking. The local town Castril is a lovely place to wander around - particularly down by the river - and sample the regional cuisine at the family-run local restaurants." – Nick Levitsky

"Definitely go swimming in the natural pools – don't let the fish bother you – and the reservoirs – so stunning to swim in such scenery. Do the white water rafting – fantastic fun. We tried horse riding for the first time and it was great – although where we went will probably be a little tame for anyone who has experience. Have breakfast and dinner – the food is homemade and excellent and it's a very chilled way to spend the evening. Both my sons – 12 and 15 – had a fantastic time and my 12 year old said it was the best holiday he had ever been on!" – Brendan O

My 7 year old was buzzing from the excitement of jumping off rocks into the river and rafting down the small white water sections.

"We loved the rafting trip. My 7 year old was buzzing from the excitement of jumping off rocks into the river and rafting down the small white water sections. The farm visit was excellent too with Des and Ilaria's eldest son, Ludo, providing the translation for everything from the goat milking and horse riding to cheese and bread making. Plan to eat with everyone in the evenings. It is a lovely friendly atmosphere with different families swapping suggestions and tips on the local activities, and the food is fantastic. Our youngest wasn't up for eating every meal but Ilaria was very happy to do a 'rescue pasta' when necessary. The only tricky bit is how late dinner is for UK children as it usually started 8.45-9pm which is a stretch when bedtime is usually 7.30-8pm. It was worth it though and surprising how quickly they adapt." – Tanya Hayes

"Family friendly atmosphere at the 'hotel' and lots of other children around for my sons to play with. The hosts, Fiona, Gareth and their children were marvellous in every way. They arranged horse riding and kayaking sessions, which my sons (aged 5 and 7) enjoyed enormously." – Jaspal Kaeda on a family activity holiday in Catalonia
More about Family activity