Harbin Ice & Snow Festival, China
The people of Harbin in Heilongjiang province, northeast China, know how to make a virtue of sub zero temperatures and icy winds blowing in from Siberia: they celebrate with a huge ice and snow festival, carving dramatic, life sized ice buildings, huge snow sculptures and beautiful ice lanterns from chunks of the frozen Songhua River.
The Harbin Ice and Snow Festival is the largest of its kind in the world, held since 1963 and, unlike most festivals which last just a handful of days, it kicks off on 5th January and lasts until the end of February. In fact, exhibits often open earlier and are left in place longer, weather permitting.
Our Festivals Holidays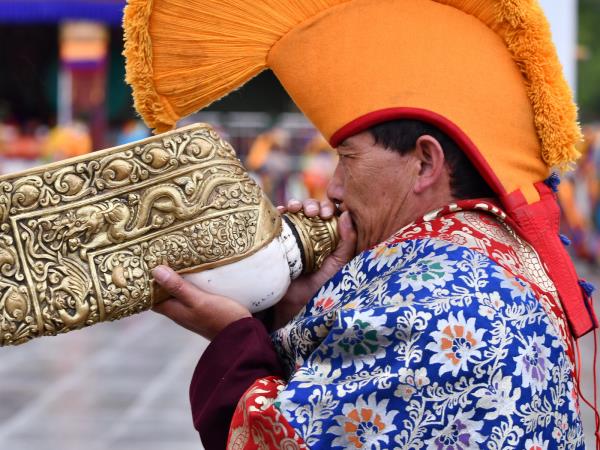 Cultural celebrations and festivals in Kham 2023.
From
US $1887
15 days
ex flights
Sun Island on the opposite side of the Songhua River from the city is the main expo site, where enormous – and we mean enormous – snow and ice sculptures are created. Life sized buildings, bridges and even ice Ferris wheels have all been carved in the past. You can walk on ice steps into ice churches and slide down ice slides, and you can explore day and night, too. In fact, the festival is at its most spectacular after dark, when thousands of lights illuminate the sculptures, many of which are made with deionised water, producing ice blocks as transparent as glass. The ice lantern exhibition in Zhaolin Garden is a definite after dark must see.
Beyond exploring the sculptures, there are lots of other winter activities to enjoy. There's skiing, winter swimming and fishing in the Songhua River, an opening ceremony with fireworks, snow sculpture competitions, fashion shows, ice sport games and concerts, plus lots of birthday parties and weddings being celebrated around the site.
Take some time to explore Harbin itself, too. It's one of China's most attractive cities, with clear Russian and European influences in its architecture. Russian bakeries are dotted throughout the city and the food is surprisingly familiar. Compared to the street food in other provinces, Harbin's would suit most barbecue loving Europeans, with savoury grilled meats, griddled squid, fried potatoes and ice cream, plus lots of bread. Much of it is a legacy of the time when Harbin was the largest Russian settlement outside of the old empire.
Our top Festivals Holiday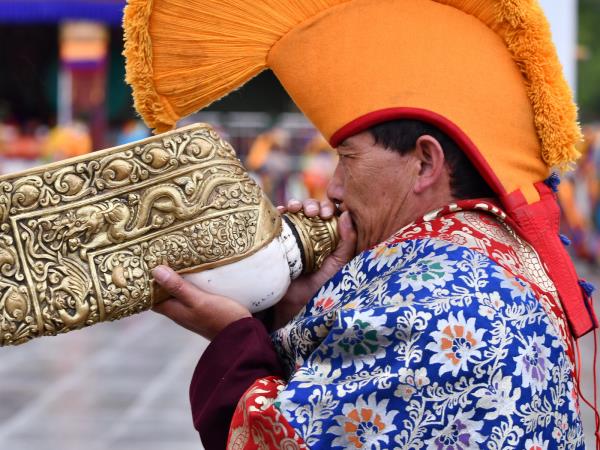 Cultural celebrations and festivals in Kham 2023.
From
US $1887
15 days
ex flights
Small group travel:

If you'd like to chat about Festivals or need help finding a holiday to suit you we're very happy to help.

China isn't an easy country to travel around independently, so joining a small group or tailor made tour that takes in the festival is the best idea. As it begins in early January, some tours will also include the chance to join in with the biggest event on the Chinese calendar, New Year, in February. It goes without saying that if you're visiting Harbin Ice and Snow Festival, you need to wrap up. Temperatures are routinely -16 °C in winter, and annual lows of -35 °C are not uncommon.