Bird watching holidays in Gambia
Many people come to the Gambia not for its golden beaches but for its avian delights; and while the country is short in stature itís positively stuffed with winged wonders, from mighty birds of prey to spectacular and colourful parrots and bee-eaters. Gambia sits in a transitional zone between semi desert and tropical forest, so youíll find species from both those areas here, and as well as endemic West African species, the country receives large numbers of migratory birds, who either pass through or stay for the winter.
With almost 600 species of bird in a compact sliver of land, itís easy to spot a wide variety just from the gardens of your lodge or hotel, and short local walks can yield amazing discoveries. But there are plenty options for those who want to venture further afield, too, including areas of forest, wetland, mangrove and savannah. Some of Gambiaís nature reserves, and indeed some of its lodges, provide hides to help you get up closer to the wildlife, and in wetland areas youíll make your discoveries by local pirogue.
Almost every lodge or hotel will be able to arrange bird watching excursions for you, and there are plenty of knowledgeable Gambian guides to help you get the most out of your experience. Itís always best to go with someone recommended by a tour company or your accommodation, though: there are plenty of freelance guides out there, but not all have the necessary expertise.
When to go bird watching in Gambia
You can go birding in Gambia throughout the year, but your experience will vary according to the season. The dry season of November to April is a great time to see migratory birds, which begin to arrive from late October or early November, not only from Europe but also from elsewhere in Africa. From January to March raptors are very much in evidence, and in the intense heat and dryness of late March to April, birds are easier to spot as they make for diminishing water sources. The rainy season of May to October is prime breeding territory and youíll see bright feathers and long tails as birds display their summer plumage. The downside of this season is that it can be sticky and humid, and some of the more remote bird watching sites are less accessible.
Where to go bird watching in Gambia
1. Abuko Nature Reserve
Gambiaís first nature reserve, Abuko is the most visited attraction in Gambia due to its easy to reach location and wide variety of wildlife Ė not least its 250-plus species of birds. These include sunbirds, green hylias, African goshawks, oriole warblers, yellowbills, greenbulls and hornbills. Itís also one of the few places in the country that you can see green and violet turacos, ahanta francolins and western bluebills. Hides in the park will help you get close to both the birds and the animals.
2. Tanji Bird Reserve
A 6km2 area of woodland, scrub, lagoons and mangrove swamps set alongside the Atlantic coast, Tanji Bird Reserve teems with birdlife. This variety of habitats makes for a diverse collection of almost 300 species, including sunbirds and warblers. The reserve is also the first port of call for many migratory birds from Europe, and the offshore Bijol Islands are a favoured roosting spot for huge numbers of gulls, terns, waders and pelicans.
3. Marakissa River Camp
A low key lodge set in Marakissa Village on the edge of the Alheim River, Marakissa is also a fantastic place for bird watching. You donít have to stay at the lodge to explore the area, and youíre free to walk in the forested areas surrounding the lodge or hire canoes for trips upriver. Itís a good place to spot kingfishers, raptors, migrating waders and heron and there are often weaversí nests in the trees.
4. Pirang Shrimp Farm
This former shrimp farm is made up of mangroves, rice fields, oil palms and wide open marsh land and is popular with crowned cranes, marsh harriers, curlew sandpipers, yellow-billed storks and African spoonbills. Around 2km away, Faraba Bush Trackís woodland and grassland is prime raptor spotting territory, where Wahlberg's eagle, grasshopper buzzard, white-backed vultures and dark chanting goshawks are often seen.
Bao Bolong Wetland Reserve
5. Bao Bolong Wetland Reserve
Set on the north banks of the Gambia River, Bao Bolong is the largest of Gambiaís protected areas at 220km2, and is home to mangroves, salt marsh and woodland. It offers the chance for some water bound bird spotting, via a pirogue cruise along the labyrinthine Kisi and Tunku bolongs (a Gambian word for creek). Passing through the mangroves, youíre likely to see kingfishers, sunbirds, herons and martial eagles; and, less commonly, Pelís fishing owl, little green woodpecker and African blue flycatcher.
6. Kotu Stream
Known as an excellent introductory site for novice birdwatchers, thanks to its accessibility and the visibility of the birdlife, Kotu Stream empties into the Atlantic Ocean a short distance from the main resort strip. Despite the urban surroundings of the town of Kotu, thereís a healthy bird population here and even with little experience you should clock up a few dozen species during a short visit.
If you'd like to chat about Gambia or need help finding a holiday to suit you we're very happy to help.

More Gambia articles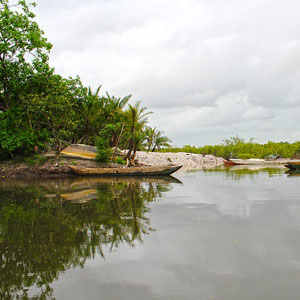 Visit Gambia in the long dry season of mid-October to early June, when the roads are passable.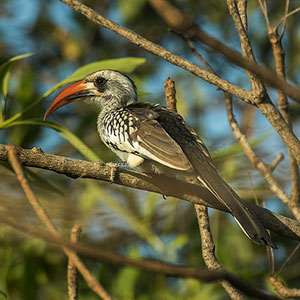 Mainland Africa's smallest country crams lots in, from river trips to bird watching and nature reserves.