Best time to visit the Garden Route, South Africa

Just when our gardens go bare in winter back home, South Africa's Garden Route is bursting with life and adventure

This garden is gorgeous all year round, with temperatures rarely dipping below 18°C. They peak between Nov-Apr, SA summer, with everywhere busy at Christmas. But this is a coastal climate, so pack a mac as rain can come when you least expect it, especially Jun-Jul. Check out Knysna Festival in July and Klein Karoo National Arts Festival. Temperatures are highest Jan-Feb which is also when the wildlife comes out to drink at waterholes. The whales come to play between Jun-Dec, and the penguins at Boulders Beach are particularly divine in Jan, when babies are born.
Our Garden Route Holidays
Garden Route Weather Chart
Our top Garden Route Holiday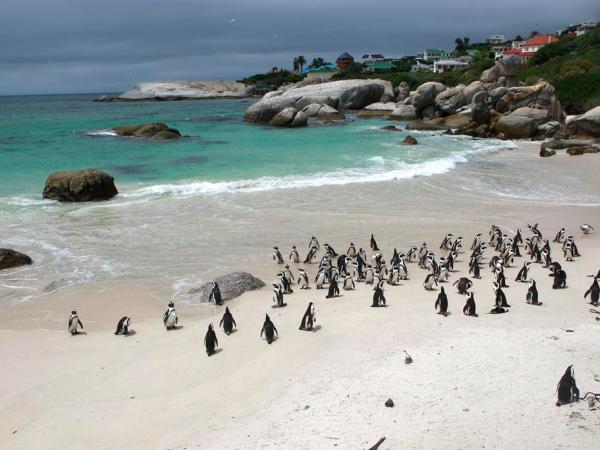 Explore Cape Town, the Winelands and the Garden Route
From
£2650

to

£4500
15 days
inc UK flights
Tailor made:
This trip can be tailormade throughout the year and can be adapted to suit your interests, budget and requirements as necessary
If you'd like to chat about Garden Route or need help finding a holiday to suit you we're very happy to help.

Things to do on the Garden Route
Things to do on the Garden Route...
Head to Addo Elephant National Park to see rhino, lion, buffalo, zebra and, leopard. Other wildlife spots on the Garden Route include African penguins at Boulders Beach, whales and dolphins around Hermanus, primates in Tsitsikamma Forest, and magnificent birdlife just about everywhere. So bring binoculars to keep an eye out for everything from kingfishers to cuckoos, just a couple of the 500 species here.
The Garden Route is one big adventure playground, making it a wonderful family holiday destination, especially if you have older children. Go surfing or sea kayaking in Plettenberg Bay, hiking and camping in Tsitsikamma, on a walking safari in Klein Karoo, horse riding in Hermanus or cycle out to a meerkat community in Oudtshoorn. Plus it is malaria free, and great for school holidays in terms of timing.
Township tours can be controversial, because some of them are handled insensitively. However, we do recommend including one or two into your itinerary, with responsible operators. Ask if the guides are from the township, if a percentage of the fee goes to community projects and spend money in a shebeen or art shop while you are there. Cape Town's Uthando and Langa townships have great social enterprise initiatives.
It seems almost unfair that a world famous driving route is peppered with wineries, so if you are hiring a car, have more than one designated driver if you enjoy a tipple. The Winelands are a full bodied place and although it is hard to choose a favourite, Pinotage is unique to South Africa, and a fine signature grape it makes too.
Things not to do on the Garden Route...
Ride the elephants, or cuddle them. Most captive elephants in this region are only there for the pleasure of tourists, and are often beaten or maltreated into submission. Knysna has a ghastly example of this. The best way to see elephants is in Addo Elephant National Park, where protection and care of the animals, and keeping them wild, is paramount.
Ignore the history. It is easy to be seduced by the gorgeousness of the 'garden' and put your head in the sand about politics and conflicts. Recent and not so recent. And local people talk openly about issues and politics too, with varying opinions of course. Also, don't be afraid to call people white, black or coloured. These terms are used freely and without prejudice here.
Garden Route travel advice
Itineraries & timings
Simon Mills, from our leading supplier on South Africa's Garden Route, Native Escapes:
"For someone travelling the Garden Route for the first time, allow around five to seven days, but bookend the trip with Cape Town, the Winelands and whales (in season) and also a safari on the Eastern Cape. You then have an action packed two week trip, with plenty of activities and sights to keep you busy."
Best time to go
Rupert Calcott, from our supplier Exodus, and a native South African:
"The colder months of July through to September are our winter, but that's a fantastic time to come out and do the game viewing. As the country gets drier there are fewer leaves on the trees and less grass available so the animals are concentrated at waterholes. There's greater visibility; it's a really good time for wildlife. April to June are also wonderful because it's not too hot and there's less chance of rain, but we get fewer travellers."
Simon Mills, from our supplier Native Escapes:
"Personally, I really like the off-season here – so July-September. The whales are in Hermanus, so a great place to stop on the way to the area and the lodges on the Garden Route are geared up for the colder weather (colder being 20°C) with log fires, red wine and lovely, hearty food. The days are warm and sunny and perfect for discovering this lovely part of South Africa."
Family advice
Rupert Calcott, from our supplier Exodus, shares his tips on the Garden Route for families:
"Spend two nights in each place so they can get out and experience the place rather than just passing through. People always go to a country and want to see as much as they can – but for families it's better to bite off a little bit less, to have a better experience but not see quite as much. Get children out into the pristine areas. They're really dwindling and there is so little wilderness left. It motivates children, it opens their eyes to different experiences in a way a city tour can't. And I believe that in the long term you'll get a budding conservationist."
To township or not to township?
To township or not to township?
Amanda Marks, co-director of responsible tourism award-winning Tribes Travel:
"A township tour can be one of the most eye-opening and privileged experiences you can have in South Africa. However you must pick who you go with very carefully, otherwise it's just voyeurism and no-one, least of all the township residents, benefit from your visit. Go with a guide who still lives there, and visit projects, shops or restaurants run by local residents so a range of people get a chance at earning something from your presence in their community."
James Fernie, Executive Director, Uthando Township South Africa:
"The goal of
Uthando South Africa
is to create a family of people from all around the world with the aim of generating income and other forms of assistance for innovative grassroots projects in the townships of Cape Town as well as other parts of South Africa. For example, Neighbourhood Old Age Homes is the only organisation catering for the needs of the elderly in a township of a million people in Khayelitsha, and Learn to Earn gives unemployed people the opportunity to learn skills. It is about giving a hand up not a hand out - and it is imperative that they acquire funding."
At Responsible Travel, we think the best people to advise our travellers are often... other travellers. They always return from our tours with packing tips, weather reports, ideas about what to do - and opinions about what not to.
We have selected some of the most useful Garden Route travel tips that our guests have provided over the years to help you make the very most of your holiday – and the space inside your suitcase.

The whale trip can be bumpy so be ready for that... Be sure to see the Meerkat in Outsdoorn, it is a beautiful experience. Don't miss the flora, Sharon got us in contact with excellent guides who know the flora very well.

"Let Simon prepare your itinerary and take care of flights/accommodation/car hire. You won't be disappointed. Try and extend the holiday as much as you can (and avoid 'one night stops' if possible) because it will go very quickly... The most memorable part? This is difficult because the holiday was an incredible journey of different experiences. If I had to choose it would be the Township Tour in Cape Town. This was an emotional and unforgettable experience – Les Milner on a self drive holiday "Loved the area around Tsitsikamma – some brilliant walks. Did not get chance to do the walk to the waterfall, as we spent too long around the suspension bridges. We assumed a 3km walk could not take too long, but when we got to the start we had not allowed enough time. Robberg peninsula was also a great walk, but not a gentle stroll. When it says 4 hours, it is pretty accurate (we managed 3 hours 50 mins, partly because we kept stopping to look, and partly that there was a lot of clambering over rocks)." – Yvonne Chapman "Be prepared for sudden changes in the weather! It can be very wet and very windy at times. Don't bother packing shampoo, conditioner, body wash or cream... these are all supplied by guest houses and are made from fantastic local products. Don't worry about formal clothes. Everyone is very casual even in expensive restaurants." – John Barker

The whales in Hermanus really caught our attention as they swam passed us and were literally 10 metres from us. Definitely no need to go out in a boat to see them!

"We appreciated the freedom afforded by an individual itinerary and self drive as opposed to a tour, but with the security of having all the accommodation booked in advance, and advice and suggestions as to where to go. It was difficult deciding just what we wanted to see and do so research beforehand is very helpful." – Barbara Sykes "This was a fantastic holiday. It was well thought through, beginning in Cape Town with wine tasting and a Township Tour and ending 16 days later with a full day in Kruger Park...We travelled in late February/early March and some days were very hot, other days were pleasant. The middle of summer could possibly be too hot for some people. Remember to have some cash for tips – at petrol stations, B&B staff, guides etc. We bought some internet access time for our computer which also gave us GPS. On a few occasions the GPS was very helpful although not necessarily essential." – Barb Rooke
More about Garden Route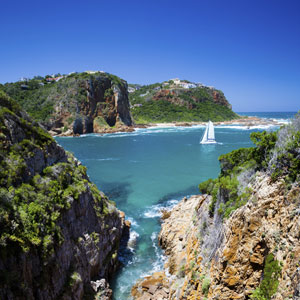 More like Alice's adventures in Wonderland than a garden, this Garden Route travel guide hopes to introduce you to the myriad landscapes, from bush to beaches, Winelands to wilderness, this South African coastline has to offer.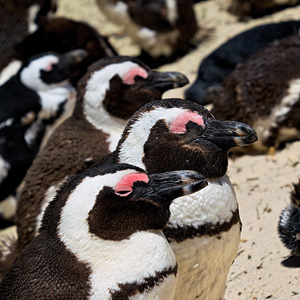 Seasonal southern right whales, playful bottlenose dolphins, curious penguins and vast herds of elephants – wildlife along the Garden Route is varied and spectacular.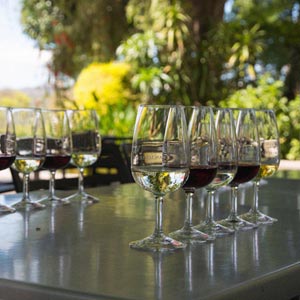 Just over an hour from Cape Town, vineyards with a 300-year history open their doors for tastings and cellar tours.