Our South Africa holidays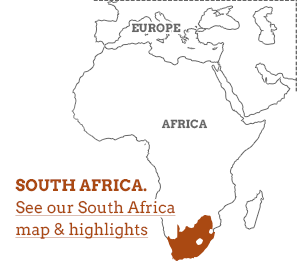 Given its mammoth size, the 'Rainbow Nation' fittingly offers a kaleidoscope of experiences for travellers. Our South Africa holidays take in Kruger and other national parks and their wildlife – the Big Five are present and correct. But they also explore the majestic Garden Route (self drive holidays are ever popular), the wild and remote KwaZulu-Natal, Victoria Falls and even the beguiling beaches of nearby Mauritius. Your holiday can support conservation projects, such as the Moholoholo Wildlife Rehabilitation Centre or lodges helping to train rangers. You may also visit local communities for a true insight into residents' lives and issues.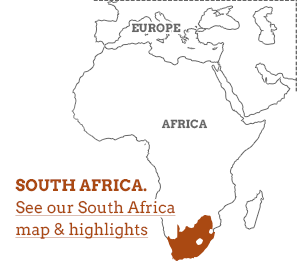 Our top South Africa holidays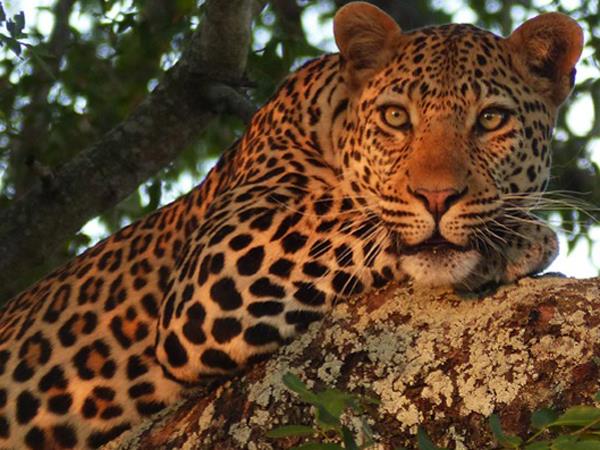 14 days
ex flights
Award winning safari in South Africa
Small group
2022: 20 Mar, 3 Apr, 24 Apr, 15 May, 12 Jun, 1 Jul, 17 Jul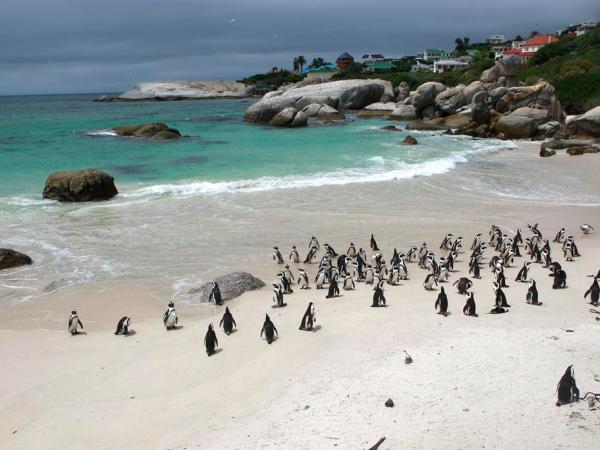 15 days
inc UK flights
Explore Cape Town, the Winelands and the Garden Route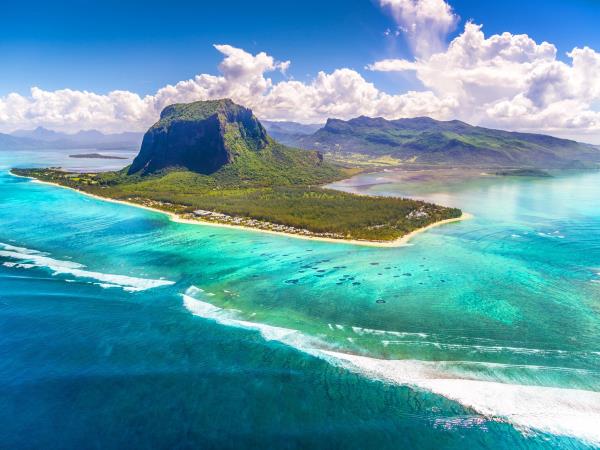 12 days
ex flights
South Africa's Kruger National Park, plus time in Mauritius
Best time to go on holiday to South Africa
The best time to visit South Africa really depends on your own interests. Game is easier to spot in Kruger National Park during the dry winter months of July through to September, when cooler temperatures also make hiking and cycling more pleasant.

Sunseekers heading for the south coast should aim for summer – as should keen birders in the north. October and November draw photographers to the wildflower-carpeted Northern Cape, while fans of supersized wildlife should visit from July to December, when whales can be seen near Hermanus.
Map & highlights
South Africa's national parks are well-known, and the largest and most famous is Kruger National Park in the north. In the south, Addo Elephant National Park is particularly good for seeing elephant herds. South Africa has many great cities, but Cape Town has the most impressive location, sitting under the shadow of Table Mountain with its face to the vast ocean. KwaZulu-Natal is where you can find the Battlefields of the Anglo Zulu Wars; nearby, the inspiring peaks of the Drakensburg Mountains make for fantastic hiking terrain. Swaziland – the landlocked country within South Africa – has great game reserves.
Addo Elephant National Park
1. Addo Elephant National Park
Just a short hop from Port Elizabeth, Addo Elephant National Park offers all the adventure of an African safari – without the long drives, the remoteness or the malaria. Now a sanctuary for more than just elephants, Addo is home to the Big Five, and its family-friendly activities include horse riding, short hikes, and whale watching off the coast.
Battlefields of Anglo Zulu Wars
2. Battlefields of Anglo Zulu Wars
In 1879, the British army invaded Zululand and found themselves face to face with thousands of Zulu warriors. Today, the battlefields at Rorke's Drift (where 140 British troops held off up to 4,000 Zulus) and Isandwana (where 1800 British solders were killed) set the stage for mesmerising tours, led by knowledgeable storytellers who bring the scenes to life.
3. Cape Town
Cape Town's spectacular setting, gentle climate and wonderful fusion of the urban and natural make it an easily lovable city. Away from the crowded Waterfront, there is a thriving culture – photograph rainbow-coloured Cape Malay houses, discover the dark past of District 6 and Robben Island, cycle through the township of Khayelitsha, relax on wave-battered beaches and enjoy the laid-back vibe of the Mother City.
4. Drakensberg Mountains
An epic, 1,000km-long mountain chain, the Drakensberg's jagged peaks give it its Zulu name: uKhahlamba, 'Barrier of Spears.' Almost 300 bird species live here, and it has fantastic hiking and scenic drives along hairpin passes, rivers and forests and rivers. Part of the range is protected by the Royal Natal National Park, including a 5km-long, 1.2km-high "amphitheatre", and the Tugela Falls – at 948m, the second highest waterfall in the world.
5. Kruger National Park
Kruger is the most famous gem in South Africa's heavy tourism crown – and deservedly so. This 19,485km² park encompasses a vast array of habitats, over 500 species of birds, and more mammals than any other African game reserve – including, of course, the Big Five. Options ranging from luxury lodges and top-end safaris to campsites and self-drive tours mean that Kruger really is open to all.
6. Swaziland
Though not part of South Africa, many tours pass through Swaziland, and with good reason. Squashed up against the Mozambique border, the attractions in this tiny, mountainous kingdom far outweigh its diminutive size. This is one of the world's last absolute monarchies, so there is a fantastic culture to discover, as well as national parks, game reserves and hiking trails.
Why visit South Africa?
South Africa is a great introduction to Africa. It's accessible, with good roads and infrastructure, and there's a hugely diverse sweep of sights. Kruger National Park could be the poster boy for safari holidays, whilst Cape Town and its surrounding Winelands know how to wine and dine visitors. In a country this large, don't just visit one place. Road trips in the country are popular for a reason. Add Johannesburg after Kruger National Park or combine KwaZulu-Natal with the Elephant Coast. It's South Africa's variety that makes it so compelling.
Kruger National Park
Tell people you're going to South Africa on safari, and they'll probably think you're going to
Kruger National Park
. This huge game reserve is four hours' drive or a flight from Johannesburg, and is home to black and white rhino, big cats and African wild dogs. Most people visit the wildlife-rich south and it can be a busy place; if you spot a lion, you won't be the only ones watching. However, the park is ringed by private game reserves that offer more secluded excursions, and the north of Kruger is quieter, too.
Self drive holidays in South Africa
Driving along South Africa's coast, you might be distracted by a whale spout out to sea or do a double-take at the sight of penguins on the beach. Head inland and there are ostriches running alongside the road in the Karoo and warthogs trotting ahead in the game parks. The country's good roads and big scenery is perfect for
self drive holidays
, and there are some well-known routes to follow. The best known is the Garden Route from Cape Town to Port Elizabeth, enjoying the green corridor of land that lines the coast – less a garden and more an adventure playground.
Travelling in South Africa with kids
Whilst
family holidays to South Africa
are both safe and wonderful, to get the most out of safari – which can often involve long drives and patient waiting – it's best if your children are over the age of eight. Older children and teenagers can start to learn about South Africa's challenging history and multifaceted culture, too, by visiting Johannesburg and having a guided tour of Soweto. If you're travelling with younger children, you might even want to consider a volunteering holiday. Young children can work with orphaned primates; age is no barrier to having a monkey cuddle.
Types of holidays & vacations in South Africa
From Addo to Hluhluwe, you've got your pick of parks and private reserves on a
safari holiday in South Africa
. It goes without saying that this is a marvellous
wildlife holiday
destination. And think beyond big cats: you could visit the coast to see dolphins and whales chasing the annual sardine run instead. Joining a
small group holiday
can be a really fun way to drink your way through the Winelands. Feeling intrepid? Consider an
adventure holiday
– you could get up close to great white sharks or stick to dry land on an overland tour.
Going beyond South Africa
From here, the only way is up: South Africa is a gateway into the whole continent of Africa and a great starting point for an overland tour. The most popular route from
Cape Town to Victoria Falls
goes via Zimbabwe, Botswana and Namibia, and takes around three weeks. If you have less time, you could just nip into Namibia – where its vast deserts provide a contrast to the Cape Winelands. Alternatively, combine safari with a beach break by visiting
South Africa and Mauritius
– the island is the perfect place to wind down after all those lion encounters.
If you'd like to chat about South Africa or need help finding a holiday to suit you we're very happy to help.