South Africa for families

Lodges, camps and guides are well equipped to welcome children, and it's possible to go on safari without epic drives or antimalarials.

South Africa is an awesome African introduction for travellers of all ages. Its modern, cosmopolitan cities, great roads and accessibility make travel safe and easy, while the jumble of cultures and languages, variety of landscapes and superb wildlife still give a wonderful glimpse into the richness of Africa. The Garden Route is ideally situated in South Africa for families - with plenty of places to stop, eat and sleep, and interactive activities.
Remember: seeing wildlife requires patience and silence, and open-sided vehicles provide little protection from the dawn chill or midday heat, so children younger than eight are unlikely to get much out of a game drive. Bush walks can only be carried out by those aged 12 or even 14 - so consider this when planning your trip.
Our South Africa family Holidays
Entry requirements
Be aware that immigration rules introduced by South Africa in 2015 require parents travelling with children under 18 to bring a full unabridged birth certificate for each child, which details the names of both parents, as well as the child's. Short, abridged version that only include the child's details aren't accepted. Check the
FCO website
for more details.
Activities for families in South Africa
Camping
Rupert Calcott, from our supplier Exodus:
"Older kids should experience camping. It brings down the price, but it also offers something different. In a lodge, you only experience the park during the activities. You do a game drive, then go back indoors. But when you camp, you're in that natural environment 24/7. You experience the sounds, the smells, the noises at night – it's a much more intense experience"
Small group tours
Tim Winkworth, from our supplier the Family Adventure Company:
"Check out small group tours. I always used to wonder why I'd want to travel with other people's kids. But when you go on one, you realise you're not travelling with them – your kids are. They've got ready-made playmates, they share, they learn. It's great to listen to them discussing the lions they've just seen."
Addo Elephant National Park
Just a short hop from Port Elizabeth, Addo Elephant National Park offers all the adventure of an African safari – without the long drives, the remoteness or the malaria! Now a sanctuary for more than just elephants, Addo is home to the Big Five, and its family-friendly activities include horse riding, short hikes and whale watching off the coast.
Our top South Africa family Holiday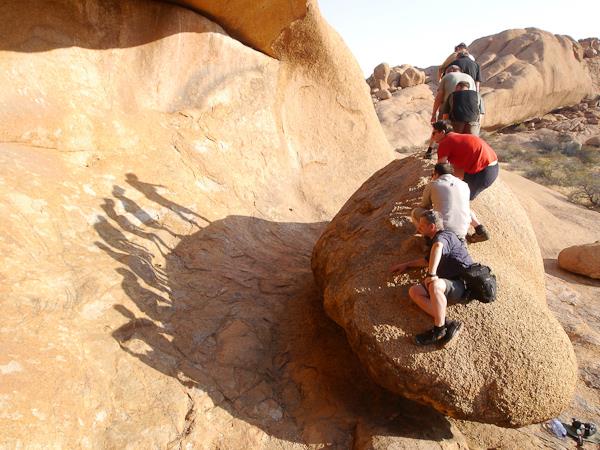 Classic route lodge safari to Namibia, Botswana & Zimbabwe
From
€3695
21 days
ex flights
Small group travel:
2023: 12 Apr, 26 Apr, 17 May, 31 May, 14 Jun, 12 Jul, 30 Aug, 6 Sep, 25 Oct, 22 Nov, 13 Dec, 20 Dec
If you'd like to chat about South Africa or need help finding a holiday to suit you we're very happy to help.

South Africa family travel advice

Get children out into the pristine areas - it opens their eyes and in the long term you'll get budding conservationists.

Rupert Calcott, from our supplier Exodus, shares his tips on South Africa for families:
"South Africa is a big country, so with children it's best to slow the pace of the tour so there's not as much driving. Base yourself out of Cape Town, for example, or do the Garden Route and spend two nights in each place so they can get out and experience the place rather than just passing through. People always go to a country and want to see as much as they can – but for families it's better to bite off a little bit less, to have a better experience but not see quite as much.

Get children out into the pristine areas. They're really dwindling and there is so little wilderness left. It motivates children, it opens their eyes to different experiences in a way a city tour can't. And I believe that in the long term you'll get a budding conservationist."
Tim Winkworth, from our supplier the Family Adventure Company, shares advice on travelling in South Africa for families: "It's great to take your kids to South Africa to interact with the local children. Kids play with kids, and it's an incredible thing to show them what's going on in the rest of the world, and how spoilt and lucky they really are."
Will Fox, from our supplier On Track Safaris, shares his family travel advice:
"Let your tour company know what you eat – and what your kids eat, especially if they are fussy eaters. The lodges are a very long drive from the nearest shop, and the food gets brought in the day before you arrive. We can deal with anything if we get notice – but on the day it's too late."