KwaZulu-Natal responsible travel guide
Try a quick quiz. When you think of KwaZulu-Natal, what images does your mind conjure up? Can you locate it clearly on a
map
and can you list its most famous landmarks? Did you know, for example, that it is home to Africa's oldest
game reserve
? Did you know that
Durban
is its largest city and that it has one of the most beautiful and unspoilt tropical coastlines in the world? That it is a top
whalewatching
destination and the location of one of the world's greatest wildlife migrations, the Sardine Run?
Did you know that this is where you will find Rorke's Drift, the legendary battle site from the Anglo-Zulu
War of 1879
? And did you know that KwaZulu-Natal was the homeland of the great King Shaka, the founder of the Zulu Nation, whose legacy is still alive and well in the vibrant Zulu
culture
of today?
If the answer to any or all of these questions is no, then this guide is for you. For many, the most geographically varied of South Africa's nine provinces is at best a matter of hazy
geography
and even hazier associations. But - as any local will tell you - it has everything (and more) in the way of tourist attractions that the rest of South Africa has to offer.

Beaches?
The coasts
south
and
north
of Durban are famous for their golden sands and the year-round warmth of the Indian Ocean.
The Big Five?
KwaZulu-Natal's game parks and nature reserves have wildlife viewing to match the very best in Africa.
Activity Sports?
Nowhere in Africa can beat the dramatic crags of the Drakensberg Mountains for
walking
and climbing while world-class watersports opportunities are on offer from
scuba diving
and sailing to surfing and kayaking.
Food & Drink
? With a rich mix of Zulu, Afrikaans, Indian and European traditions, KwaZulu-Natal's cuisine is a melting pot of influences. Culture? Zululand with its rich
indigenous culture
is a true voyage of discovery.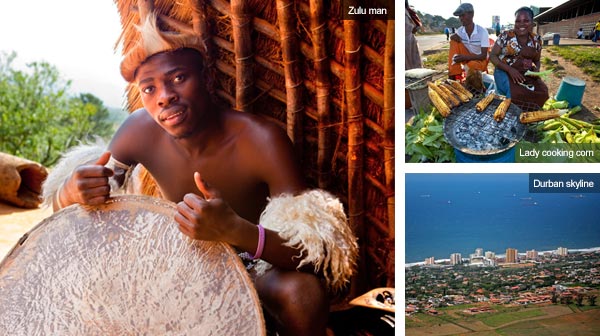 Responsible Travel would like to thank Tourism KZN for their sponsorship of this guide