Kruger National Park travel guide
Stretching almost 20,000km2 at times Kruger National Park seems like not one park, but many. It would take a full ten hours to drive from north to south – and you'd pass through vast ecosystems of thorny acacia, dense woodland, open grassland and tropical riverine forest. In fact, there's a good chance it would take even longer; in Kruger, animals have right of way. Its 147 mammal species include the Big Five, of course – which can be encountered during game drives as well as on foot and during nighttime safaris. Giraffe, ostrich, crocodile and the rare African wild dog are amongst the many other animals that call the park home, along with over 500 birds.

Everything about Kruger is superlative; it's one of the oldest national parks, one of the largest, and protects more species of large mammal than any other park in Africa

Kruger's diversity doesn't stop at its nature; there are accommodations, tours and safaris to suit all tastes and budgets – from self drive campers to indulgent honeymooners, first-time-in-Africa families to wannabe park rangers. In short, deciding to go on holiday to Kruger is just the starting point; this Kruger National Park Travel guide will help you decide when, where and how.
Our Kruger National Park Holidays
Kruger National Park map & highlights
Gazetted in 1898, Kruger National Park is larger than neighbouring Swaziland. The south is the most popular region with plenty of lodges, restaurants and campsites; it's well suited to families and first time safari-goers. It is a five hour drive from Johannesburg, but there are numerous small airports dotted around the park's borders. The remote north offers a greater sense of wilderness; wildlife is more dispersed but you'll enjoy fewer visitors and unspoiled landscapes. Kruger's accommodation includes everything from DIY self drive and camping, to comfortable lodges – though for a more luxurious holiday, we recommend spending time in a private reserve. You'll share it with few other guests, and be driven around in private vehicles.
Our top Kruger National Park Holiday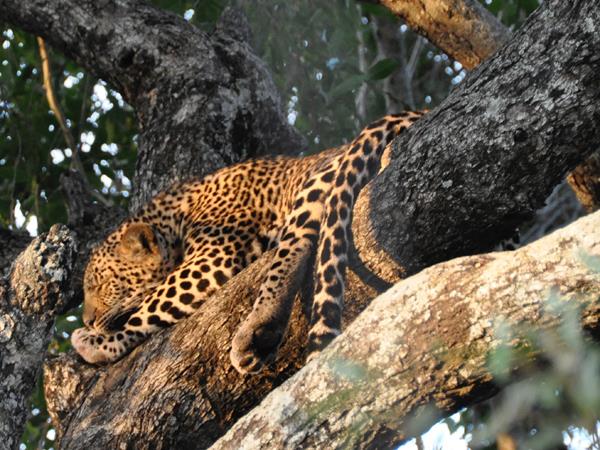 7 Day Safari with wildlife conservationists
From
£1995

to

£2105
7 days
ex flights
Small group travel:
2023: 30 Sep, 7 Oct, 14 Oct, 21 Oct, 28 Oct, 4 Nov, 11 Nov, 18 Nov
If you'd like to chat about Kruger National Park or need help finding a holiday to suit you we're very happy to help.

1. Big cats
Lions are the stars of many a thrilling safari story – regularly bringing down prey just metres from stunned onlookers. The most elusive cat, the leopard is a master of camouflage. It makes it all the more rewarding though when you are able to glimpse one. Cheetahs are common in the park; join a predator conservation programme to learn more about big cats.
2. Birds
Kruger National Park's diverse habitats shelter over 500 species of birds. Around 200 of these are migrants which can be seen here between October and March. Characteristic – and charismatic – species include the colourful saddle-billed stork, the enormous secretary bird (1.3m tall), kori bustards, Pel's fishing owl and a whole rainbow of bee-eaters and sunbirds.
3. Elephants
The world's largest land mammals roam across Kruger in their thousands. They're a magnificent sight, from enormous males, weighing over three tons, to playful calves learning how to use their trunks. Be careful when driving near them – they are the only animal that can attack while you're in a vehicle. Never separate a herd – and keep your engine on for a fast getaway if needed.
4. Private reserves
Private reserves offer exclusivity and comfort, with lodging, meals and activities all included. You can't self-drive, and you won't get the variety of landscapes – but wildlife is free to roam in from the park – and you won't be competing with other vehicles for a glimpse. They're also better for bush walks and nighttime game drives – both are restricted in Kruger.
5. Rhinos
Kruger is the best place in South Africa to see rhino. The white rhino is surprisingly huge yet docile, while the black rhino is smaller and foul-tempered; making it one of the 'Big Five' due to the difficulty of hunting it. Track them of foot with a qualified guide for an incredible close encounter with some of the world's most endangered species.
6. Wilderness trails
Nine specialist multi-day treks have been developed in the park, each with a unique focus – such as birds, lions, rhinos or San rock art. The 3-night, 2-day trails are accompanied by expert, licenced guides, and involve sleeping in rustic huts – this is a real wilderness experience. Understandably, they are in great demand – so book well in advance.
More about Kruger National Park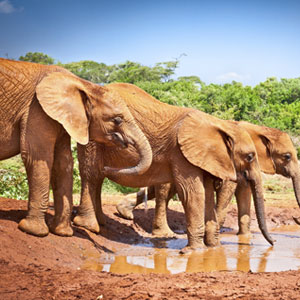 The best time to visit Kruger National Park will often depend on temperature & rainfall which is why our easy to use chart features a year round forecast alongside advice on what to do in Kruger National Park & what not to do as well as further tips from our travellers.