South Africa and Mauritius travel guide
Holidays to South Africa and Mauritius juggle two vastly different landscapes. On one hand, you can crack into the historically complicated, sweeping vistas of South Africa. Northeasterly national parks like Kruger shelter wild bushveld, historical lodges and wild-roaming lions and elephants. And the coastline is ever-changing, ranging from Cape Town and its townships to the postcard-worthy Garden Route.

Thanks to the sheer number of things to do, it's easiest to go for a tailor made holiday that factors in your preferences.

By contrast, Mauritius keeps things relatively simple – bright white beaches, volcanic mountains and coral reefs come in a single, easily explored package. Carefully chosen accommodation is key, too. Expect beach retreats that fund local social projects and guesthouses where the owners know you by name. Find out more in our South Africa and Mauritius holidays guide.
South Africa & Mauritius map & highlights
Travelling to South Africa and Mauritius gives you plenty to consider – from national parks, Cape cities and oceanside drives, to mountains, beaches and vineyards. You'll likely need at least 12 nights in total – or up to 18 to glimpse all you can at the South African game lodges. Most trips strike a balance between early starts and adventure while on safari in South Africa and complete relaxation on the beaches of Mauritius. And travelling between the two countries is easy; direct flights from Johannesburg to Mauritius are only 3.5 hours long.
Black River Gorges National Park
1. Black River Gorges National Park
Black River Gorges National Park is the largest stretch of protected forest in Mauritius. Its old-growth ebony forests and waterfall-splashed trails hide away hundreds of species of plants, birds and bats – including endangered endemic species like the talkative echo parakeet. Tackle the trails yourself or team up with a local guide to get a history lesson while you're at it.
2. Blue Bay Marine Park
Blue Bay Marine Park has escaped the overfishing and coral damage that challenges other bays in Mauritius. You can access it by beach or kayak – just head west for the best bit of coral reef, where snorkellers can expect whole fleets of striped surgeonfish and neon parrotfish. Catamarans and glass bottom boats offer another perspective, gliding over to the luminous beaches of castaway Ile Des Deux Cocos.
3. Cape Town
Cape Town has bagsied one of the most photogenic spots in South Africa, poised between the Cape Peninsula, Table Mountain and a beach-broken coastline. Turn away from the perpetually busy V&A Waterfront, and delve into the stories of Robben Island and District Six Museum. Cape Town has also made a name for itself in the fine dining stakes – just remember to browse the ever changing roster of food trucks, too.
4. Cape Winelands
Discover the provenance of your favourite South African wines in the Cape Winelands. Some of the vineyards set down roots in the 1700s, plus there's a new generation of black-owned wineries sprouting up around Stellenbosch and Franschhoek. Franschhoek is also where you'll find the Wine Tram, which lets you hop on and off your pick of eight wine routes. Hire a car to make the most of the photogenic valley roads.
5. Kruger National Park
You'll spy wild animals in their element at Kruger National Park – and morning game drives look well beyond the Big Five. As well as lions and elephants, keep your binoculars at the ready for giraffes, African wild dogs and springboks. Kruger National Park has set its sights on long term conservation, too, so you can bed down in generations-old lodges committed to preserving the surrounding landscape and communities.
6. Le Morne Brabant
Some of the best views in Mauritius come courtesy of Le Morne Brabant. This southwesterly peninsula is topped with a hulking basalt monolith threaded with hiking paths. You could join a guided walk to the peak, where you'll learn about the slaves who sought refuge in the caves and thick forests. Alternatively, pad along the beaches that swoop out from the foot of the mountain.
Our top trip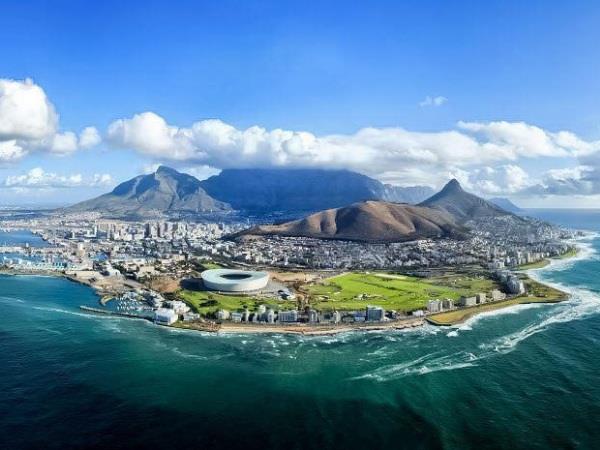 Africa and the Indian Ocean. Cape Town, Safari and Mauritius
From
£4495
16 days
inc UK flights
Tailor made:
This trip can be tailor made throughout the year to suit your requirements
If you'd like to chat about South Africa & Mauritius or need help finding a holiday to suit you we're very happy to help.

More South Africa & Mauritius articles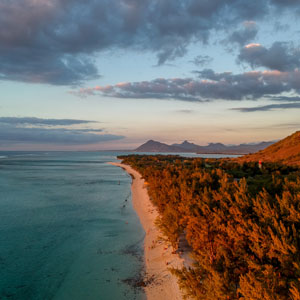 Both South Africa and Mauritius dish out mild temperatures and sunshine year-long, but we recommend packing layers.