Why track gorillas in DRC?
Rwanda and Uganda are the most renowned destinations for tracking mountain gorillas. They have great tourist infrastructure, are much more compact, are English speaking (French is the official language of the DRC) and – perhaps more importantly – have been at peace for decades. But there are many reasons why DRC is a particularly special place to see gorillas.
First of all, this is the only country in the world where you can track both mountain and lowland gorillas, and they live conveniently close to each other, so it's totally possible to see both in a single trip. For real primate fanatics, you can add on a chimp safari, too.
Second, given how few tourists make it to DRC, the income from park fees and tracking permits is absolutely essential to ensure the ongoing protection of the gorillas and their habitats. While the mountain gorilla population has grown by over 50 percent since 1989, thanks largely to excellent tourism and conservation programmes in Rwanda and Uganda, numbers of eastern lowland gorillas, which live only in DRC, have
fallen by between 50 and 75 percent
over a similar period. Tourism can provide funding for the park as well as jobs for surrounding communities, both of which are key to reversing this worrying trend.
Finally, DRC is the cheapest place to see gorillas, with permits costing $US400 in comparison to $US600 in Uganda, and US$1,500 in Rwanda. They're also less likely to sell out rapidly – if at all – in high season; this just doesn't really happen in DRC. Permits may also be discounted to as little as US$200 in 'low season'. Price should not be your main consideration, as savings on the permit are balanced out by the high cost of travelling in DRC. However, it does mean that if you are visiting DRC it's much more economical to book two gorilla safaris, and also means it's feasible to see both mountain and lowland groups, for less than the cost of a single permit in Rwanda.
DRC is home to three gorilla species: western lowland, eastern lowland and mountain gorillas, and you can track the latter two in eastern DRC.
Mountain gorillas
Mountain gorillas are the most commonly tracked species. They inhabit the slopes of the Virunga Volcanoes, which line DRC's eastern border with Rwanda and Uganda, and roam across these three countries. Mountain gorillas are something of a conservation success story, with their numbers having grown from just 620 individuals in 1989, to just over 1,000 in 2018. The success in growing the mountain gorilla population means that as of November 2018, the IUCN (International Union for Conservation of Nature) classifies them as endangered – previously they were critically endangered. They tend to live on the ground, making for some particularly close encounters as they forage, snooze and play in the foliage.
Eastern lowland gorillas
Eastern lowland gorillas live in the forests and swampland just to the west of the Virunga Volcanoes. Also known as Grauer's gorilla, this is the largest of the four gorilla species, with males standing up to 1.85m tall – that's over six feet. They spend more time in the trees than their mountain counterparts, which can make observing them easier if they are not too far from the ground, although from time to time they'll forage high in the canopy.

Due to ongoing conflict in eastern DRC, it is extremely difficult to count eastern lowland gorillas and study their behaviour. In the mid 1990s, their population was estimated at 17,000; current reports say there may be anything from a quarter to half of those remaining in these forests. Given the threats it faces, the eastern lowland gorilla is critically endangered.
Western lowland gorillas
Western lowland gorillas are the most numerous of all gorilla species; however, in DRC they live only in the far west of the country, close to the Atlantic coast. You can track them elsewhere, most notably in Central African Republic but also the Republic of Congo, Cameroon and Gabon. The western lowland gorilla is critically endangered.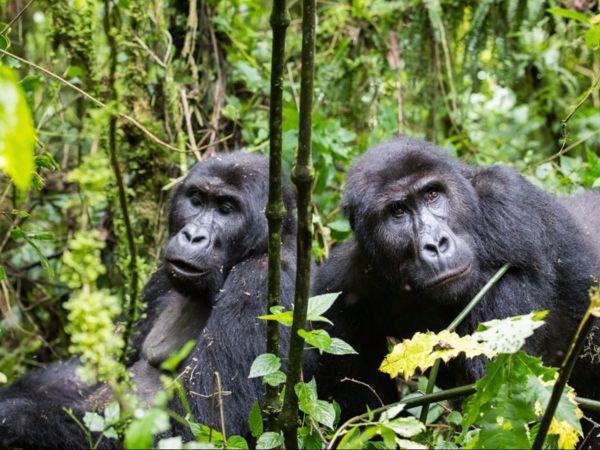 Track the world's largest gorillas across Central Africa
From
£7765
13 days
ex flights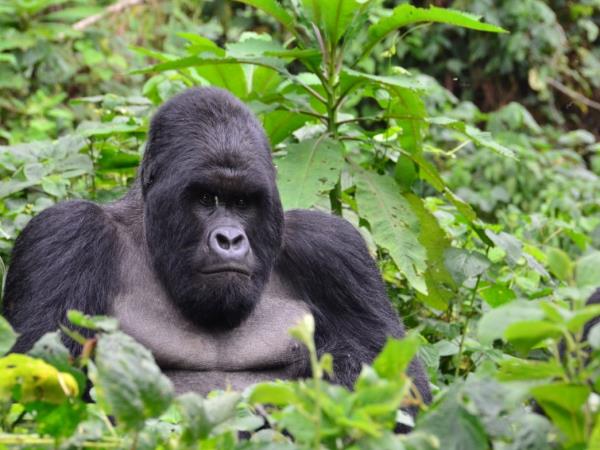 Encounter gorillas, chimps and meet pygmies on Idjwi island.
From
£5299

to

£5499
14 days
ex flights
If you'd like to chat about Gorilla safari or need help finding a holiday to suit you we're very happy to help.

What does DRC gorilla tracking entail?
Most tours in DRC include at least one gorilla safari, typically with the mountain gorillas in Virunga National Park. Here, there are eight habituated groups, with between seven and 26 members; each has a silverback leader and its own distinct personalities and characteristics which your guide will share with you during the trek.
Tours depart in the early morning from Bukima, formerly a research station and now the rangers' base. It's a short drive from Goma. The length of your forest trek depends on the location of the gorillas; you could be walking for barely an hour, or as many as five. The rangers will know where they slept the night before, and are experts at tracking them through the forest to find out where they settle each day.
Eastern lowland gorillas are tracked in the nearby Kahuzi-Biega National Park, a UNESCO World Heritage Site which has six habituated groups. The park is accessed via the town of Bukavu, some 40km away, and close to the Rwanda border. You can travel here from Goma via Lake Kivu – driving around the lakeshore, or taking a boat. You'll be briefed at the Tshvanga Visitor Centre before driving into the park to begin your trek to one of the two habituated groups.
Accommodation
There are basic but comfortable tourist class hotels in Bukima and Bukavu, as well as a couple of safari lodges on the outskirts of Virunga National Park. One has large, comfortable safari-style tents with en suite bathrooms with bucket showers; the boutique option has cosy stone bungalows with bathtubs and private verandas. Both have great views; look out for lively colobus monkeys while enjoying a sundowner. You might also see the night sky glowing red thanks to Nyiragongo Volcano's lava lake.
Responsible tourism
There are plenty of rules to obey when tracking gorillas – these exist for the gorillas' safety, as well as for yours. In DRC, you'll need to wear a facemask to avoid the spread of infections; even a common cold can be highly dangerous for a gorilla. For the same reason you'll need to remain a minimum of 7m away from the gorillas, and you won't be allowed to track them if you are ill. Once you've encountered a gorilla group, you can stay in their presence for up to an hour – a short but truly magical time as you witness them foraging, grooming each other and playing with their young. Try not to make eye contact though, as this is seen as threatening! Do remember to put your camera down and soak up the experience. If you are tracking them twice, consider leaving your camera behind on one of the safaris so that you can really enjoy the moment.
While the tracking guidelines above are essential for anyone tracking gorillas, anywhere in Africa, there are some aspects to gorilla safaris in DRC which mean that responsible tourism is especially important here.
Being a park ranger in Africa is hugely rewarding, but it is never an easy job; it's physically exhausting, with basic living conditions, and threats from wildlife as well as poachers. However, rangers in DRC are at far more risk than those in Uganda and Rwanda. In the past two decades, over 180 rangers have been killed in Virunga National Park. The worst attack took place in April 2018, when five rangers and a driver were killed. The following month a female ranger was shot dead while protecting two tourists. The tourists were kidnapped overnight, and released unharmed.
Virunga is the oldest national park in Africa, but it lies in one of the most troubled regions of DRC, its forest sheltering armed, anti government rebels and local militia. They can fund their activities by hunting for bushmeat, as well as through illegal logging and mining in the park, and it is the rangers' job to prevent them from doing this, which puts them at high risk of attack. In response to these dangers, the number of park rangers was more than tripled between 2011 and 2018, and consequently the number of civilian deaths fell dramatically – although tragically, more rangers were killed. Gorillas have also been killed by rebels in retaliation.
National Geographic
describes the rangers as a 'paramilitary conservation brigade'; becoming a gardien du parc involves gruelling training by former Belgian commandos. It's not just men that manage to complete this regime; around 26 women currently work as park rangers in Virunga. As tourists here, you are supporting the valuable and extremely risky work of these Congolese men and women, and guided walks in the park are an opportunity to learn more about what their jobs entail.
It's not just the rangers themselves who suffer as a result of this violence; so too do the families they leave behind. Virunga National Park's
Fallen Rangers Fund
was established to support the widows and children of rangers killed in the park. It has managed to track down almost all of those who have been widowed since 1991 when the armed conflict began. The fund offers training in sewing as well as employment for the widows and childcare facilities. You can donate to the fund
here
.
More Gorilla safari articles