Just to milk the metaphor of the gorillas being like the godfathers of the forest, the protection money raised for keeping them happy has involved some serious maltreatment of people along the way. In particular the Batwa tribe of Uganda's Bwindi and Mgahinga National Parks, which are the ancestral tribal lands of these people. When the national parks were created in the 1990's to protect the gorillas, the Batwa were evicted and most are still living, many squatting, on the peripheries of the parks, struggling to adjust to new lifestyles or indeed survive. Their displacement was carried out without any consultation or consent of the people, nor with any public hearing and, although a handful of families have been given short land leases, their futures are still hanging in the balance after that. The majority of families have been left without land and, therefore, ways to make a living. A living that was totally sustainable before their evictions, as they had survived for centuries hunting and gathering in the forests.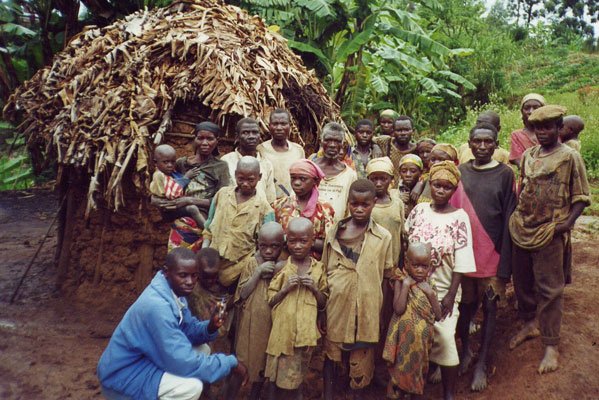 It was thought that the Batwa killed gorillas for meat, and indeed they are often discriminated against for this reason and blamed for any poaching that occurs. However, the Batwa don't eat gorilla meat, and have co-existed with them for centuries. Sadly, racial discrimination against the Batwa is common and now a huge issue.
The irony is that as we tourists ponder the primates, and help fund their survival, the few thousand members of Uganda's Batwa tribe are in danger of extinction. According to leading human rights organisation Minority Rights International, in 2006 the Uganda Land Alliance for Coalition of Pastoral Civil Society Organizations (COPACSO) produced a report warning of starvation and severe illness among the Batwa people. Modern farming methods and modern medicine are totally alien to their traditions, and the source of both traditional food and medicine has now been taken from them. Not forgetting the devastating impact of having had the ties to their spiritual lands totally cut. The same issues are now arising in Cameroon, where gorilla tourism is growing, with the Baka people whose ancestral lands have been designated as Boumba Bek, Nki and Lobeke National Parks.