Gorilla safaris in Rwanda
Rwanda is just one of three countries in the world where you can see mountain gorillas, the largest primate in the world. According to the
2018 census
, the total population is now over 1,000 – having risen by an impressive 25 percent in just eight years, thanks to serious conservation strategies. In Rwanda, mountain gorillas inhabit the Virunga Mountains, a volcanic range that forms a natural border with Democratic Republic of Congo (DRC) and Uganda. These mountain habitats are protected by Volcanoes National Park.
The gorilla permit
Seeing gorillas doesn't come cheap. Nor should it, as Rwanda and its neighbours have put in place exemplary conservation practices in order to protect the godfathers of the wildlife world. In Rwanda a gorilla trekking permit costs US$1,500 per person. They book out well in advance as numbers are strictly limited, and so if you are keen to go gorilla trekking during peak season you sometimes need to book as early as 18 months in advance. This is when an expert gorilla safari company comes in handy as they know all the best times to book and will handle the process for you.
Wheelchair accessible gorilla safaris
If you've always dreamed of seeing mountain gorillas in their natural habitat, being in a wheelchair is no obstacle. Specialist tours are available that see you carried by capable porters in a throne chair or on a stretcher, with your wheelchair carried separately. It can take several hours to reach the gorillas depending on where they're located at the time, and you probably won't be terribly comfortable, but what's waiting for you at your destination is more than worth the journey.
See our wheelchair accessible gorilla safaris in Rwanda
.
You really don't mess with the godfathers of the jungle and there are some serious rules to adhere to. First of all, there are only eight permits per gorilla family issued each day which means that, in Rwanda, there are 80 permits given daily for its 10 gorilla groups.
Once you have reached your gorilla group, by law you will be allowed to spend a maximum of one hour with them, as research has proven that gorillas should not be exposed to human beings for more than one hour a day. After years of poaching Rwanda now takes its stewardship of mountain gorillas very seriously and so, thankfully, seeing gorillas in the wild is driven by conservation not capitalism. This hour will be one of the most extraordinary, up close and personal wildlife watching experiences you will ever have, which is why most people are advised to buy a second permit so that they can have a second trek during their holiday, having travelled all that way. They don't regret it either. What they might regret is being ill on the day, because any sign of germs and you won't be allowed to go; common colds can be transmitted to gorillas, with serious consequences. So get that flu jab you've been meaning to get, and get fit!
How fit do I need to be for a gorilla trek?
You do need to be reasonably fit to go and see gorillas in Rwanda; they aren't called mountain gorillas for nothing. The Virunga Mountains proffer a landscape of six active and three extinct volcanoes as well as swathes of temperate bamboo and evergreen forests which is what gorillas love most.

Depending on which gorilla family you are allocated to, you could have a trek of anything between one and eight hours. And the terrain can be uneven, muddy and slippery in places. Walking poles are recommended So, do consult carefully with your guides and tour operator if you have any concerns.

Gorilla trekking isn't like trekking in Nepal, but it can still be challenging. However, Rwanda is generally viewed as somewhat easier in terms of trekking than Uganda, with hiking trails that are a bit more open and not as steep. We'd suggest a few days of hill-walking in the weeks leading up to your trip will get you into good shape.
Dian Fossey' s legacy in Rwanda
American zoologist Dian Fossey started researching gorillas in Rwanda in 1967. She became famous the world over following publication of her book, Gorillas in the Mist in 1983, followed by a film in 1988. Fossey spent 13 years in the rainforests of the Virunga Mountains and established an unprecedented relationship with gorillas. Her work really was the beginning of the habituation process of gorillas, a process that still happens today, during which gorillas adjust to small and very strictly controlled numbers of tourists coming in to observe them.
Ironically, Fossey strongly opposed wildlife tourism, knowing that gorillas were susceptible to human diseases, and adjusted their natural behaviour patterns in the presence of humans. She was also a fierce opponent of poaching, and this was considered the motive for her murder which took place at her cabin in the mountains in December 1985.
Today, the
Dian Fossey Gorilla Fund
International recognises the importance of wildlife tourism as a way of generating conservation education and income for local communities. Their work has proven to put a stop to poaching. However, thanks to Fossey's strict habituation practices as well as stringent rules about human contact and disease, contact with tourists is very limited.
Gorilla behaviour is quite predictable which means that national park rangers can keep a close eye on them from a distance and then radio back to base if a gorilla family settles in one particular spot. Every morning at sunrise, gorillas go in search of a cosy spot where they can eat, rest and play for the day. That is why you will never be sure until you get there just how long a trek you might have; it depends on how the bamboo tastes on that particular day.
It is important to note that these gorillas have been monitored by experts and 'habituated' to minimal human activity over a period of up to two years before they are exposed to the presence of tourists. That way they are not frightened by a group of strangers suddenly arriving on their patch. The process is very carefully managed, not only to protect the gorillas, but also the wildlife watchers. That is also why, when you see the gorillas, you must behave in a certain way, such as lowering your head and keeping a submissive appearance.
Our top trip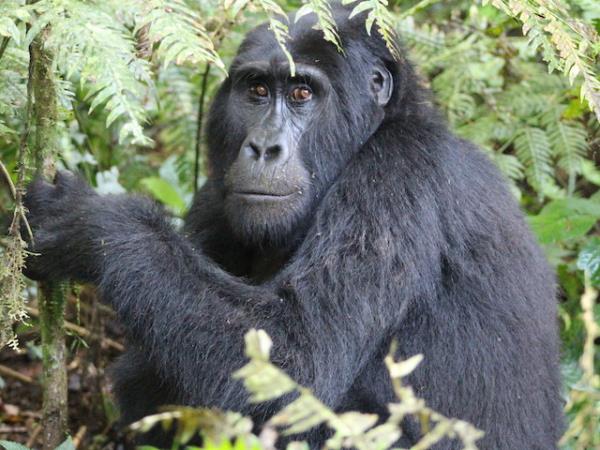 Gorilla, Chimp, Colobus and Golden Monkey trekking in Rwanda
From
US $3934

to

US $4741
6 days
ex flights
Tailor made:
This trip can be tailor made throughout the year to suit your requirements
If you'd like to chat about Gorilla safari or need help finding a holiday to suit you we're very happy to help.

Gorilla watching advice from the experts
Paul Callcutt at our leading supplier of Rwanda gorilla trekking holidays, Natural World Safaris:
"I would always recommend that people take more than one visit to the mountain gorillas. This is because every time is so very different from the others; after your first visit you will relax significantly and perhaps spend less time so focused on taking pictures but actually absorb the experience a lot more."
"When you see the gorillas, be super quiet and submissive. The gorillas largely don't care about your presence much, unless people get out of line, and I'm sure if anyone were to cross that, the gorillas would have something to say about it. But the wardens and trackers ensure that you stay where you should be, and behave as you should."
"SLR cameras are the best for these trips although a lot of people don't want to carry one. I wouldn't obsess with long zoom lenses because you are going to be so close to them. Some people turn up with a 200-300mm zoom and then find out that they can't get far enough away to take photographs. If I had to choose, I would take the 24-70."
More Gorilla safari articles