Gorilla safari travel guide
Gorillas are like the godfathers. The largest and most powerful of the great apes, you are only granted an hour's sitting with them. That is the law of the gorilla wildlife viewing world, mostly Uganda and Rwanda, where primate permits are like gold dust. Godfathers don't mix with any old hangers on either, with permits costing as much as US $1,500. And family is everything to them, as they congregate in family groups of five to 10, the silverback being the don.

You can just look into their eyes and see their intellect and of course they have emotions too. They can feel happy and sad or fearful.

- Dr. Jane Goodall, The Jane Goodall Institute
Unlike other wildlife watching you get very close to gorillas, allowing you to see their human-like behaviour. Not surprising, given that they share 98.3 percent of their genetic code with us, making them our closest cousins after chimpanzees and bonobos. Which is why even just an hour with gorillas has such an impact - a time when the line between animal and human is briefly blurred, leaving you with a profound understanding of what it means to be a part of the primate family.
Is a gorilla safari for you?
Go and see gorillas in the wild if…
...you want a wildlife experience like none other. It's up close and personal.
...a family wildlife experience of a lifetime is what you are after. Albeit for older children, as you need to be 15 to get a permit.
...you enjoy sharing the knowledge and expertise of highly trained, conservation aware local guides.
...you are organised. You need to book gorilla trekking holidays well in advance, as the number of permits are highly restricted.
Don't go and watch gorillas in the wild if…
...watching wildlife from the comfort of a vehicle is your thing . Gorilla watching is for trekkers only. ...you're not in good shape. Walking three hours is usually the norm over steep, slippery terrain. ...you are on a very tight budget. Permits range from $400 to $1,500. ...you want to stare at gorillas all day. An hour a day is your limit, to help protect them.
Sir David Attenborough, Life on Earth: "There is more meaning and mutual understanding in exchanging a glance with a gorilla than with any other animal I know. Their sight, their hearing, their sense of smell are so similar to ours that they see the world in much the same way as we do. We live in the same sort of social groups with largely permanent family relationships. They walk around on the ground as we do, though they are immensely more powerful than we are. So if there were ever a possibility of escaping the human condition and living imaginatively in another creature's world, it must be with the gorilla."
Our top trip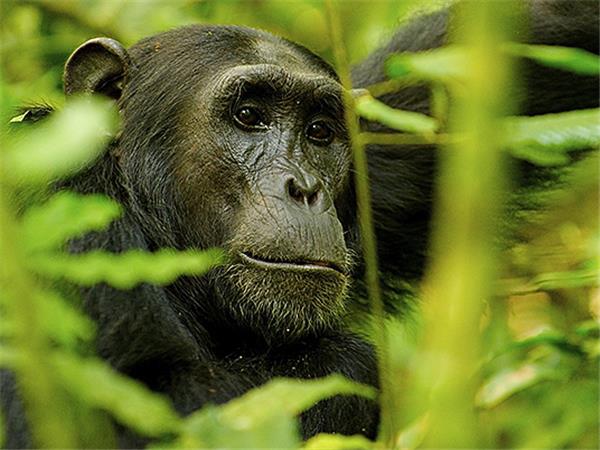 An incredible adventure into the heart of Africa
From
£6199

to

£6749
12 days
inc UK flights
Small group travel:
2024: 15 Jun, 13 Jul, 3 Aug, 24 Aug, 28 Sep, 2 Nov
2025: 14 Jun, 12 Jul, 2 Aug, 23 Aug, 20 Sep, 1 Nov, 6 Dec
If you'd like to chat about Gorilla safari or need help finding a holiday to suit you we're very happy to help.

What does a gorilla safari entail?
Most importantly, you need to book your gorilla safari holiday as far in advance as possible, due to the high demand for the limited permits that give you access to the gorillas. We would recommend a year to 18 months to guarantee a date that suits you, especially if you are planning to travel during the most popular months. The good news is that you can see gorillas all year round, so you are not limited by the seasons. And if you don't mind rain showers, permits in Uganda can be discounted during the wettest months of April, May and November to as little as US $450 (compared with the normal US $600 - or US $1,500 in Rwanda). Democratic Republic of the Congo permits can be even cheaper in rainy season. This doesn't happen every year, so do discuss this with your tour operator before you book. Finally, if you are hoping to travel as a family, the minimum age for a gorilla permit is 15.
There are only eight permits issued per gorilla group, per day, which allow you to observe one family of gorillas for an hour. Rwanda's Volcanoes National Park has 80 permits for its 10 habituated groups, and there are over a dozen habituated gorilla families in Bwindi, Uganda. The majority of gorilla safaris take place in these two countries, and seeing gorillas in the wild here is driven by conservation not capitalism. Research has proven that gorillas should not be exposed to humans for more than one hour a day to minimise distress and limit their exposure to diseases - even a common cold can prove serious for a gorilla.
This system of small, tightly controlled tour groups, paying big fees, which are reinvested in conservation, is considered a great success in wildlife tourism, as the increasing number of mountain gorillas shows. If one hour isn't enough, you can buy a second permit for another day of your holiday, and most tour operators recommend this. The first visit is often so overwhelming, and tourists are rushing to take photos, that by the second trip, you are more chilled and just sit back and take in the awesomeness of it all.
Gorilla trekking starts at 7am, so you will stay in a local lodge the night before. You will be allocated into groups of up to eight people, sometimes six, according to how far you want or feel able to trek. But it is important to know that you will be trekking and that there is some physical exertion involved. This is not a jeep safari holiday, but nor is it like trekking in Nepal. Depending on which family of gorillas you are allocated, you could be trekking from an hour to eight hours in total, so do consult carefully with your guides.
If you're a wheelchair user, or have mobility issues, there are tours available that involve you being carried in a throne chair out to see the gorillas. It's not the most comfortable way to travel, and you'll need to watch out for overhanging branches, but the journey is more than worth it. Find more details in our
guide to wheelchair accessible holidays
.
So, how do the park rangers know where the gorillas will be every day? Every morning, at sunrise, and like clockwork, gorillas go in search of a new 'nest'. They settle here to eat, rest, and play for the day, and park rangers track these movements from sunrise too. They then radio the nesting location back to base, and you are guided by other rangers to one of the gorilla families. These could vary from one hour to five hours' hike away.
Before you head off on your trek, you will be offered the services of a porter to carry your daypack. You might not think that you need it, but this is a vital source of income to men and women from local communities. They are also great company and will enhance your trip, so don't hesitate in supporting this fantastic service.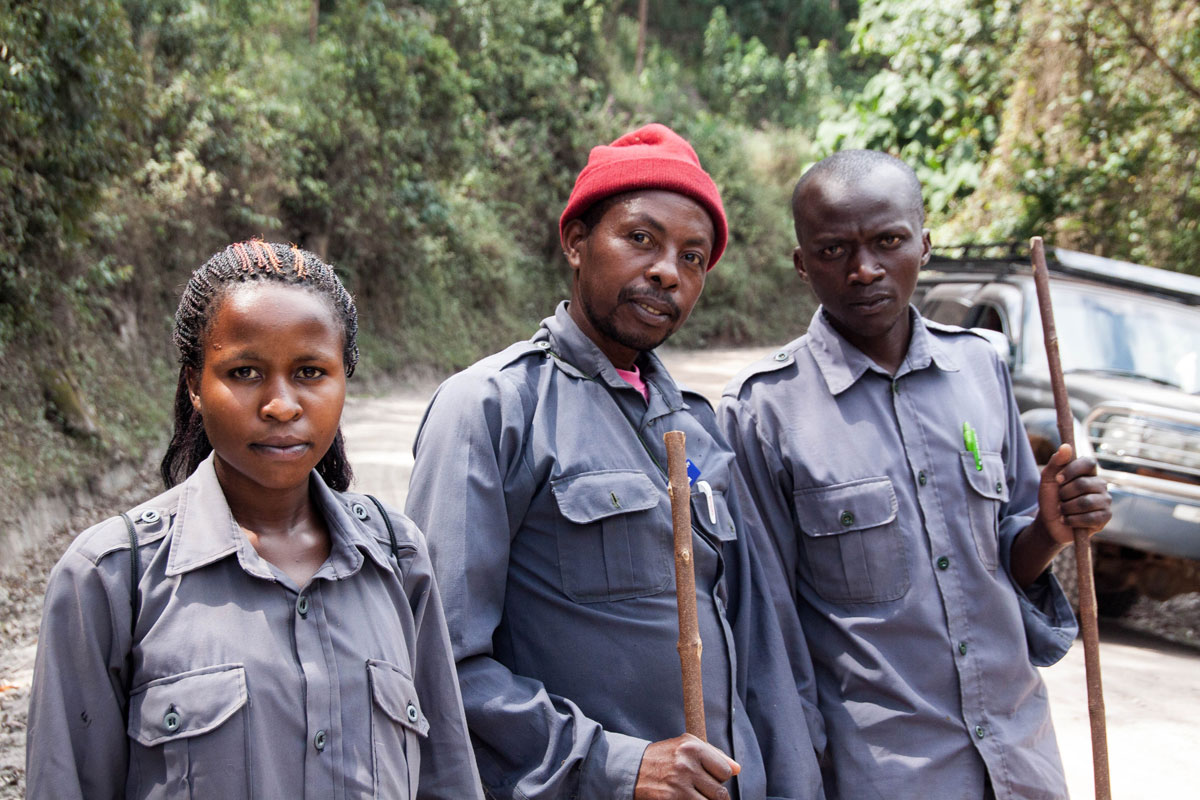 Once you find the gorilla family, you are briefed to keep silent and submissive. These gentle giants allow you to infiltrate their world, and you can watch them communicate with each other, mother to child, father to mother, using barks, screeches and grunts, as they move around on all fours using the knuckle walking technique. Whatever they do, be prepared for 60 seriously stimulating minutes.
The gorillas which can be tracked in Rwanda's and Uganda's national parks have gone through an habituation process over a period of up to two years sometimes whereby, slowly but surely, each family is exposed to human presence, so that they are not freaked out when a group of tourists arrives. This is a very carefully managed process, and it is not in any way a training procedure. It is a gentle habituation process that is supported by the funds raised through the sale of tracking permits. Some tour operators offer the chance to join the experts on a day of habituation, which gives you a longer time with the gorillas, and an even wilder experience.
As you will only see gorillas once or twice, tour operators arrange other activities during your gorilla watching holiday, such as chimpanzee tracking or a traditional safari. On the day of the gorilla trek itself, you probably won't want to plan too much, as you will be exhausted, emotionally and physically.
Gorilla trekking– a brief history
One of the first gorilla safaris by a tourist was not, sadly, for conservation purposes, but for preservation purposes. In a glass case, stuffed, as was the way in the early 20th century. American naturalist, and museum taxidermy expert, Carl Akeley, led an expedition to Mount Mikeno in the Virunga Mountains on a mission to 'collect' gorillas. During this expedition, it is said that he had an ecological epiphany, and campaigned for this region - in the then Belgian Congo - to be protected as a national park. In 1925 it became the first national park in Africa. It is worth noting that Akeley still supported the collection of gorillas for scientific and educational purposes, but opposed hunting them for sport. Shooting, no. Stuffing, yes.
Read more
More Gorilla safari articles