"A week of adventures in Uganda, travelling in a small group, including a day of gorilla trekking in Bwindi and rafting on the Nile. As you do. "
Highlights
Gorilla safari in Bwindi Impenetrable National Park | Rafting on River Nile | Queen Elizabeth National Park | Kazinga Channel | Jinja town | Kampala | Fort Portal | Wildlife safaris and safari camp | Rwenzori Mountains | Equator stop in Masaka
Description of Small group adventure holiday in Uganda
This Uganda adventure holiday opens with the most exciting way to fully immerse yourself in our country's magnificent landscapes – by rafting on the River Nile, starting at our adventure capital, Jinja Town. Weather depending, you can take on the rapids of this great river at its source, for a wonderfully exciting start to this tour.

Heading west, we then spend a couple of days in the iconic Queen Elizabeth National Park, where we will stay in a safari camp that gives views over some of our most spectacular mountain landscapes. Our game drive here is spectacular, with chances to see hippos, elephant, buffalo, lion and even leopard. A boat trip on the park's Kazinga Channel in the afternoon and evening is the perfect way to end this day of wildlife watching.

Uganda's wildlife watching adventure is at its most spectacular in the Bwindi Forest, where we spend a day tracking for gorillas in this world famous national park, home to over half of the earth's 800 or so mountain gorillas. Travelling in a small group means that we are able to organise the much sought after gorillas safari permits in advance, staying in a nearby mountain lodge that is at the heart of the small rural community here.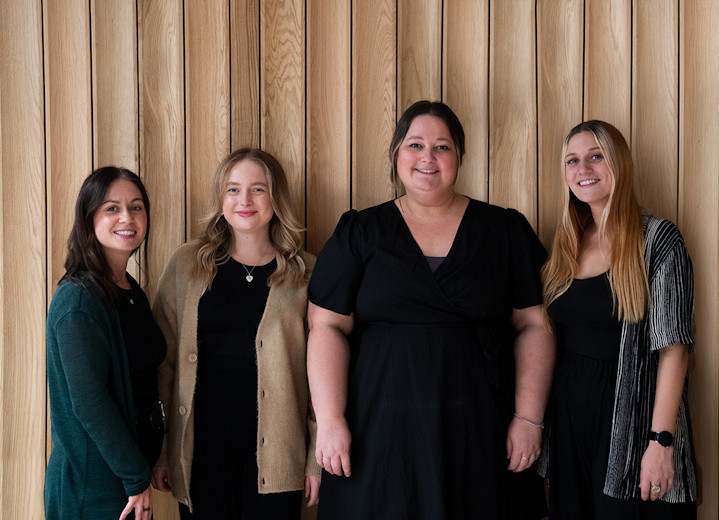 Check dates
2019: 28 Jan, 11 Feb, 25 Feb, 11 Mar, 25 Mar, 8 Apr, 22 Apr, 6 May, 20 May, 3 Jun, 17 Jun, 1 Jul, 15 Jul, 29 Jul, 12 Aug, 26 Aug, 9 Sep, 23 Sep, 7 Oct, 21 Oct, 4 Nov, 18 Nov
Top tip:
Bring your binoculars. You may be focused on seeing the gorillas, but Uganda's birdlife is extraordinary. And these guides really know their stuff.
Trip type:
Small group tour, fully guided.
Activity level:
Moderate.
Accomm:
Camps and eco lodges.
Solo travellers:
Solo travellers welcome.
Included:
Gorilla trekking permit, transport in 4WD, driver guide, accommodation, all meals, national park entrance fees, drinking water, all activities in itinerary.
About this holiday company:
This Uganda based tour operator has been in the gorilla trekking business since 2002, and is wholly dedicated to responsible gorilla trekking, in their home country and also in Rwanda. A member of the Uganda Association of Tour Operators, their leader guides are also experts in hiking, birding and rafting. You get the picture. They've got this.
Responsible tourism
Responsible tourism: Small group adventure holiday in Uganda
Environment
The "Bwindi" meaning a muddy swampy place full of darkness by the local community is a home of over 10 species of primate of which we find the endangered Mountain Gorillas which have since attracted conservation efforts driven by the tourism activities in the region. Whenever one visits the forest they contribute 60%of there park fees to the community projects, 20% to improve park management and 20% to ecological monitoring and research aimed at conserving the remaining wildlife in this forest. Therefore you directly contribute to the conservation of the primate species during this adventure.
The mountain gorilla is an endangered species therefore Uganda wildlife authority has put in place specific rules and regulations to be followed when tracking mountain gorillas.
GORILLA TRACKING RULES AND REGULATIONS
Before setting off for gorilla tracking:
• Always wash your hands before you head out to the gorillas.
On the way to the gorillas:
• Keep your voices low at all times. This will give you an opportunity to observe the great bird life and other wildlife in the forest.
• The guides will lead you to where they last saw the gorillas from where you will trek and follow the same trail to find them. Look out for the gorilla's nesting sites along the way. Look out for the gorilla nesting sites along the way.
• DO NOT leave rubbish in the park. Whatever you bring into the forest should be carried back out with you.
• A maximum number of 6 visitors (8 in DR Congo and if trekking one of the larger groups in Rwanda) may visit a group of habituated gorillas in a day. This minimizes behavioral disturbance to the gorillas and the risk of their exposure to human-borne diseases.
• When you approach the Gorillas, the guides will inform you to get ready.
When you are with the gorillas:
• A 5-meter distance should try to be observed at all times (15 feet) from the gorillas. This is to protect them from catching human diseases.
• You must stay in tight group whey you are near the gorillas.
• Keep your voices down at all times. However, it is OK to ask the guide questions.
• Do not eat or drink while you are near the gorillas. Eating or drinking inevitably will increase the risk of food/drink morsels/droplets falling, which could increase the risk of transmission of diseases
• Sometimes the gorillas charge. Follow the guides example (crouch down slowly, do not look the gorillas directly in the eyes and wait for the animals to pass). Do not try and to take picture and do not attempt to run away. Running away will increase the risk of attack.
• Flash photography is not permitted! When taking pictures move slowly and carefully.
• Do not touch the gorillas. They are wild animals. They might look cuddly but!
• The maximum time you can spend with the gorillas is one hour. However, if the gorillas become agitated or nervous, the guide will finish the visit early.
• After the visit keep your voices down until you are 200 meters from the gorillas.
GENERAL HEALTH RULES:
Remember gorillas are very susceptible to human diseases. The following are ways to minimize the risk your visit might pose to them:
• Respect the limits imposed on the number of visitors allowed with the gorillas each day. This minimizes the risk of disease transmission and stress to the group.
• If you are feeling ill, or you are carrying a contagious disease, volunteer to stay behind. An alternate visit will be arranged for you, or you will be refunded your money.
• If you feel the urge to cough or sneeze when you are near the gorillas, please turn your head away and cover your nose and mouth in order to minimize the spread of bacteria or viruses.
• Always stay 5 meters (15 feet) away from the gorillas. The further back you are, the more relaxed the group will be.
• Do not attempt to touch the gorillas.
• Do not smoke, drink or eat when you are with the gorillas.
• Do not leave any rubbish (e.g. food wrappers) in the Park; foreign items can harbor diseases or other contaminants.
• If you need to defecate, whilst in the forest, please ask the guide to dig you a hole with his panga. Make sure the hole is 30cms deep and fill it when you are through.
Also en-route to Bwindi from Queen Elizabeth NP, you encounter the local community and support their efforts to conserve and protect a variety of chimp species that live around their settlement. At a small fee you are given a guided tour around the protected area on foot by the local guides and the funds collected economically support the conservation project and well-being of the chimps.
Community
When it comes to the Gorilla tracking and village walks, we encourage the visitors to use local porters or helpers to carry their luggage and this provides direct employment to the local community since they are paid a wage directly for their service. Others who benefit like this are the village guides during the village walks since they are natives and know the routes more than us, we employ them to guide us so that the visitors get to see most of the places there is. This is all done on top of the guide provided who must ensure Harmony and smooth interaction of the locals with the visitors so that there is mutual respect for one another.
This trip provides a lot of employment opportunities to the local people in most of the regions we visit for example; in the Bwindi, we carry out a lot of trekking and village walks while interacting with the local people and carrying out our community projects. We use local people as porters or helpers to carry the luggage for a small wage. They also work as local guides during village walks and local markets since they are considered to be well versed with the places more than us.
4 Reviews of Small group adventure holiday in Uganda
---
Reviewed on 20 Jul 2018 by
Miguel Ferreira-da-Silva
1. What was the most memorable or exciting part of your holiday?

Seeing the eastern mountain gorillas, SO many new birds, and the chimpanzees.


2. What tips would you give other travellers booking this holiday?

Book for 2 days trekking to see the gorillas is you can afford to. Go to Uganda for minimum 7 nights, maybe 10 if you can - there is so much to see and do.


3. Did you feel that your holiday benefited local people, reduced environmental impacts or supported conservation?

Yes - definitely. It definitely supports the communities and conservation - and therefore also reduces environmental impact. Uganda in general and the lodges
we stayed in need to improve on being more environmentally aware in terms of recycling, using biodegradable soaps etc. Only 1 out of 4 lodges we stayed at did this. It all goes hand in hand with saving the earth.


4. Finally, how would you rate your holiday overall?

Wonderful! I was so surprised by how beautiful Uganda was, and how safe the driving was (it's not like driving in India, for example!). I hadn't realised there'd
be the volcanic crater lakes and so many wonderful hilly areas. It was so varied. Also the people are some of the nicest Ive ever met in a country. They are so
friendly and well educated.
---
Reviewed on 04 May 2017 by
Avril Ronald
1. What was the most memorable or exciting part of your holiday?

Trek to see the gorillas


2. What tips would you give other travellers booking this holiday?

Be prepared for travel over long distances, but this enables you to see much of the country and its communities. Be prepared for some difficult terrain in trek to see gorillas, but support can be provided by porters. Take a hairdryer. Remember you are visiting a developing country, so manage expectations.


3. Did you feel that your holiday benefited local people, reduced environmental impacts or supported conservation?

It did all three above. A percentage (20%?) of your holiday costs in national parks went to finance local community projects.


4. Finally, how would you rate your holiday overall?

Excellent, would thoroughly recommend it. Varied experiences.
---
Reviewed on 07 May 2014 by
Robert Roberto
1. What was the most memorable or exciting part of your holiday?

The entire holiday was memorable. There are countless experiences that I will always remember. Having the opportunity to track and then spend an hour with the mountain gorillas was perhaps the most memorable. Being in the midst of these gentle beings was breathtaking. Having a troop of 10 gorillas surrounding me with the majestic silverback and darling infant within feet with no barrier between are moments I will cherish forever. Additionally, the opportunity to spend time with five tree climbing lions in Ishasha while they were in the trees was unforgettable.


2. What tips would you give other travellers booking this holiday?

By prepared for some hours driving between locations depending on your personalized itinerary but understand the time is rewarded with fantastic experiences upon arrival to each location of the customized itinerary. Also, be prepared for any weather changes by bringing all weather kit. Finally, you will be received by the most friendly people everywhere in Uganda.


3. Did you feel that your holiday benefited local people, reduced environmental impacts or supported conservation?

I felt the holiday did benefit local people. The local people benefited directly through the percentage of park fees that in Uganda go directly to the local communities. Additionally, the employment of local people at the lodges also received a benefit that could then be cycled within the community. Also the park fees supported the Uganda Wildlife Authority and their conservation work, especially the fee for the mountain gorilla permit in Bwindi National Park.


4. Finally, how would you rate your holiday overall?

I would give the holiday a five star rating. Jackson at the tour company was very helpful and professional in tailoring an itinerary to my interests and Alex my guide was fantastic in ensuring that my safari was the best possible safari I could wish for. Thanks to both. The tremendous wildlife in Uganda along with the kindness of all the Uganda staff and people made the holiday a lifetime event.

---
Reviewed on 26 Oct 2013 by
Kathy Hammond
1. What was the most memorable or exciting part of your holiday?

Spotting the Gorillas in The Bwindi Impenetrable Forest


2. What tips would you give other travellers booking this holiday?

Always take the option of a porter when trekking the gorillas. After paying 100's of dollars for the permit, $15 for the use of a porter is peanuts. The trek is really tiring and the porter not only carries your bag but pushes, pulls and generally helps get you into t he best spots to photograph the gorillas!


3. Did you feel that your holiday benefited local people, reduced environmental impacts or supported conservation?

Some of the money from the cost of the permit goes towards educating local farmers and villagers about the value of the gorillas and the tourism to the area.


4. Finally, how would you rate your holiday overall?

Scary booking direct with Ugandan company but I believe now they have credit card facilities. Certainly only half the price of similar tours arranged by UK company travelled alone and as a 50 something year old female felt totally at ease throughout the trip.

---
Popular similar holidays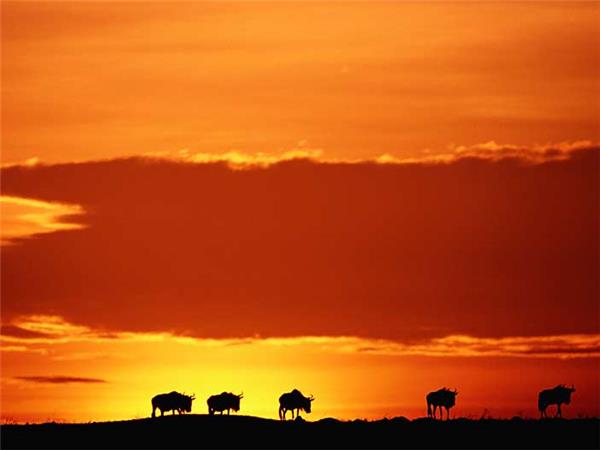 Superb safari and trip to see gorillas
From £3799 - £5499 18 days including UK flights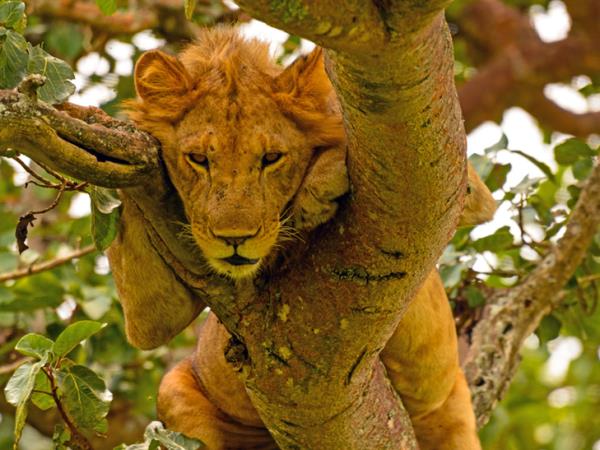 Gorillas, Chimpanzees, 6 National Parks and Jinja Adventure
From US $6696 16 days excluding flights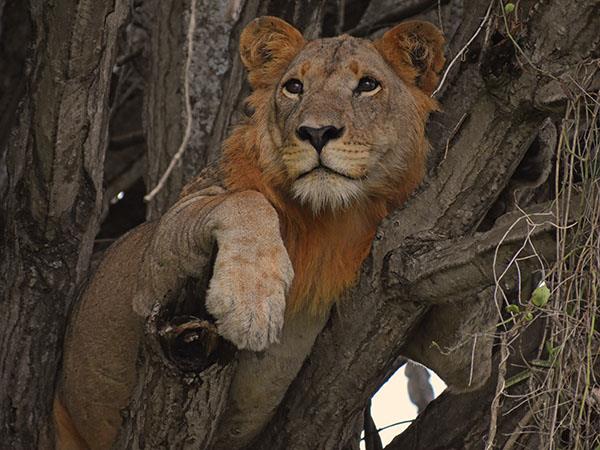 This you cannot miss while in Uganda -The wild and beautiful
From US $2550 8 days excluding flights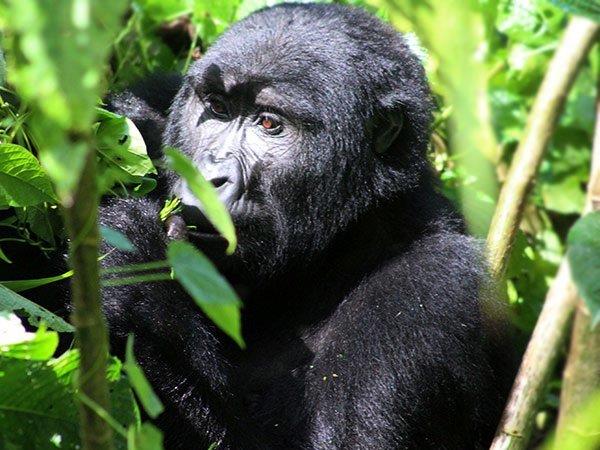 The great Silverback Gorilla & wildlife all in one package
From US $3100 10 days excluding flights