Our Uganda gorillas safaris & holidays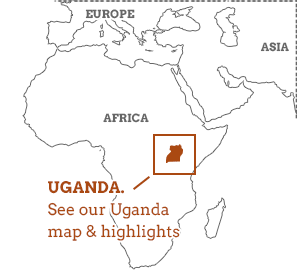 Uganda is a truly spectacular wildlife destination, home to tree-climbing lions, chimpanzees and hippos. But our Uganda holidays also take you trekking into Bwindi Impenetrable National Park for unforgettable encounters with mountain gorillas. Expert local guides provide a deeper understanding of animal behaviours. They also love sharing the odd Swahili phrase, helping you to form more meaningful connections in the communities you visit. From the adventure capital of Jinja to Murchison Falls National Park, and perhaps even over the border for game drives in Kenya's Masai Mara, these holidays are as much about exploring Uganda's culture as its nature.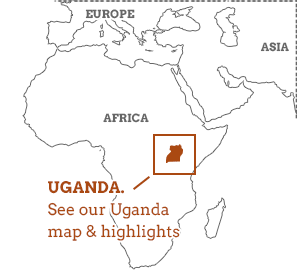 Our top Uganda holidays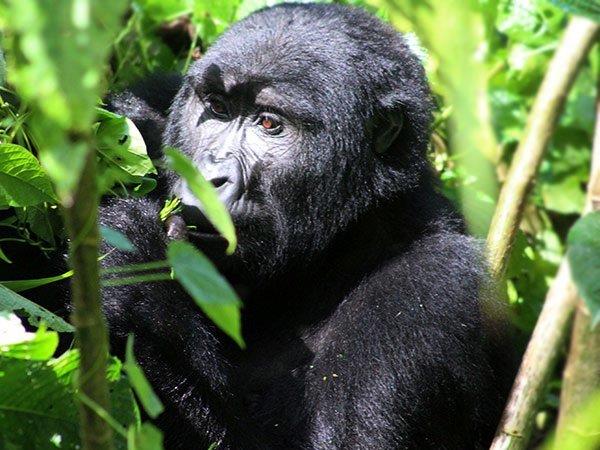 10 days
ex flights
The great Silverback Gorilla & wildlife all in one package!
Small group
2023: 4 Apr, 18 Apr, 2 May, 16 May, 30 May, 13 Jun, 27 Jun, 11 Jul, 25 Jul, 8 Aug, 22 Aug, 5 Sep, 19 Sep, 3 Oct, 17 Oct, 31 Oct, 14 Nov, 28 Nov, 12 Dec, 26 Dec, 2024: 9 Jan, 23 Jan, 6 Feb, 20 Feb, 5 Mar, 19 Mar, 2 Apr, 16 Apr, 30 Apr, 14 May, 28 May, 11 Jun, 25 Jun, 9 Jul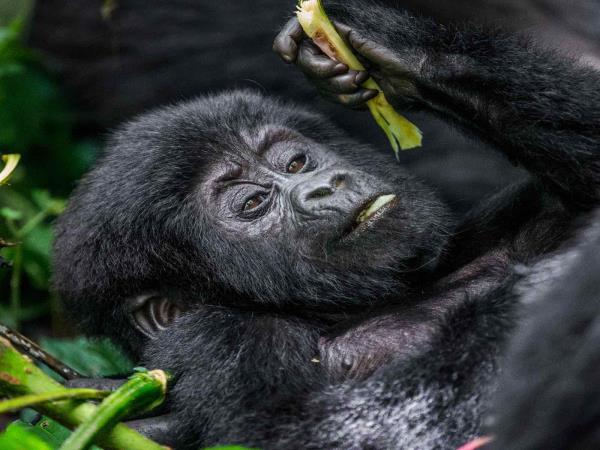 12 days
ex flights
Queen Elizabeth, Bwindi & Murchison Falls National Parks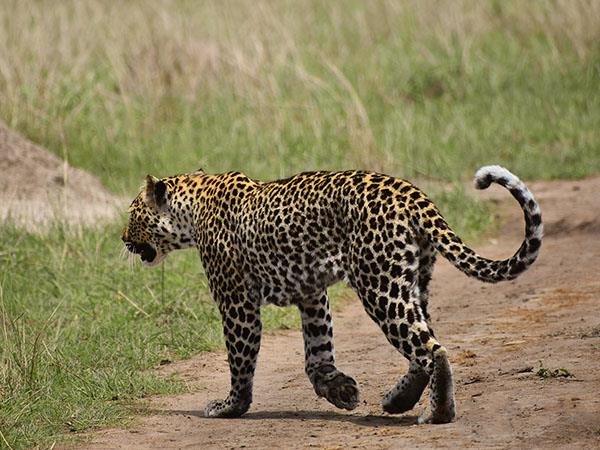 7 days
ex flights
Experience the fresh waters, wilderness & Jungle in Africa!
Small group
2023: 5 Apr, 19 Apr, 3 May, 17 May, 31 May, 14 Jun, 28 Jun, 12 Jul, 26 Jul, 9 Aug, 23 Aug, 6 Sep, 20 Sep, 4 Oct, 18 Oct, 1 Nov, 15 Nov, 29 Nov, 13 Dec, 27 Dec, 2024: 10 Jan, 24 Jan, 7 Feb, 21 Feb, 6 Mar, 20 Mar, 3 Apr, 17 Apr, 1 May, 15 May, 29 May, 12 Jun, 26 Jun, 10 Jul
About our Uganda holidays
Gorilla safaris in Uganda
The mist-shrouded Bwindi Impenetrable National Park is home to an estimated 50 percent of all mountain gorillas. There are around 11 habituated families, each of which is usually led by a giant silverback. As part of impressive conservation efforts, permits for
gorilla watching
are tightly regulated – only 90 or so are issued every day. Tracking means trekking, for up to six hours in some cases, through often slippery terrain both uphill and downhill. But it's worth every second to spend an hour watching man's closest cousins as they play, forage and interact right in front of your eyes.
Chimpanzee tracking
Chimps share around 98 percent of their DNA with humans, so if connecting with your extended family on holiday appeals, then try
chimpanzee tracking
in Uganda. The most popular place to do so is Kibale National Park, but Kyambura Gorge in Queen Elizabeth National Park, while less likely to yield sightings, also offers sensational scenery into the bargain. Watching chimps is more fun than gorillas it must be said – they move around a lot so you'll be following them around the forest. Permits cost less too, although still contribute to essential conservation projects.
Wildlife holidays in Uganda
Uganda might be on the small side, Africa-wise, but when it comes to
wildlife
they super-size it here. Apart from magnificent mountain gorillas and cheeky chimpanzees, you've got tree-climbing lions, hippos, elephants, rhinos, eagles, buffaloes, even the occasional zebra, and almost one in 10 of the world's bird species. You basically can't turn around for wildlife in Uganda. And all of it set against a spectacular backdrop – volcanoes, crater lakes, mist-laden forests, lush savannah – to be explored on foot, by 4x4 or canoe.
Wildlife holidays
have unquestionably helped conservation efforts, which in turn leads to more animals appearing in your binoculars.
Rwenzori Mountains
Running along the border between Uganda and DR Congo, the snow-capped
Rwenzori Mountains
are rarely visited. But among trekkers and birders that have ventured into them, their landscapes are spoken of in hushed and reverential whispers. Otherwise known as the Mountains of the Moon, this 120km-long range is blanketed on its lower slopes by bamboo and moist montane forests. Higher up, the valleys have been carved out by glaciers over centuries, and the flora is thick and diverse. Small group trekking holidays are the best way to explore the Rwenzori Mountains, camping or sleeping in huts and led by expert guides.
Combining gorillas with East Africa safaris
Uganda is often combined with Rwanda, Kenya or Tanzania to create East Africa safaris that bring mountain gorillas into the mix with a dazzling range of wildlife. After a few days watching gorillas in Bwindi Impenetrable National Park, you might move on to migrating zebras, gazelles and wildebeest running the gauntlet against lions and cheetahs on the Maasai Mara. Chimpanzee tracking can be combined with game drives around the Serengeti, then dolphin watching on the Zanzibar coast. If you want to make the most of your time, there are tour operators who can conjure up a safari itinerary that will do precisely that.
Types of safaris & holidays in Uganda
Practically all Uganda holidays are wildlife holidays – it's a superb country for big game viewing, as well as seeing the famous gorillas and chimpanzees. We recommend
small group holidays
here for several reasons. Firstly, all the logistics are taken care of, including accommodation, permits and transport, so you can concentrate on what's at the end of your camera lens. Secondly, you're joining a ready-made group of fellow adventurers. And thirdly, these itineraries are designed by professionals with years of experience who aim to show you as much as possible in a short space of time.
If you'd like to chat about Uganda or need help finding a holiday to suit you we're very happy to help.