Culture tips
Jackson Araali, from our supplier Primate World Safaris:
"My favourite part is actually the culture. In the southwest, they have tribal chiefdoms and not kingdoms, so we visit those. Sometimes they have what they call 'community libraries' where they keep artifacts which they can show you about their culture, their tradition, their norms. You find people exhibiting their cultural dancing and things like that – so you have an overview of these cultures. In the central region we focus on visiting the kabaka kingdom – the kabaka is the parliament of the central region. And in the west, we always have a stop off at the kingdom of Toro, which is one of the biggest in Uganda. On the way to Kidepo, in the far north, you go through the Karamojong community. It's one of the minority communities, and very rich in tradition. They have tried to preserve their culture, they still stay in their homesteads and they have their livelihood there, many of them are cattle keepers. They drink the cattle's milk, their blood – that's their lifestyle."
Gorilla tracking tips
Paul Callcutt from our supplier Natural World Safaris:
"I would always recommend that people take more than one visit to the mountain gorillas. This is because every time is so very different from the others; after your first visit you will relax significantly and perhaps spend less time so focused on taking pictures but actually absorb the experience a lot more. When you see the gorillas, be super quiet and submissive. The gorillas largely don't care about your presence much, unless people get out of line, and I'm sure if anyone were to cross that, the gorillas would have something to say about it. But the wardens and trackers ensure that you stay where you should be, and behaving as you should be."
Wildlife advice
Jackson Araali, from our supplier Primate World Safaris: "Many people focus on going chimpanzee tracking, going gorilla tracking, but when we go into such forests, like Bwindi and Kibale, you can go birding, and if you spend enough time there you can discover so many reptiles – snakes and chameleons, the things that people don't really talk about. There are forest animals, elephants, buffalo – almost everything. So we are trying to not go to Bwindi for only gorillas. We are taking people for birding, doing the community walks, seeing the scenery and so many things. I actually give about three days to that region alone in my trips."
Stay for a safari
Vicki Brown, Responsible Travel's writer and editor:
"Don't go and track gorillas and then whizz out on the next plane to Kenya for your safari – there is so much to see in Uganda. In the national parks you'll be absolutely immersed in nature even once the game drive finishes. I had monkeys jumping around my outdoor shower and nearly came face to face with a hippo in my camp in Murchison Falls, and in Queen Elizabeth I could look out from my lodge on top of an escarpment and hear elephants' trumpeting calls echoing around the volcanic landscapes. It's absolutely magical."
Making the most of your tour leader
Often Konzoro is a tour leader with our supplier, Exodus, leading tours in Uganda and Kenya: "When I do my pre-departure meeting I always tell the clients – if you see anything please do ask me, don't tell me when we get to the campsite, better to tell me when on the spot when we can talk about it or learn about it.
Mostly I'm in the back of the truck with the clients, and when the clients see something on the way they ask me and we can talk about it in the truck. We can also talk at the campsite when we sit down just after dinner. When we are driving along and we pass the villages, I tell them about the villages, about the roundhouses from a long, long time ago. These are the moments I enjoy."
Our top trip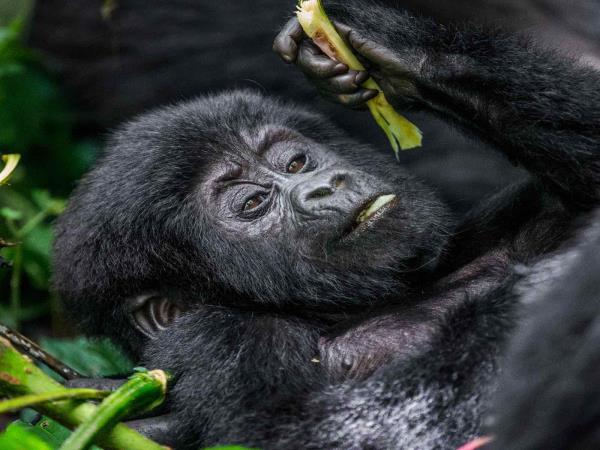 Queen Elizabeth, Bwindi & Murchison Falls National Parks
From
£5195
12 days
ex flights
Tailor made:
This trip can be tailor made throughout the year to suit your requirements
If you'd like to chat about Uganda or need help finding a holiday to suit you we're very happy to help.

Health & safety in Uganda
HEALTH
Visit your GP or travel clinic 6-8 weeks before departure to ensure you are up to date with all necessary vaccinations. Malaria is present throughout Uganda, so you will need to bring anti malarial medication.
Bring insect repellent, long sleeves and trousers as well as closed walking shoes to avoid bites and stings. This is a good idea anyway to protect you from the equatorial sun; using a high SPF cream is recommended at all times.
Keep well hydrated and don't over exert yourself in the heat of the day. Bring a wide brimmed hat to shade yourself.
Tap water is not safe to drink in Uganda. Bottled water is available everywhere, although this does mean you'll be contributing to the unrecyclable plastic waste – so buy the largest bottles you can and refill reusable smaller drinking bottles or CamelBaks from the larger container.
Food is generally of good quality and you are unlikely to experience problems. Exercise the usual precautions – avoiding salads, unpeeled fruit and ice in drinks. However, in mid to high end lodges and restaurants (particularly in Kampala) these should not cause a problem.
Do not swim in lakes in Uganda as they contain a parasite which causes bilharzia (schistosomiasis). The exception is Lake Bunyonyi, which is safe to swim in. If you do feel ill after you have arrived back home – with a fever, stomach ache, rash or any other symptoms, consult your GP and mention that you have been to Uganda, as some infections can take a while for symptoms to show.
Tsetse flies carry sleeping sickness and are found in localised areas near to Murchison Falls National Park. As before, cover up to prevent bites and avoid wearing blue – it attracts the tsetse flies.
The best medical facilities in Uganda are located in Kampala, but even these are limited. Be sure to take out comprehensive travel insurance, which covers any activities which you may be participating in (such as rafting), and includes emergency evacuation or repatriation.
SAFTEY
Uganda is generally a safe and incredibly welcoming country – in the cities as well as in rural areas. It is unlikely you will experience any trouble. Just exercise the usual precautions, avoiding carrying large amounts of cash or having valuables on display. There have also been reports of motorcycle drivers snatching bags; wear shoulder bags on the side away from the road, or stick to backpacks/cross body bags which are harder to remove. Possibly the most dangerous thing you can do in Uganda is ride a boda boda – the ubiquitous motorbikes taxis. They may drive down the middle of or even on the wrong side of the road to beat the chaotic traffic. Additionally, there is no street lighting, the boda bodas themselves rarely have lights, and you won't have a helmet. For many Ugandans they are a necessity, but travellers should spend a bit longer – and pay a bit more – for a regular taxi. Always listen to your guide when around wildlife. The superb national park rangers can read animal behavior and know how near you can get on foot, when an animal is distressed or hungry, or if it is likely to charge. This really is life saving advice – heed it! If staying in, or close to, a national park, animals may wander through your accommodation grounds – particularly at night, so heed warnings, and always carry a torch. In tented camps, it may be dangerous to leave food in your tent as animals such as baboons and warthogs can smell it and tear through the tent. If this is the case, there is usually a safe, sealed storage area available for food and drink; your guide or accommodation owner will advise. If travelling by boat or going on a rafting trip, always make sure you are wearing a lifejacket. If you are travelling with children, ensure they have lifejackets too – and that they fit properly. Accidents are rare, but they have happened. If you are taking photographs from your boat, wrap the camera strap around your wrist or neck. Hippos have been known to appear from nowhere and surprise tourists – who then drop their cameras… Homosexuality is illegal in Uganda, and will result in arrest and possibly imprisonment. Same sex couples should act extremely discretely in public.
At Responsible Travel, we think the best people to advise our travellers are often... other travellers. They always return from our tours with packing tips, weather reports, ideas about what to do - and opinions about what not to.

We have selected some of the most useful Uganda travel advice that our guests have provided over the years to help you make the very most of your holiday - and the space inside your suitcase.

If travelling from UK, take sterling and some dollars. When arriving get shillings, not many places take dollars. Also you will get a price if paying for goods in shillings. Better to leave tips in shillings.

"Combine seeing Mountain Gorillas with Safari in Uganda. Why waste time flying around?" – Liz Green

"Apart from the extra clothing required for trekking (boots, waterproofs etc), travel light, some [accommodations] (not all) offer laundry services and they are very efficient." – Darren Winslow

"Always take the option of a porter when trekking the gorillas. After paying 100's of dollars for the permit, $15 for the use of a porter is peanuts. The trek is really tiring and the porter not only carries your bag but pushes, pulls and generally helps get you into the best spots to photograph the gorillas!" – Kathy Hammond

"Expect the unexpected! Don't get hung up on itineraries, when something doesn't work out the way YOU are expecting it to." – Helen Rankmore

Understand the level of physical activity you will encounter so that you can be prepared. Little things like bringing appropriate footwear, gloves, camera equipment that can bear rough treatment.

"Bring more money than you expect to use as it is easy to get carried away when buying gifts, also traveller cheques are not easy to change and there are not many opportunities to access ATM's or banks."
– Joanne Halpin

"Bring insect repellent (though it's not as bad as we had thought beforehand), a torch and travel sickness pills (in case you get sick easily - the roads are 'African style'). Vegetarian options available everywhere."
– Sabine Mosch

"By prepared for some hours driving between locations depending on your personalized itinerary but understand the time is rewarded with fantastic experiences upon arrival to each location of the customized itinerary. Also, be prepared for any weather changes by bringing all weather kit. Finally, you will be received by the most friendly people everywhere in Uganda." – Robert Roberto