Best time to go to Guyana

Guyana's equatorial setting and tropical climate means temperatures hover between mid 20s and low 30s all year round – just keep an eye out for the rain.

Guyana is green for a reason – rains can fall at any time, though the rainiest periods are from May to early August and late December to January. The best time to go to Guyana is right after this time – in late August or early February, as the mighty Kaieteur – a must on any Guyana holiday – will be at its most powerful at this time. Further into the dry seasons, particularly in September to November, the thick jungles become less swamplike, allowing for greater access, and temperatures rise. The coast receives a little less rain than the rainforest, and the savannah is the driest region in Guyana.
Things to do in Guyana…
One of the advantages of trekking in Guyana is that you can access areas that cars and even boats can't reach. Multi-day trekking holidays take you deep into the virgin rainforest. Spend three days on a supported hike through extraordinary vegetation to Kaieteur Falls, past giant bromeliads inhabited by rare golden frogs, and culminating in a steep climb to a stunning viewpoint. Shorter treks take you up "mini mountains" including Surama and Turtle Mountains.
While Guyana remains well off the mainstream map, birders have known about it for some time. Some 878 Neotropical species have been recorded here (450 in Iwokrama Forest alone) the most iconic being the Guianan cock-of-the-rock, a tangerine-coloured bird with a half-circle crest. Although there are no species endemic to Guyana, many are endemic to this region (known as the Guyana Shield) – and Guyana is one of the best locations to spot them. Key species include the blood-coloured woodpecker, bicoloured conebill, spotted tody flycatcher, and numerous hummingbirds.
Compared with South America's giants, Guyana is a pretty diminutive country – with vast tracts of it out of reach. Take advantage of this by combining it with neighbouring countries, taking the bus across the border to Suriname and then on into French Guiana, for example – to explore the contrasting British, French, Dutch and Indian legacies on this part of the world. Travel into Venezuela to summit Mount Roraima, on the border – or take the hour-long flight to Trinidad for a total birding immersion.
Things not to do in Guyana…
Miss the culture. Guyana's culture is extraordinarily varied considering just 750,000 people live here. Most live along the Atlantic coast, which has a distinctly Caribbean feel as a result of the Indo- and Afro-Guyanese residents who are descended from indentured servants and slaves. Around nine percent of Guyanese are indigenous, including the Arawaks and Caribs who came here from the Caribbean, and the Makushi – who you are likely to meet in the sparsely-inhabited interior on village tours, in locally-run lodges and community conservation projects.
Travel on a budget. We're not going to beat around the bromeliad: Guyana is not cheap. It's costly to get here, travel round, and stay here, despite the fact you may be sleeping in simple thatched huts, in tents – or even a hammock. But this exclusivity adds a value all of its own, especially paired with the tiny population. The forests remain largely pristine, the wildlife unperturbed by the rare human presence, and you'll feel like a true pioneer, in one of South America's final frontiers.
Leave any waste. Important for any destination, but particularly for one with such unspoiled nature – and with few facilities for dealing with waste. Unpackage any items before travelling to Guyana, take items such as spent batteries home with you (even better – use rechargeables), and bring a reusable bottle that you can refill from larger bottles of water as you go. Alternatively, look into a good filter, purification tablets or a LifeStraw – particularly good for multi-day treks.
Our top Guyana Holiday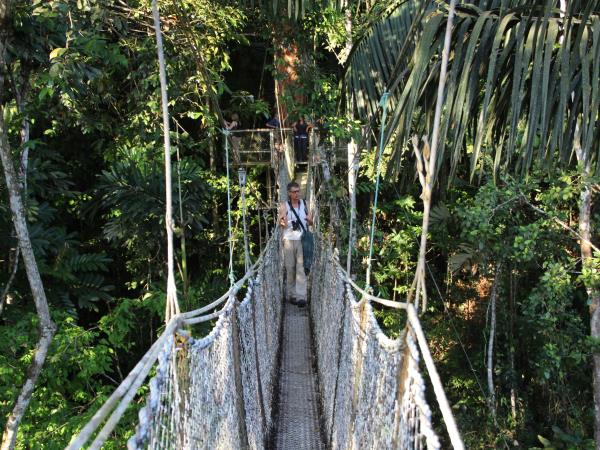 Wilderness, trekking, eco, wildlife, culture
From
£6250
14 days
ex flights
Small group travel:
2023: 1 Apr, 19 Aug, 9 Sep, 14 Oct, 2 Dec
If you'd like to chat about Guyana or need help finding a holiday to suit you we're very happy to help.

The best time to go
Kathy Jarvis, from our leading Guyana supplier Andean Trails, shares her Guyana travel tips:

"I think February and March are the best in terms of lack of rainfall, but most of the year is fine. It rains a lot from May to July, which I think is then also a good time to see jaguar as they come onto roads to dry off."
Packing tips
"Guyana is hot and humid with frequent downpours, so have a poncho to hand as well as sunglasses, sun cream and a wide-brimmed sun hat. Internal flights offer only 9kg baggage per person, so keep weight to a minimum, with minimum clothing. Don't worry overly about bites – despite its humidity and rainforest, there are not as many insects as you may think."
Tips on getting around Guyana
"Half of the adventure is getting around Guyana. Outside of Georgetown there is no asphalt and hardly any roads anyway – most travel is by plane, river boat or sometimes by 4x4 along dirt roads. These roads in the savannah often flood or turn to mud after heavy downpours, making road travel tricky at times. There's always a good chance to spot wildlife on the drives as there is very little traffic at all. This is proper adventure travel, straight from an early explorer's diary, into remote, pristine environments replete with wildlife."
Drinking
"Be careful of the local 'rum o'clock' – it seems to start as soon as the sun comes up..."
More about Guyana
One of South America's least explored destinations, little Guyana is the size of the UK with a population of just 740,000.