Guyana is where the mighty Amazon rainforest meets the Atlantic by way of savannah – a jumble of ecosystems that sees it brimming with wildlife, most notably 870 species of birds, plus tapirs, caimans and the elusive jaguar. There are people here, too – but only 750,000, clustered mostly along the coast. Much of the interior remains uninhabited, save for a few Amerindian villages deep within the jungle; a snapshot of pre Columbian life. Here, far from human presence, the wildlife seems undisturbed by the occasional intrepid visitor.

Guyana is something of a South American enigma. Where is it? Does anyone live there? Do they speak Spanish? Or French? And what on earth is there to do there?

As this Guyana travel guide shows, those wishing to discover this enigma for themselves will encounter challenges – starting with simply getting here. Travelling around could be euphemistically described as "eventful", and hotels are replaced with rustic huts or swaying hammocks. But you don't come for the comforts – you come for the astonishing nature, and the life-affirming experience of being surrounded by virgin rainforest in which few will ever have the chance to set foot.
Guyana is...
the size of the UK, with the population of Leeds.
Guyana isn't…
Spanish speaking. English is the official language, with Creole widely spoken.
Our top Guyana Holiday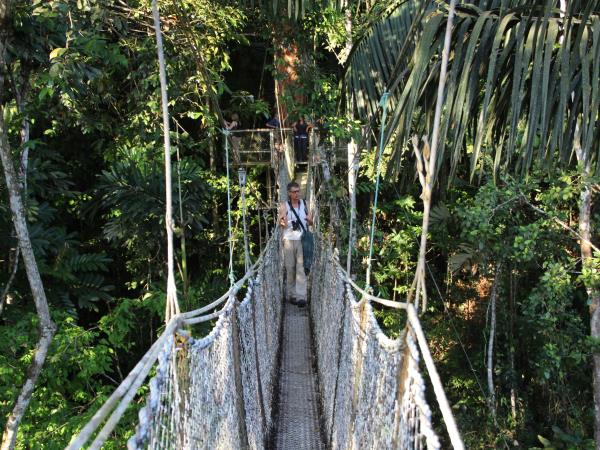 Wilderness, trekking, eco, wildlife, culture
From
£6250
14 days
ex flights
Small group travel:
2023: 19 Aug, 9 Sep, 14 Oct, 2 Dec
If you'd like to chat about Guyana or need help finding a holiday to suit you we're very happy to help.

The adventure begins as soon as you leave the capital, Georgetown. There are few roads in Guyana, and the ones that do exist are not paved – so expect to fly, travel by river or offroad in 4x4s to explore deeper into the interior. This lack of development and infrastructure is all part of Guyana's appeal, of course, so do try and make the most of it while you are here – and keep eyes peeled on long drives for creatures emerging from the jungle. The other way to travel is on two feet; trekking holidays here take you even further off the beaten track, for a real rainforest odyssey.
1. Caiman House
A successful meeting of indigenous culture and conservation projects, a visit to Caiman House Field Station is both educational and exciting. Night cruises along the Rupunini with indigenous crew reveal the jungle after dark – along with caimans, boas and iguanas. Day tours let visitors get involved in field studies of caiman. Nearby, Yupukari village promotes traditional crafts and furniture builders.
2. Georgetown
Founded by the Dutch in the 1700s, Georgetown passed through British then French hands, with each colony leaving its mark on the city's striking architecture, characterised by its hardwood "Demerara" shutters. Visit St George's Cathedral, constructed of English oak, and get a taster of Guyana's natural treats at the Botanical Gardens, complete with monkeys, macaws and spice plants such as nutmeg.
3. Iwokrama Forest
Jaguars are notoriously elusive – and the Iwokrama Forest is one of the best places to see them in their natural habitat. Iwokrama's 30m-high walkway takes you over 150m through the jungle canopy, ideal for spotting birds such as trogons, parakeets and the sought-after pompadour cotinga, as well as the odd, lazy sloth. Look out for the river otters bathing in the creeks below.
4. Kaieteur Falls
The biggest waterfall you've never heard of, Kaieteur is the world's largest single-drop waterfall by water volume. It's pretty tall, too – at 266m, over four times higher than Niagara. The jungle walk to Kaieteur creates a thrilling build up, as you pause at ever-more dramatic viewpoints along the way, beginning with panoramic scenes and culminating in a rock platform less than a metre away from the falls.
5. Karanambu Ranch
Feted by National Geographic, Attenborough, Durrell and many wildlife TV programmes, Karanambu is a former cattle ranch-turned ecotourism and conservation site. The owner, Diane McTurk, has been rehabilitating orphaned giant otters in the Ranch's wetlands, while the savannah regions are home to giant anteaters and river trips reveal huge jabiru storks, vultures and crestless curassows.
6. Surama village
Meet the Macushi tribe in the little village of Surama, tucked into a small patch of savannah surrounded by rainforest. Spend a night in a thatched cabin, called a "behab", for a real cultural immersion that will see you heading out on educational night walks through the jungle, visiting local homes and canoeing along the Burro Burro River in search of giant otters, spider monkeys and the elusive tapir.
More about Guyana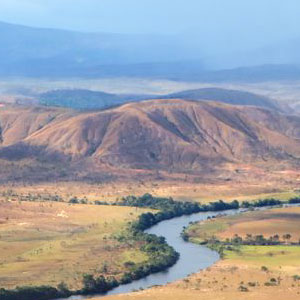 The best time to go to Guyana is immediately after the two rainy seasons (in the beginning of August or end of February) as the vegetation is refreshed and the waterfalls are at their fullest.