Best time to go to the Hebrides

Late in the season, going into October, it's not unknown to witness the Northern Lights dancing across the Hebridean sky.

The Hebrides, otherwise known as the Western Isles, actually enjoy a milder climate than you might expect as a result of the Gulf Stream, but in the summer months especially can be exceptionally windy, with speeds up to 130km/h. This microclimate can result in gorgeous weather, but is also unpredictable, giving cruising holidays in the Hebrides another dimension of adventure. July and August are generally the best time for wildlife watching in the Hebrides – with sea birds, seals and cetaceans in abundance. Annoyingly, midges are prevalent in the Hebrides between May and October, but their effect is mostly felt at dusk, when experienced boat skippers know to stay on the move.
A month by month guide to
the Hebrides
The best time to go to the Hebrides is between April and October when the weather is most stable and mild, and almost all trips operate only in this window. You'll find precious few Hebrides holidays outside the main season with little on offer from November through March The marine life of the Inner and Outer Hebrides is prolific and one of the main reasons for visiting the islands. Whales and dolphins are commonly seen up to September, and you'll often see dolphins and porpoises dancing in the wake of your boat. The midge season usually lasts from May to October, but they are mostly a pest at dusk around the water edge. From May to August there can be strong winds – skippers are a dab hand at anticipating and dealing with them, but if you do suffer from seasickness then you might want to give cruising in summer a miss. That said, the Outer Hebrides are delightful in June, July and August, with blooming wildflowers on the dunes, and seals coming ashore by the hundreds. Gales and rain are less likely in summer as well. Lewis and Harris, and Skye, are among the northernmost of the Hebrides. In late September and October there is a chance here of seeing the spectacular Northern Lights, given that the skies are so clear.
Inner Hebrides Weather Chart
Our Western Isles (Outer Hebrides) Holidays
Catriona Craig from our supplier The Majestic Line: "The best time for a Hebrides cruise is anywhere between April and October. But even in August you can have heavy rain. This is Scotland after all where it can be glorious one day, a torrential downpour the next. Wind and tide do affect itineraries, even on a powered boat, but our skippers know these waters so well, and they always have a Plan B. To be honest though for a lot of our passengers the unpredictability of the weather is actually a big part of the appeal. Just prepare for all eventualities and layer clothing."
Our top Western Isles (Outer Hebrides) Holiday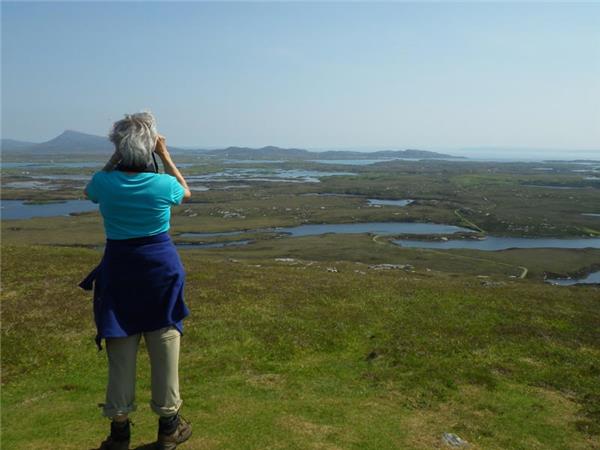 Uists, Barra & Mingulay walking in the Western Isles
From
£2195

to

£2345
7 days
ex flights
Small group travel:
2024: 30 Mar, 27 Apr, 11 May, 25 May, 15 Jun, 6 Jul, 13 Jul, 3 Aug, 10 Aug, 31 Aug, 7 Sep, 28 Sep
If you'd like to chat about Western Isles (Outer Hebrides) or need help finding a holiday to suit you we're very happy to help.

Our top Hebrides activities
Things to do in the Hebrides…
We can't emphasise this enough: Bring. An. Appetite. Scottish, and Hebridean cuisine, is sublime and whether you're staying in a hotel on Mull or aboard a cruise ship with an onboard chef, you will have many opportunities to tuck in. In fact some past travellers have found it the highlight of their entire holiday! You'll dine on the freshest of seafood such as hand-dived scallops, salmon straight from an island smokehouse, rich venison and artisan cheeses. And even better, the food will be locally sourced wherever possible so we're talking food metres, not miles.
Enjoy a wee dram – some of Scotland's most prestigious and prolific whisky distilleries are found in the Hebrides, such as Talisker on Skye, or Laphroaig on Islay. In fact there are so many that if you do want to do a little tasting while there it makes sense to do a little research before you go. And, if that research requires you to do some independent tasting as well then… so be it.
Get your sea legs because these islands and the sounds between them were meant for exploring, and the best way (actually pretty much the only way) to do that is unquestionably by boat. You might opt for a cruise of the Inner or Outer Hebrides, perhaps a week or so on a converted fishing boat, or you could base yourself on an island such as Mull, and take day trips out in search of wildlife. Even if you do get a little sea sick or the weather isn't too promising, the thought of seeing whales and dolphins, or finding a totally empty and beautiful bay to spend the day in, will be quite persuasive.
Things not to do in the Hebrides…
You won't want to forget midge spray if travelling in summer – the beasties can deliver itchy bites. They are at their worst between May and October, peak travel season in the Hebrides, but mostly at dusk. Beyond the bug spray, cover up with long sleeved clothing at this point. It's worth noting of course that cruise skippers will be well aware of the problem, and will try to ensure they're moving at this time of day to minimise it. It's best not to expect a rigid itinerary on Hebrides cruise holidays. Even with a powered vessel you're a little at the mercy of the wind. Luckily, the crews are so experienced they know these waters and islands like the backs of their hands, and will keep a close eye on the weather, plotting fresh courses as necessary. So if you've got a powerful west wind, you might sail on the east of the island, or if you've got a very rainy day you might visit a distillery or town instead of heading to the beach." When you're taking a small ship cruise, you won't have a great deal of storage space available, so don't overpack. Essentials include rain gear, a camera and layered clothing (plus seasick pills if you're at all susceptible) but you will be sent a full packing list before departure to help you minimise your luggage. Do make sure that camera is packed though, along with memory cards and lenses. You can get by if you forget your travel scrabble or your head torch – not being able to capture this scenery and wildlife though would be terrible.
Catriona Craig from our supplier The Majestic Line with the Ins and Outs of the Hebrides:
Wildlife
"A camera is a must. We have binoculars for your use aboard, but you may want to bring your own if you have a pair. Mull and Skye are definites for wildlife-spotting. St. Kilda and the Treshnish Isles are renowned for their birds. The Shiant Isles in the Outer Hebrides, near Skye, may be a small archipelago but they are home to one of Europe's most important sea bird breeding colonies."
Accessibility
"All passengers need to be able to negotiate the steps down to the cabins, and also get onto and off the tenders. We use these because not all of the Hebrides have the facilities for us to moor up. Our fleet consists of four boats, two of which are converted wooden fishing vessels and two which were built for us, on Bute. Solo travellers can cruise with us without paying a small party supplement, but for families we should point out that the minimum age is 16 unless it's a private charter."
Responsible tourism
"The volume of traffic, especially on Skye, is growing significantly, and some roads and visitor attractions are becoming clogged. Travelling by boat means you're not contributing to these congestion issues and also avoiding them. Plus, small ships can get to anchorages and bays that larger vessels cannot, and their smaller group numbers mean these places aren't overwhelmed. Many Hebridean islands depend on tourism. Responsible operators here will encourage people to spend in the local economy, source local food and where possible draw crew from the Hebrides, all of which help."
Hebrides travel tips
from our holiday reviews
At Responsible Travel, we think the best people to advise our travellers are often... other travellers. They always return from our tours with packing tips, weather reports, ideas about what to do – and opinions about what not to.

We have selected some of the most useful Hebrides travel advice that our guests have provided over the years to help you make the very most of your holiday – and the space inside your suitcase.

Bring waterproof clothing and shoes. One day the water was rough and the wind was very strong. Those of us who were not waterproof arrived at Iona soaked. We were warned beforehand in the travel information. It needs to be heeded.

"We were a small and delightful group of 6 travelers and 4 crew, including the skipper and a fabulous chef. We all got to know one another very well. The boat was cozy and comfortable, the landscapes and cloudscapes, sublime; and the day trips and hikes, especially our visit to Iona and its sacred and ancient abbey were vitamin C for the spirit... Bring waterproof clothing and shoes. One day the water was rough and the wind was very strong. Those of us who were not waterproof arrived at Iona soaked. We were warned beforehand in the travel information. It needs to be heeded." – Patricia Knowles on a cruise of the Inner Hebrides

"The holiday company are excellent in every way. Small motor vessel carrying 12 passengers (and) e n suite cabins, three cooked meals a day by a Michelin trained chief, with coffee at 11:00 and high tea at 15:30. If you are not careful, it could be death by eating, but very enjoyable. The boat has a small powerboat used to go ashore to some beautiful and remote coves and small ports/villages. We also set lobster pots at our night anchorage, and retrieved before breakfast the following morning. The catch if any was incorporated into the canapé's, which are served half an hour prior the evening meal. Wines are served with this meal too. Some of the passengers fished from the side of the boat, mostly mackerel and a few flat fish. We visited Jura, Isla and the adjoining peninsula, and then up north again visiting a number of sea locks around Mull. Finally a visit to Tobermory. By chance it was the Highland Gathering that day, with all the lovely pipe bands and dancers. Finally back to Oban to disembark. The crew were marvellous, and nothing was too much trouble… I was a single passenger, I went with a certain amount of trepidation, but this was all put to one side by the first evening, all 10 of us gelled almost at once, and got on like a house on fire. I will certainly be back." – Gerald Peppiatt on a cruise of the Inner Hebrides
More about Western Isles (Outer Hebrides)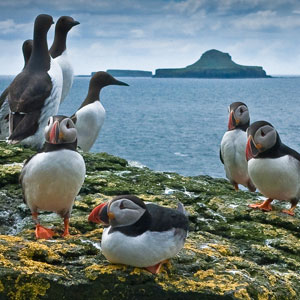 Our Hebrides travel guide covers the Outer Hebrides and shows you how to explore them on small ship cruises, or by basing yourself on an island for wildlife watching trips by boat.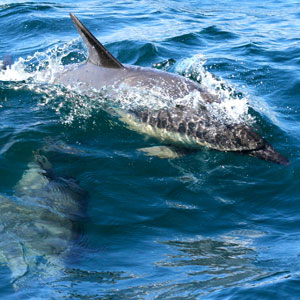 While you can base yourself in one place, such as Oban or Mull, taking day trips out by boat, a small ship cruise is the best way to explore the Hebrides in depth.