Hebrides (Inner & Outer) travel guide
The Hebrides comprise dozens of islands, inhabited and uninhabited, just off the west coast of Scotland. Mull, is just 45 minutes by ferry from the mainland while others, including several small archipelagos, are far more remote. The wildlife on display, from whales and dolphins to puffins, deer, otters and seals, makes packing a camera a must, while the islands' many prestigious distilleries mean it's 'Whisky Galore' if that's your tipple.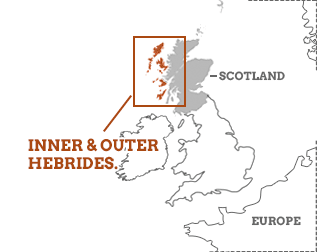 The Hebrides are the last stronghold of the Gaelic language in Scotland, and their beauty has inspired countless works of literature, art and music.

Communities here have been in decline since the forced tenancy evictions of the Highland Clearances in the 19th century, but traditional ways of life survive in many picturesque, welcoming villages and towns. You might choose to focus either on the Inner Hebrides, closer to the mainland, or the Outer Hebrides just beyond, with small ship cruises that organise their itineraries daily according to the weather. But beware: these islands bewitch you – one trip is rarely enough.
Read on in our Hebrides travel guide for more details.
The Hebrides are…
remote, almost ludicrously picturesque, peaceful, and teeming with incredible wildlife. They also produce some of the world's finest whiskies, which helps with the unreliable Scottish weather.
The Hebrides aren't…
always explored with a cruise – you can spend a week on the Isle of Mull taking boat trips out for instance. But honestly, if ever a place lent itself to small ship cruise holidays it was this one.
Our Western Isles (Outer Hebrides) Holidays
Practicalities
Holidays are usually small group trips, with fixed dates, lasting between seven and 11 days. In most cases, holidays in the Hebrides are small ship cruises that focus on a handful of islands and sounds in either the Inner or Outer Hebrides, departing from Oban on the mainland.

There are some land based trips available, which usually see you accommodated in a small hotel in Tobermory, the picturesque capital of Mull, around 45 minutes from Oban by ferry. In most cases these itineraries will involve regular day trips out by boat in search of marine life.

Note that most Hebrides cruise holidays tend to be adults only, principally because you're all in such close quarters the whole time. If you want to share the experience with kids then you can either charter an entire vessel, or look at a land based trip, since most wildlife viewing boat trips are fine with kids under 16.

Getting out to the Hebrides is easier than you might think. You'll usually depart from the resort town of Oban, which is just three hours by train from Glasgow, so although it does have a small airport, there's no real need to fly there.
Our top Western Isles (Outer Hebrides) Holiday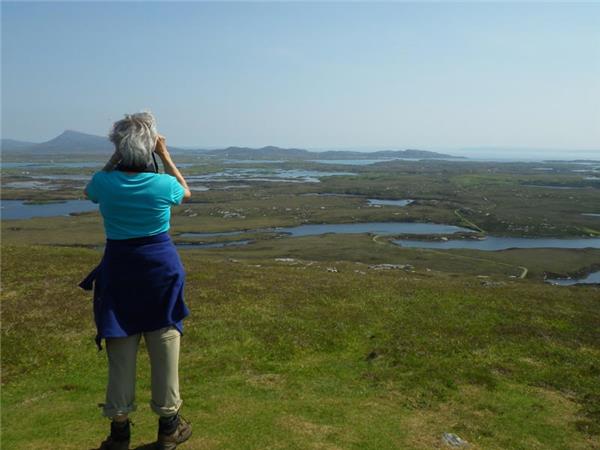 Uists, Barra & Mingulay walking in the Western Isles
From
£2195

to

£2345
7 days
ex flights
Small group travel:
2024: 30 Mar, 27 Apr, 11 May, 25 May, 15 Jun, 6 Jul, 13 Jul, 3 Aug, 10 Aug, 31 Aug, 7 Sep, 28 Sep
If you'd like to chat about Western Isles (Outer Hebrides) or need help finding a holiday to suit you we're very happy to help.

Hebrides wildlife
You're practically falling over the wildlife in the Hebrides, which is one of the principal reasons that people choose to holiday here of course. Red, roe and fallow deer roam hillsides and woods; otters hunt and play on the shores of small lochs, and seals pull themselves up onto rocks completely undisturbed by the presence of humans. Island streams are full of trout and salmon, while it's rare but not unknown to see Scottish wildcats and pine martens.
Seabirds nest in vast colonies in the Hebrides: gannets, sea eagles, kittiwakes, as well as merlins, hen harriers and corncrakes. The Shiant Islands are home to razorbills,
reintroduced white-tailed eagles sweep over Mull
, and on the remote, uninhabited Treshnish Isles puffins nest in spring and summer. Rural lanes echo to the sounds of cuckoos, thrushes and skylarks.
And out at sea dolphins and porpoises leap and dance in the wake of boats, and you may see minke whales, basking sharks hunting shoals of jellyfish, possible even the occasional orca. Cruises and boat trips are often accompanied by wildlife experts, even marine biologists, able to advise you on identification and behaviours, and your sightings may assist in conservation research projects.
Responsible tourism
Small communities and fragile environments such as you find around the Hebrides are immensely sensitive to the impacts of tourism. Travelling with a responsible operator, perhaps on a small ship cruise, means that these effects are kept to a minimum and also that they tend to be more positive, from encouraging travellers to eat and shop local, to picking plastic waste out of the sea, and helping to reduce congestion on popular islands such as Skye.

Wildlife viewing is a big part of any Hebrides holiday, from whales and dolphins to puffins and seals. Some cruises or day trips by boat may be accompanied by marine biologists who can not only impart expert knowledge to you on what you're seeing, but also use their sightings to inform their own research projects.
Hebrides map & highlights
1. Islay
Largest of the Inner Hebrides, Islay is known as the 'malt whisky capital of the world', with several renowned distilleries. It is also famed for its wildlife: whale and dolphin-watching are immensely popular activities, the hills are thronged with deer, and Islay is a year-round destination for birdwatching, with thousands of migrating Arctic geese arriving in the winter.
2. Jura
One of the largest of the Hebrides islands, but also one of the most sparsely populated, Jura is where George Orwell penned his nightmarish vision of the future, 'Nineteen Eighty-Four' while wracked with TB (his cottage can still be seen), and where the British music collective 'The KLF' infamously set fire to a million pounds in a disused boathouse in the 1990s. You'll often see people out '
bagging Munros
' on the three Paps of Jura.
3. Mull
Just a 45-minute ferry from Oban, Mull is among the most touristy of the Hebrides, with plenty of accommodations and places to eat. The mountainous centre is great for walking, but the island is most used as a base for wildlife watching tours. Over 250 species of bird are found here including white-tailed eagles, golden eagles and hen harriers, otters hunt and play along the coast, and the waters are home to many cetacean species.
4. Oban
Set in a horseshoe-shaped bay, the resort town of Oban is the 'Gateway to the Isles', from where most people begin their holidays in the Inner and Outer Hebrides. It has easy rail connections with Glasgow, and regular ferries depart to isles including Mull, Lismore and Islay. Oban is where you will usually board your cruise ship and meet your fellow passengers. There are several historic castles to visit in the close area too.
5. Rum
Part of the Small Isles, an archipelago within the Inner Hebrides, Rum is a National Nature Reserve, protecting populations of red deer and white-tailed eagle that nest on the steep sea cliffs. The isle was formed by ancient volcano, and was formerly owned by George Bullough, who built a luxury retreat, Kinloch Castle and briefly renamed the island as Rhum, as he didn't enjoy being known as 'Laird of Rum'.
6. Shuna
You'll find blissful solitude at this very remote island, just five kilometres long and two and a half wide. There are no roads here, and no cars, no phone lines or power lines. Just nature at its wildest. Otters prance along the shoreline; deer, eagles and seals can be seen in abundance, and on the approach you may well encounter dolphins and porpoises.
7. Skye
Largest of the Inner Hebrides and offering a dramatic sea approach, when you can take in the famous Cuillin mountain ridges over the rugged line of the coast, Skye is an immensely popular location for cruising and anchoring up. The Otter Haven at Kylerhea is also known for its seals and birdlife, and you will regularly see whales and dolphins in the sea off Skye.
8. St. Kilda
Not an island itself, but an uninhabited archipelago making up the westernmost of the Outer Hebrides, the largest of which is Hirta. Many species of sea birds, including puffins, breed on the rock stacks that rise dramatically up out of the water, while seals and minke whales are also commonly seen. Getting out there can be a rough journey, but worth it for the chance to kayak among thousands of birds.
9. Tobermory
Capital of Mull, this picturesque port town is notable for its colourfully painted houses and historic waterfront distillery. If your holiday is based on Mull then you'll likely be accommodated in the streets set back from the more touristy area. It is said that a Spanish galleon was once sunk in the bay, taking its cargo of gold bullion with it – so, watch out for strange glimmering under the water as you approach.
10. Treshnish Isles
A remote, uninhabited archipelago in the Inner Hebrides, west of Mull, the Treshnish Isles are home to species of rare birdlife, and seal colonies as well as Atlantic puffins, which are most commonly seen between late spring through summer. These beaky blinders have a curious flying-motion when swimming, and swoop low over the sea on the hunt.
More about Western Isles (Outer Hebrides)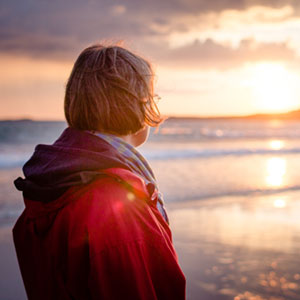 The best time to go to the Hebrides is between April and October, especially if you're planning a cruise holiday.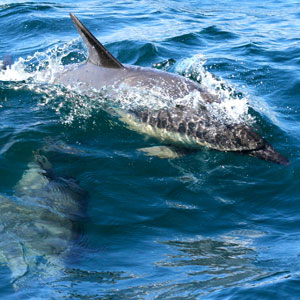 While you can base yourself in one place, such as Oban or Mull, taking day trips out by boat, a small ship cruise is the best way to explore the Hebrides in depth.