Horse riding map & highlights
---
WHERE TO GO ON A HORSE RIDING HOLIDAY
Besides your initial travel and transfer, once you've reached your chosen horse riding destination, you'll be getting around on horseback. Some holidays are much more of an epic adventure where you'll leave point A on your trusty steed and ride daily, for up to 40km, to another point – camping as you go. You'll end up full circle back where you started and there may be the odd short stint by vehicle on shorter riding days. Other trips, particularly those in France and Spain, combine a few hours' riding daily, along marked routes, or to places of interest and back, with opportunities to cycle, hike, or simply relax locally too.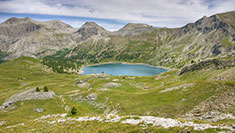 France
France is a dichotomy of riding experiences. Where rural western France is idyllic and all about trotting through the glorious countryside admiring the birds, butterflies and wild flowers, a trek through the Mercantour National Park is an altogether more rough and ready holiday requiring you to don your hats and chaps and relish every exhilarating moment of ancient, rocky terrain.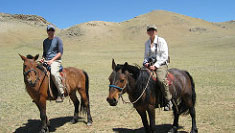 Mongolia
Despite the fact that Genghis Khan won an entire empire on horseback, which in our minds, pretty much says it all, Mongolia's unadulterated wilderness and pure beauty – characterised by huge skies and rolling steppe against a collision of mountains and sand dunes – simply screams freedom. If you love riding in the great outdoors, this is a chance to truly immerse yourself in nature at its wildest.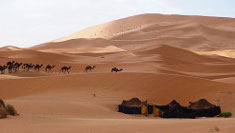 Morocco
Horse riding in Morocco is not for novices: the country's tradition of horsemanship stretches back centuries and the Moroccan Barb horse is renowned for its courage, surefootedness and vigour. If you think you can stay in the saddle of a stallion, you can ride for six straight days along a beach-to-beach trail, staying in traditional Berber-style tents and cooking round a campfire as you go.
South Africa
South Africa is brilliant for family horse riding holidays because you can bundle together a bit of culture in the shape of traditional homesteads; a smidge of history; horseback games like 'polocrosse' (polo + lacrosse, see?); wilderness riding through animal-packed bush; and then, when saddle-soreness hits, opt for a wilderness safari or a game drive through one of the many Big Five reserves.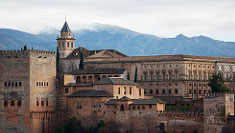 Spain
Spain is vast and with that comes choice. Head south to Granada and you can learn Spanish during the morning, filling your afternoons with guided riding among the mountains and lakes of the Sierra Nevada National Park. Opt for the north and you can get your confidence up with post-breakfast lessons followed by a day spent countryside trekking, and learning dressage, or even western style riding.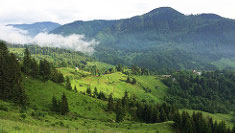 Transylvania
Framed by the crescent of the Carpathian Mountains, Transylvania's renowned association is Dracula, but it's also home to some outstanding trail-riding. The terrain is quiet and unspoiled, and the way of life there is still massively traditional, so horses play their part in logistics and transport among the locals; a horse riding holiday here is as much about a fascinating age-old culture as it is about riding.



Hello.
If you'd like to chat about horse riding or need help finding a holiday to suit you we're very happy to help.
Rosy & team.
01273 823 700
HORSE RIDING TRAVEL ADVICE
---
TIPS FROM OUR HORSE RIDING FRIENDS
Lulu Perry, from our leading horse riding holidays supplier, Wild Frontiers, shares her horse riding holiday advice:
Where you'll lay your head
---
"From trip to trip, accommodation totally varies. In Mongolia we take two-man dome tents with us and pitch our camp as we go; in Jordan it's the same – in Wadi Rum, we have a back-up crew that will go ahead and set the camp up. Last time I was in Jordan though, none of the clients even wanted tents, so we just slept on mattresses out in the desert under the stars. In somewhere like India, riding through rural Rajasthan, the places where we stay are mostly noble houses that we're invited to stay in along the route that have either been converted into hotels, or that belong to families."
Go with the flow
---
"In Georgia, we were riding up a mountain path and came across a couple of shepherds who spoke no English, so we mastered a sort of sign language between us. They invited us into their shed and got out their bread, cheese and drinks for us all, and we sat, having a feast of bread and cheese and drinking the local chacha – which is their version of moonshine – with them. It wasn't planned, but we were there for a good two hours; things like that that can really make a holiday."
Age is nothing but
a number
---
"There is absolutely no age restriction on our horse riding trips; I have had people in their 70s come on a trip with me who have coped far better than people in their 30s. Participation in and enjoyment of a horse riding holiday comes down to two things: physical fitness, because you do have to be relatively fit to ride for long stints daily, and a love for it."
Horse riding travel advice
---
TIPS FROM OUR HORSE RIDING TRAVELLERS
At Responsible Travel, we think the best people to advise our travellers are often... other travellers. They always return from our tours with packing tips, weather reports, ideas about what to do - and opinions about what not to.

We have selected some of the most useful horse riding travel tips that our guests have provided over the years to help you make the very most of your holiday - and the space inside your suitcase.
"If you're heading to Morocco, make sure you can ride and are used to several hours in the saddle at a time." – Jane Cartwright

"The best aspect of this trip was the horse riding. The horses were healthy and well-behaved. Riding along side sky-high cypress trees, between rows of vineyards, and past ancient ruins and rural villas was quite an experience. The pace was comfortable - with plenty of lively canters!" – Glenna Greene

"Bring some fly spray for the horses." – Kate Wilkins

"Wrap up warm if you're headed to the Mercantour! It can get quite chilly on top of the mountains, but don't be put off by the changeable weather, that's part of the fun. Also it doesn't matter if you aren't a good rider, just be prepared to be gung-ho and get stuck in." – Kate Moore

"Be sure to keep drinking water during the day as it is easy to get dehydrated. Not everyone on our ride wore a riding hat but I was glad that I did. There were many branches that connected with my head and I was glad to have that extra protection!" – Jane Fox

"It is helpful to be open minded and not expect a formal horsey attitude, this is a much richer experience than a simple horse trek on well beaten paths. You need to be a comfortable rider who can take unusual situations in your stride." – Hester Wilcox