The Inca Trail is one of the world's most legendary treks. Following ancient Inca stone paths through the Andes, plateaus and sub tropical forest to Machu Picchu, it's something of a Latin American rite of passage. Once the domain of alpaca-hatted backpackers, there are now multiple ways you can trek this path, with accommodation along the way ranging from basic budget camps, to luxury tents with portable toilets and showers. Trekking permits sell out many months in advance, and with up to 500 trekkers, porters and guides on each section of the trail at any given time, this is far from a wilderness hike.
But the Inca Trail is not the only route to Machu Picchu. There are several other treks through the Andes to reach this legendary city, and you're unlikely to bump into crowds of walkers on any of them. This leaves you to breathe in the astounding scenery and silence of the mountains.
All routes take a similar amount of time – four to five days – and they vary in difficulty. The Lares and Salkantay Treks are the best known of the alternative Inca Trails, Lares is a little gentler than Salkantay, while the Moonstone Trek is the most challenging. As none of the alternative routes require permits, they are a particularly good option for last minute travellers, who have left it too late to secure their place on the main trail. They can also be trekked all year round, while the main Inca Trail typically closes for maintenance during the wettest month of February – just pack decent waterproofs
The
Salkantay Trek
is named after the snow capped Salkantay Mountain. At a whopping 6,271m high, this is the highest point in the Vilcabamba Range, and it was revered by the Incas. The trail winds around the sheer-sided mountain, offering impressive views and crossing its 4,600m pass. You'll traverse grasslands, glacial terrain, cloud and sub tropical forests, too; for many trekkers the diversity of ecosystems is one of the highlights of this route. From the Inca complex of Llactapata, usually visited on the last full day of the trek, you'll be rewarded with stunning views across to Machu Picchu, just 5km away.
The Salkantay Trek is usually completed in four or five days, and you'll be camping along the way, with mules or porters to help carry your luggage, tents and food. Some trekking companies will provide toilet and dining tents, too. The trail ends in Aguas Calientes; you'll spend a night in the town before taking an early morning bus up to Machu Picchu.
Day 1: Drive from Cuzco to Soraypampa, where you'll meet up with your mules and the trek begins. You'll be eased in gently, covering around 8km in two or three hours, before reaching your first campsite at 3,800m at the foot of Salkantay Mountain. Day 2: This is the toughest day of the trek, as you'll be heading steadily uphill to the Salkantay Pass at 4,600m, with views of glaciers on the surrounding mountains. Take it easy; the air is thin at this altitude and you're bound to feel pretty rough by the 4,000m mark. At the top you'll see little piles of stones known as apachetas which are left as offerings to the mountain gods; this pass is also known as Apacheta Pass. Finally, you'll begin your descent from the barren scree, through grasslands and into the cloud forest. The air becomes warmer and more humid as Andean influences give way to Amazon, and the harsh landscapes transform into orchid filled forests. After a full day of seven or eight hours' walking, you'll camp in a small village, where you can expect a better night's sleep.
Day 3: The landscapes get ever lusher as you trek through valleys, farmland and high jungle that echoes to the calls of parakeets. Soak your aching calves in a hot spring, brave a dip in an icy glacial river, or take a shower in a waterfall. Tonight's camp is in another small village.
Day 4: Continue through the valleys to Lucmabamba village, where the remains of an original Inca Trail signal that you are close to Machu Picchu. You'll start to ascend again to the ruins of Llactapata at 2,700m, which offers tantalising views of your final goal. You won't reach it today though; instead, you can trek two or three hours to the gateway town of Aguas Calientes, or perhaps opt for the 45-minute train ride instead. In town, you'll stay in a hostel or small hotel.
Day 5: Today's pre-dawn start shouldn't be a problem as you'll be excited about jumping on the bus to Machu Picchu – or perhaps taking on the final 45 minute hike to reach your goal. After a guided tour of the ruins you'll have the rest of the morning to explore in your own time. Trips end with the train to Ollantaytambo (90 minutes) or all the way to Cuzco (3.5 hours).
Our top trip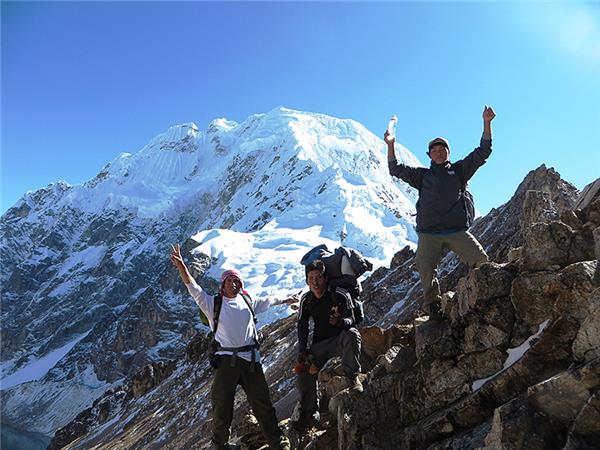 Machu Picchu, Inca fortresses and cloud forest
From
£4289

to

£5189
16 days
inc UK flights
Small group travel:
2024: 22 Jun, 17 Aug, 14 Sep
2025: 26 Apr, 24 May, 19 Jul, 16 Aug, 6 Sep
If you'd like to chat about Inca Trail trek or need help finding a holiday to suit you we're very happy to help.

The gentlest of the three main routes to Machu Picchu, the
Lares Trek
winds its way through Quechua villages and terraced farmland tucked into the lower slopes of the Peruvian Andes, and involves three or four full days of trekking. This is the most cultural of the three trails, and has far fewer steps as well, though there are still high passes to tackle at around 4,500m. You'll be setting up camp in picturesque villages each night; there is also the option to stay in the homes of local families. The Lares Trek consequently allows you to spend much more time immersed in Quechua culture, as you prepare and share meals with your hosts, learn about traditional weaving and farming practices, and see herds of llamas and alpacas. There isn't one set route, which further reduces the number of other trekkers that you'll encounter, but the itinerary below gives an idea of where you'll be trekking and sleeping each day. The most common routes are between 33km and 40km.
Day 1: Depart from Ollantaytambo, and spend the day walking to your first village, with time to stop at the ruins of Pumamarca. Today involves around 10km of trekking, over four hours. Day 2: An early start today allows you to complete the six hour trek to the next village in time for lunch. That leaves you the afternoon free to meet the friendly residents, and learn about Quechua life and traditional crafts.
Day 3: Today you'll hike up to a high pass, which offers impressive views of the snow dusted peaks all around, and down into verdant valleys. It's all downhill from here, as you descend to the village of Huacahuasi and continue on to the train station for the journey to Aguas Calientes. The total walking time today is around five hours, and the hot springs that give Aguas Calientes its name are bound to be a welcome treat after three days on the trail.
Day 4: Take the bus up a winding road to Machu Picchu. You'll have the day to explore after a guided tour, before taking the train back to Cuzco.
If you're booking an organised small group or tailor made tour, rest assured that all the logistics will be taken care of, from your Machu Picchu permit to accommodation and meals. You'll also be able to store your main luggage in Cuzco, leaving you to trek with a lighter pack.
Organised tours will come with guides, porters, a cook and usually mules or llamas, too. In the case of the Moonstone Trail, most of the heavy lifting is done by horses. Some hikers feel guilty about using porters, but this is a sustainable source of income in this remote region; as long as you book through a responsible tour operator, your porters should be paid a decent living wage, be wearing suitable clothes and footwear, and be carrying no more than 20kg. Your company will advise you on how heavy your trekking pack should be to ensure this is within the guidelines; mules will lighten the load too of course.
Food will be basic but hearty, and you should advise on any dietary requirements as far in advance as possible. Many companies also provide boiled water so that you can refill your drinking bottles, which keeps plastic waste to a minimum.
You'll be supplied with a complete packing list; you may need to bring a sleeping bag or hire one in Cuzco. If hiking in the southern winter, expect icy temperatures – although nights, especially at higher altitudes, will be bitterly cold all year round, so bring plenty of warm layers. Sun screen, wide brimmed hats and long sleeved shirts are also a must at this altitude and so close to the equator, as are good, worn in walking boots – flip flops are definitely not recommended!
More Inca Trail trek articles