Best time to visit the Indian Himalayas

Don't be fooled into thinking that you have to visit in summer; winter is the only time to see snow leopard. it's divine here at this time.

If you don't want to trek through snow and ice, then come when the snow starts to melt, from March onwards, as late as early Oct in some places. After that, it depends on your elevation. Some roads in Ladakh don't open until mid-June, so visits peak Jul-Aug as do the religious festivals. The lower areas such as around Kaziranga experience monsoon in May-Oct, and the national park is closed. The warmest time to visit hill stations such as Dharamsala is Mar-Jun, when temps can reach 35°C. Visitors to the Assam region can combine their visit with the Hornbill Festival, early Dec, where 16 Naga tribes gather for cultural celebrations.
Indian Himalayas Weather Chart
Our India himalayas Holidays
Things to do in the indian himalayas
Things to do in the Indian Himalayas...
The Indian Himalayas are a wonderful place to explore remote mountain villages and hill stations. Pragpur, with its cobbled streets and ancient traditional houses, is the gateway to Dhauladhar range and southern peaks of the Outer Himalayas. Palampur in the Kangra Valley is accessible by the narrow gauge Kangra Valley Railway and known for being as the tea growing capital of North India. And Mandi in the northwest Himalayas is home to 80 shrines and temples representing many different religions. Trekking in the Babha Valley is also second to none.
The Indian wildlife scene is often dominated by the Bengal tiger but when you have both the Himalayas and the snow leopard, the spotlight suddenly swings north. Track snow leopard during winter months when they come down from the seriously frozen peaks in search of food, in the likes of Hemis National Park – are also home to ibex, wolf, blue sheep and lynx. Or head to Kaziranga National Park for another stunning wildlife experience, as two thirds of the world's population of the one-horned rhino thrive in these grasslands.
For a step into the ultimate world of spirituality, a visit to Dharamsala and neighbouring McCloud Ganj takes you to the home of His Holiness the 14th Dalai Lama. It is also home to many exiled Tibetan nuns and monks, as well as exquisite and indeed ethereal environs of cedar forests that creep up as high as they possibly can into the Himalayas.
Things not to do in the Indian Himalayas...
Underestimate the toughness of these mountains, even in the foothills. Always travel with an expert local guide who knows the route, and ensure that someone knows where you are going. Also, weather can change rapidly in the Himalayas, so always be prepared with the correct layers.
Be culturally blasé. These are remote landscapes with rural villages where religion and culture play important roles. So please dress appropriately – both men and women. No shorts, short skirts and women should keep shoulders covered if in a place of worship. And also be sensitive about taking photographs. Take your time getting to know people first and always ask permission.
Go to Dharamsala and McLeod Ganj without reading up a little about the reasons why people are living in exile here. Even better, when you come back and understand their plight in more detail, you can support Free Tibet, an organisation with a whole host of ongoing campaigns aimed at spreading the word about Tibet and securing the rights of its people. Your next stop can to be to actually visit Tibet of course. Read our Tibet travel guide for more details.
Use plastic water bottles all the time. Plastic is not recycled here, and it never biodegrades at high altitude. One tip is to drink the local fresh apricot juice or sea buckthorn juice. Although for water, the LifeStraw self-filtering water bottles are fabulous. This cuts out the use of plastic bottles completely.
Our top India himalayas Holiday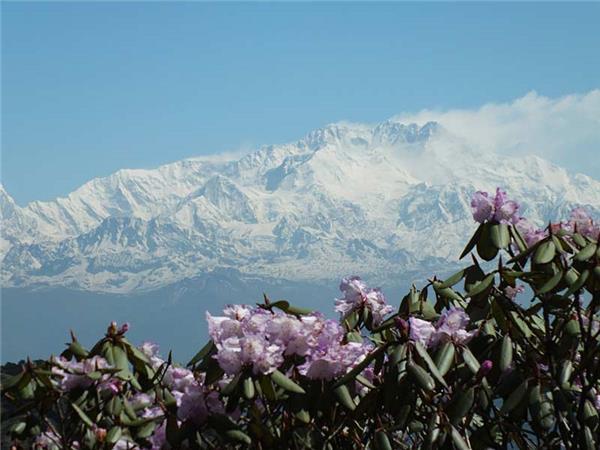 Classic trek along the Singalila Ridge
From
£3349

to

£3799
16 days
inc UK flights
Small group travel:
2023: 31 Mar, 6 Oct, 20 Oct
2024: 29 Mar, 4 Oct, 18 Oct, 25 Oct
If you'd like to chat about India himalayas or need help finding a holiday to suit you we're very happy to help.

Indian Himalayas travel advice
Itinerary tips
Puran Bhardwaj, Director of our locally run Indian Himalayas supplier, Expedition Leaders. Puran is also author of the wonderful book The Himalayan Bond, between Man and the Environment:
"The easiest way to see the Himalayas is by train from Delhi, the Shatabadi Express and the Himalayan Queen to Shimla (2,180m) the capital of the British Raj and Himachal Pradesh. You should not miss the British Raj heritage walk in Shimla, with a chance to explore the historical monuments of India as well as little streets and vegetable markets. Also make sure you get away into small hill villages with hot springs and farming villages to discover real India, experience village life and enjoy high mountains. Sarahan village in the Himalayas is a fascinating spot overlooking the high mountain over 5,000m."
Hiking advice
"Further into the high Himalayas, hike around Yagpa village and Kafnu which give you the opportunity to really experience the highland culture and the Himalayas. Bhaba valley is the most beautiful valley in the Himalayas with moderate hiking. You can just explore Bhaba valley and Kinnaur or try little more adventure over Bhaba pass 4,900m to Pin Valley in Spiti, which is beautiful and unspoiled. Simple walking can take everyone over these passes and high Himalayas."
Taking your time
"Allow enough time, so that you can just enjoy, hike, camp and experience the mountains. If you are going to Pin Valley and Spiti, do not miss Mudh village and by road Dhanker and Lalung Monastery, spend some time in Kaza, Kibber and Key Monastery before you head over Kunzum pass and Rohtang pass to Manali and Kullu valley. One must chill out and just sit back and go with the flow. The more time and relaxed pace you take, the more you observe and enjoy. Some people expect same fast pace as the West and they find it difficult to fit in, so go with the flow."
When to go
"The best time for foothills of the Himalayas is March to November. Every season is different. June and September is my favourite time for the Himalayas, because it is hot, has clear sky and beautifully green. June to September is best for trekking in Bhaba valley and Pin-valley, but be aware that end of July and August can be wet due to monsoons in the green part of the Himalayas. Spiti and Ladakh are fine as it does not rain much in the desert. In October and November you can still explore some part of the Himalayas by road including Kalpa, Sangla and Chitkul."
Ladakh tips
Valerie Parkinson, leader guide from our Indian Himalayan supplier Exodus Travels:
"Don't expect 5 star luxury – there are good hotels and simple guest houses but be prepared out of Leh for basic accommodation, but no bars or pubs. Most of Ladakh is above 3,500m so if you do not like high altitude it is not the place for you. Do go if you enjoy the peace and quiet of being offline for a few weeks. There is usually (but not always) WiFi in the hotels in Leh but outside of Leh and trekking there is no mobile signal or WiFi – a real treat of being cut off from technology."
At Responsible Travel, we think the best people to advise our travellers are often... other travellers. They always return from our tours with packing tips, weather reports, ideas about what to do - and opinions about what not to.
We have selected some of the most useful Indian Himalayas travel advice that our guests have provided over the years to help you make the very most of your holiday.

My most memorable part? Actually being able to watch snow leopards in the wild

"Listen to your leader and drink plenty of water to avoid altitude sickness. Don't do too much when you first get to Leh in order to acclimatise properly. Enjoy the views!!!... The cultural elements were great too and a brilliant way to acclimatise safely... Leh is a lovely town to start in and you feel you learn about the culture, particularly Buddhism. Don't expect lots of snow peaked mountains, as these are not the Himalayas, but gorgeous none the less!" – Ellie Hawksley, trekking in Ladakh's Markha Valley

"Fantastic experience especially by the fact the holiday was just tailored for me: it was just me on the trek with a guide, a helper, a horseman & 3 horses... If you like trekking, this is a fantastic peaceful environment for it." – Emmanuelle Clement on our North India holiday

"Good level of general fitness needed. Don't visit India if all you want to do is change it." – Olivia Neely in the Punjab

Don't do too much when you first get to Leh in order to acclimatise properly. Enjoy the views!

"Be aware that the hike to Chamba from Khajjiar involves a final climb partway up the mountain to get to the accommodation." – Jackie Driver in the Punjab

"Make sure you have good telescope, binoculars and camera lenses. Even if you don't see snow leopards, they are needed for the birdlife. Suggest getting a solar powered charger for electrical equipment - they don't weigh much and work really well. Have a care if you suffer from vertigo - you will be climbing up the side of mountains and walking along narrow trails in order to get good vantage points! My most memorable part? Actually being able to watch snow leopards in the wild - the main aim of the trip. We spent nearly 50 hours watching interaction between several different cats including hunting and mating." – Liz Cooke tracking snow leopard in the Himalayas
More about India himalayas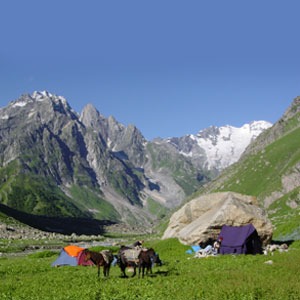 Trekking in Ladakh, the rhinos of Assam, the British Raj heritage town of Shimla... The Indian Himalayas are, unquestionably, a great range...