Neither part of the United Kingdom, nor the EU, Jersey's official title is 'Peculiar of the Crown' – and it certainly is a peculiarity. Its precarious position has placed it on the frontline of battles for centuries, and visitors will be surprised to discover the huge impact of the military on this impossibly peaceful island, where front doors are left unlocked and children play freely.

Stepping off the boat, the surroundings look reassuringly British – until you notice the one pound notes, funny-coloured phone boxes and French place names.

The popularity of Jersey holidays has dipped in recent decades – but that just means all the more space and a heartier welcome for the rest of us. It also means it has had to step up its game in terms of accommodation, service, activities and cuisine – and with four Michelin-starred restaurants, outstanding museums and historical attractions, and a growing menu of adventure sports, Jersey has positioned itself as an exciting new holiday destination, attracting much more than the traditional "bucket-and-spaders" of the past.
Jersey is...
a cyclist's dream. Bikes take priority over cars on many of its lanes.
Jersey isn't...
just for kids and grandparents. Try wild foraging, kayaking and abseiling!
What we rate & what we don't
Public transport
When on holiday, you may like the idea of leaving the stress of public transport behind – but Jersey's bus network is superb. Reliable and with great coverage – particularly in summer, it saves the expense and hassle of car hire. Additionally, some companies offer eco discounts for those arriving by bus, bike or on foot.
Homegrown art
Some blame Jersey's isolation, others its wonderful light, reflected off the ever-present ocean, for the island's concentration of artists. Whatever the reason, the art scene is flourishing, and there are many festivals, open studio days, dedicated shops and pop up stall, where you can meet the maestros and purchase their Genuine Jersey paintings, sculptures, pottery, woodwork, jewellery and more.
Open space
It's often assumed that such a small island with a population of 100,000 would feel cramped – but most visitors are surprised by the amount of space during their Jersey holiday. Its population is concentrated into the cities, and the northern and western regions in particular are sparsely developed, with secret beaches, empty lanes and a wonderful sense of space and nature.
Jersey War Tunnels
A shocking antidote to Jersey's escapist vibe, the Jersey War Tunnels offer a terrible glimpse of reality. The museum is housed in an underground hospital, which is surrounded by tunnels hewn under hellish conditions by some 60,000 slaves during the German occupation. An estimated 10,000 bodies are buried in the walls, and the museum tells the story of those who fell. It's absolutely gripping.
Beaches
Rock pools, Jersey ice cream and castle-worthy golden sand give Jersey's coast a classic seaside feel, while its delicious, locally-sourced seafood, beachside cafes and empty stretches of dunes will appeal to those who want a little more from their Jersey beach holiday. Bays range from the well developed – with hotels, volleyball and sun loungers – to the secret, and all have exceptionally clean, sapphire water.
Customer service
As budget airlines have opened up Europe to those seeking accessible sun and sand on a shoestring, Jersey is no longer the go-to island it was in the 1960s. This means, however, that it has had to raise its standards to keep tourists coming – so the hotels, attractions and restaurants that remain have honed their offerings and service to keep up with the competition, and keep visitors impressed with their Jersey holiday.
St Brelade's Bay
Jersey's most popular beach knows how to attract the crowds, with beach volleyball, pedalos, trampolines, cafes and water sports – and if you dare to drive you'll be queuing for parking spaces. If you prefer to gaze up at the sky than at beach umbrellas, and would rather not be battered with beach balls, you're better off seeking out one of the more secluded bays.
Jersey Royal potatoes
The famed potatoes are a reminder of Jersey's sought-after local produce. But to stop at its tubers would be a mistake – there is a wealth of non-branded delicacies including foraged fruit, native fish and hand-picked shellfish, such as oysters and scallops. During your Jersey holiday you can forget about food miles – you're often talking about "food metres".
Speed
At just 14km by 8km, there's certainly no need to rush around Jersey in a car. With beach trails, orchid-filled meadows and scenic cliff top paths, the journey is often as spectacular as the destination, and travelling by bike or on foot allows you to appreciate this. Additionally, 48km of Jersey's roads have a 15mph speed limit – prioritising slow travel over speed.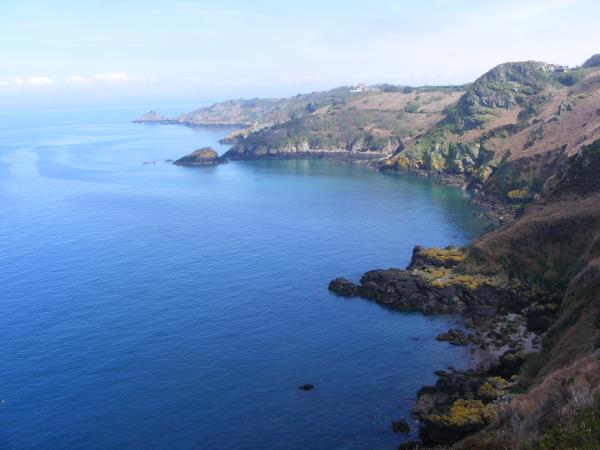 Walking holiday on Jersey in the Channel Islands
From
£1393

to

£2296
8 days
ex flights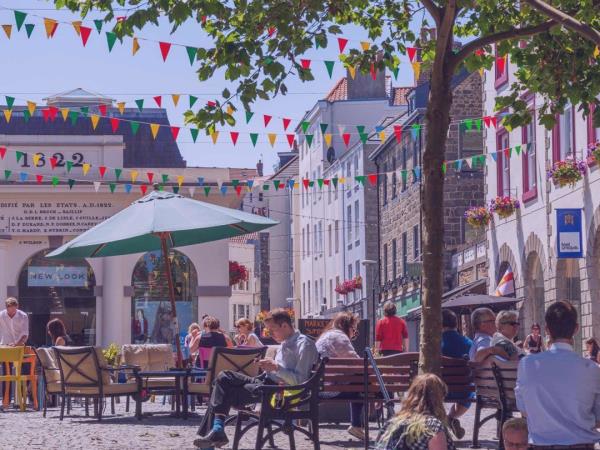 Explore the Channel Islands with a local guide
From
£1995

to

£2195
7 days
ex flights
If you'd like to chat about Jersey or need help finding a holiday to suit you we're very happy to help.

Eating & drinking in Jersey
Indulge yourself with the rich butter, cream and ice cream from Jersey's famous cows.

If you're not a dairy fan, try black butter. Milk-free, it's a thick spread made from apples, cider and spices, stirred continuously for two days.

The island's shellfish – including oysters, mussels and lobsters – is superb, and often harvested just a few hundred metres from your restaurant. Spider crabs are a particular delicacy.

Baked goods include cabbage loaf – baked between two cabbage leaves – and "wonders" – a donut-type sweet, fried only at low tide.

Other Channel Islanders refer to those from Jersey as 'crapauds', meaning 'toad' in French. Toads are found on Jersey, but not on other Channel Islands.

People & culture
It's hard to define a person from Jersey – literally! They're definitely not English, though some may refer to themselves as British, and others still as Normanic. Jerseyman/woman is the most accurate term, and least likely to offend.

The island's own language is Jèrriais, and it is described as a mixture of Norse and French. You will see signs and newspapers in Jèrriais, though these days few islanders can speak it fluently.

Toast with your Jersey wine: "Bouonne santé!"

Excuse yourself: "Extchûthez-mé"

Thank a Jerseyman: "Mèrcie bein des fais"
Gifts & shopping
Wherever you shop, look out for the Genuine Jersey mark, denoting items grown or created in Jersey, including dairy products, vegetables, woodcraft, wool and pottery.

True to its name, Jersey still produces high-quality knitted jumpers – a worthwhile investment if you're visiting in the winter months!

Jersey wood turners have for years carved sturdy walking sticks – from the stalk of the giant cabbage. The plant can reach up to 3m tall, and this is the only place in the world where the walking sticks are produced.

Excellent wine is produced in Jersey – along with cider and apple brandy. Visit La Mare distilleries and winery – and stock up on Genuine Jersey products.

Jersey's 12.5m tides are amongst the highest in the world – the island almost doubles in size at low tide twice a day.

How much does it cost?
Bottle of Branchage cider: £2.95

Jar of black butter: £5.80

Bicycle hire: £12 per day or £46 per week

Deep-fried "wonder": 65p