It's easy to get around Jersey – especially with the excellent bus network, which offers additional coastal services in summer. The radial nature of the routes means it's better to base yourself in St Helier if you're planning to travel this way – though it's not essential. Cars do allow access to more remote Jersey highlights, but with limited parking, rental costs, and many roads with 15mph speed limits, we'd really recommend renting a bike as an affordable, healthy alternative. Some tour companies offer discounts for those arriving by bike, bus or on foot – and if you reach the island by boat rather than plane, it'll be much easier to carry back all those tasty bottles of apple brandy!
1. Bouley Bay
This deep, pebbly bay may not be the best for swimming or sunbathing, but it's one of Jersey's most reliable scuba diving spots, and commercial fishing bans here have resulted in an astonishing variety of marine life, including anemones, numerous fish and even sea horses. There are also several great restaurants and a hilltop fort.
2. Corbière Point
The treacherous waters off Jersey's southwestern tip are guarded by Corbière Lighthouse. The lighthouse can be reached by a causeway at low tide – but be careful of the rocky shoreline and strong swells, which rise rapidly. For the less adventurous, plan to visit at dusk, when the sun sets behind the lighthouse and the sky turns golden.
Gorey and Mont Orgueil Castle
3. Gorey and Mont Orgueil Castle
The little village of Gorey has a good variety of accommodation along with restaurants and pubs and an easily accessible beach, making this spot popular with young families. It's overlooked by Mont Orgueil Castle, which protected it from the French for 600 years, but which today is a fascinating network of fairytale turrets, secret rooms and a witchcraft-filled cellar.
4. Greve de Lecq
A lovely spot for families, Greve de Lecq has safe swimming (though keep an eye on the swells), rock pools and several cafes and pubs. At low tide, kids can scramble around in the rock pools, and at high tide try your hand at fishing from the pier. Coasteering is also offered along the bay's high cliffs – including rock climbing and cliff jumping with a guide.
5. Jersey War Tunnels
These Tunnels aren't recommended for anyone looking for an afternoon of light entertainment. The museum is housed in an underground hospital, which is surrounded by tunnels hewn under hellish conditions by some 60,000 slaves during the German occupation. An estimated 10,000 bodies are buried in the walls, and the museum tells the story of those who fell. It's absolutely gripping.
Noirmont Point & Portelet Bay
6. Noirmont Point & Portelet Bay
Wild, shrub-covered Portlelet Common protects a major Paleolithic archaeological site, including woolly mammoth and Neanderthal remains, as well as relics from the German occupation. Its 60-metre elevation gives it beautiful views across the L'Ouaisné Common Reserve and the ocean. Portelet Bay is notable for the tower-topped rock in the middle of the bay, the tomb of an 18th century sea captain.
7. Sea Beds
On the southeast coast, the tides recede up to a couple of kilometres to reveal lunar-like landscapes of rocks and channels, filled with rock pools, molluscs and seaweed. These otherworldly scenes disappear under 12 metres of water twice a day, making them all the more magical. The waters rise fast – be sure to 'moonwalk' with a local guide and heed the tidal times.
8. Sorel Point
The island's most northerly point offers glorious views across to Sark and France. The cliff top trails are fantastic for hiking, with some of the islands most spectacular panoramas and unusual attractions, including the Devil's Hole cave, and a strange, large rectangular hole known as the 'Fairy Bath'
9. St Aubin
This harbour village has a long stretch of golden sand, and you'll always find an empty spot if you walk far enough. South-facing, it enjoys the sun from sunrise to sunset, and it's safe for swimming, except at very high tide. Wind surfing and waterskiing are popular, and St Aubin's Fort, with its bunkers and ramparts, can be reached on foot at low tide.
10. St Brelade's Bay
The crescent-shaped St. Brelade's Bay is Jersey's busiest. It offers safe swimming and sheltered sunbathing – though you're likely to be sharing the golden sands with hundreds of other sunbathers. Activities include beach volleyball, pedalos and stand up paddle boarding.
11. St Catherine's Bay
Distinctive thanks to its long, pier-like breakwater, which has a café at the end, St Catherine's is a rocky beach with little coves. Low tide brings calm, shallow waters, but only strong swimmers should enter the sea at high tide, either from the breakwater or the rocks.
12. St Helier
The island's capital is home to around a third of Jersey's population. Its mostly pedestrianised centre has several museums – the Maritime Museum being the most family-friendly. Elizabeth Castle has defended the island for 300 years – most recently during the German occupation. You can walk to it at low tide, or take a ferry during high tide to discover its bunkers and 6th century Hermitage.
13. St Ouen's Bay
The strong winds make this spot ideal for wind and kite surfing, as well as traditional surfing. The laid-back surfer vibe is reinforced by the grassy dunes and camp sites, which make St Ouen's Bay feel remote even by Jersey standards. For a less rustic camping experience, book yourself into a luxury yurt or the nearby spa.


Our Jersey Holidays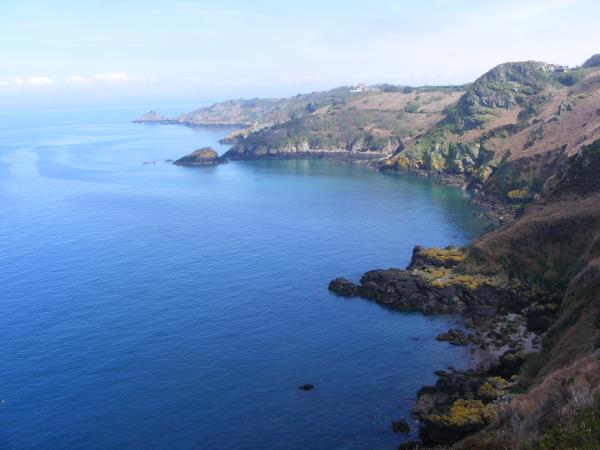 Walking holiday on Jersey in the Channel Islands
From
£994

to

£1414
8 days
ex flights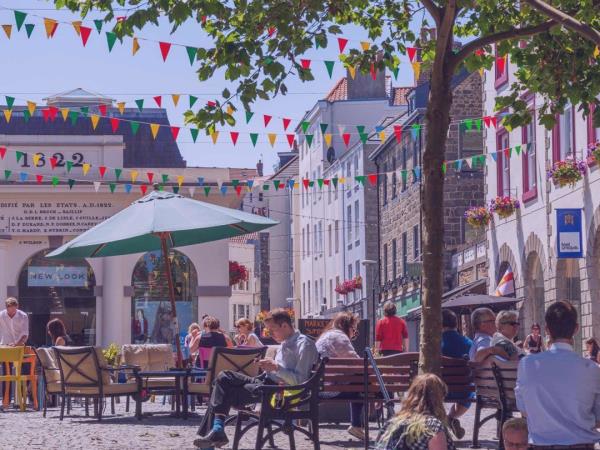 Explore the Channel Islands with a local guide
From
£1995

to

£2195
7 days
ex flights
If you'd like to chat about Jersey or need help finding a holiday to suit you we're very happy to help.

The following times give you a rough idea of the driving times between the main Jersey highlights.
St Helier – St Aubin: 18 minutes St Helier – Gorey: 30 minutes Gorey – St Catherine: 8 minutes St Helier – St Brelade's Bay: 25 minutes St Helier – St Ouen's Bay: 45 minutes St Helier – Durrell Wildlife Park: 32 minutes St Helier – Jersey War Tunnels: 12 minutes