Responsible tourism in Jersey
Are you on or in? That is the question. Some local Jersey people talk about living on Jersey and others talk about living in it. There doesn't seem to be much of a difference, although there is no doubt that when you land on Jersey, you are most definitely landing on an island. Jersey may be the largest of the Channel Islands, but the sense of water all around has a powerful effect, its maritime climate softening some of the edges and roughing up others. And every island has its sustainability issues. So, if you remember that you are actually 'on' Jersey, you are more likely to be a responsible tourist, as islands are rarely without issues.
Our top Jersey Holiday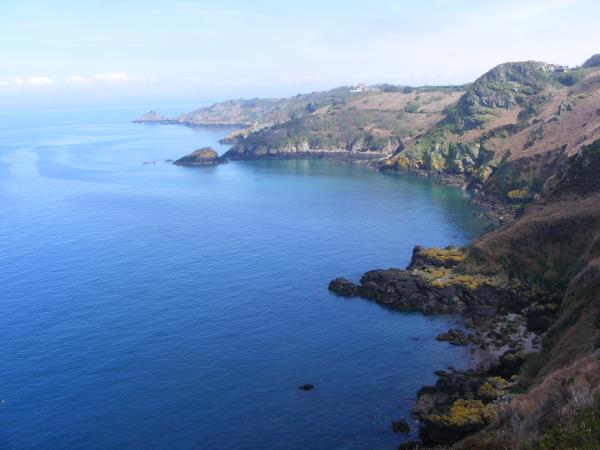 Walking holiday on Jersey in the Channel Islands
From
£994

to

£1414
8 days
ex flights
Tailor made:
This holiday can be booked from the 1st March to 31st October each year
If you'd like to chat about Jersey or need help finding a holiday to suit you we're very happy to help.

Jersey has one of the highest car ownership stats per capita in the world and with a pretty wealthy population, you will see some high octane carbon offenders running around. But the best way to savour this island is the slow way. And if you can, start off as you mean to continue by taking the ferry; there are train and ferry packages available at bargain prices. The man who knows all the bargains here is The Man in Seat 61.
Transport is also easy when you get to Jersey, with a very efficient public bus service. Yes bus. Not Buick. Not BMW. But Bus. Head to Liberation Square in St Helier, the capital, to catch one. They also have visitor passes which make the hop on, hop off thing a lot easier. And there is a beach at the end of just about every road, so you can't go to wrong. Find out more about buses here.
Get on your bike. Once you get out of St Helier, there are many coastal paths to cycle along as well as the island's famous Green Lanes – an exemplary 48-mile network of inland roads with a speed limit of 15mph, and where priority is given to walkers, cyclists and horse riders. And it works. The speedsters tend to stick to the coastal chicanes anyway, as having to wait for real horse power in order to show off their manufactured version is not really a good look.
Jersey's history is fascinating, and the architecture is one of the best ways to appreciate it. However, much was demolished after the WW2 occupation and also when wealthy property developers took hold after the island became an offshore financial centre. It is worth supporting the work of conservation and lobbying charities like Societe Jersaise and The National Trust for Jersey some of which still have to fight to hold on to buildings of great historical and cultural value. Support their work and check out their websites, for great insights into the real history, as well as some local histrionics too.
Jersey lies on two migratory flyways and is a popular spot for bird lovers. In winter, you might have a chance of spotting the elusive bittern flying across the pond at La Mare au Seigneur (St Ouen's Pond), or the majestic marsh harriers which are also fond of this area in late autumn. The National Trust for Jersey website has plenty of information on their site of when and where to bird. For an expert guide see birdingjersey.co.uk.
Buying local food is a no brainer on Jersey – unless you are dairy intolerant, that is. Who needs hedge funds and ISAs when you can have Jersey ice cream, for goodness' sake? Jersey dairy cows are the real gold of this island. Then there is the famous Jersey potato, wine and now – in a revival of an ancient tradition here – cider. Local producers and providers of Jersey goodness are all listed under the Genuine Jersey mark; the website will have your mouth watering. Check it out before you travel so you can put a few suppliers on your travel itinerary.
As you can see from this guide, Jersey is so much more than a long weekend escape. Considered by many as a quick fix beach break, you can easily extend your trip here and not be short of things to do. It is the extra nights that push sustainability scores off the scale, and you are good for a week here, if not longer.
Diving is a popular activity and the usual responsible rules apply. Use a responsible diving company, don't remove anything from the sea bed or reef, and collect and dispose of rubbish that you find. See the Coral Code for more details.
If you are surfing your way around Jersey, then the impressive campaigners and captains of clean up, Surfers Against Sewage, is the leading charity to support for pollution-free, safer waters. As well as picking up litter as you go and ensuring that you leave no trace, you can donate to or take part in their campaigns. These campaigns have moved way beyond sewage, but include the fight to stop all sorts of pollutants being put in our seas, and also to monitor the development of man-made constructions which alter natural wave patterns, such as concrete breakwaters or sea walls.
Water usage is always an issue for islands, and Jersey is no exception. Stick to the usual rules of quick showers, turning off taps when brushing teeth, and so on.
Monitoring of sea water at beaches only began here in 1992, but all sixteen passed the European Imperative Standard, whilst 12 out of the 16 further passed the stringent European Guide Standard. You can see the top beaches here. To keep these beaches clean, you should not only clean up after you have been there, but also wear chemical-free sun protection creams, available at most health stores.
Protecting versus developing land
Drooling over millionaire mansions on Jersey could almost be considered part of the tourist trail. Big houses really took off during the sixties when the financial sector started to bring in riches. It was an era of cash over conservation really. But Jersey started to wake up to the dangers of overdevelopment just in time, some might even say a little late for some areas – especially those who fought unsuccessfully to stop an eyesore apartment development overlooking the beautiful Portelet Bay on the south coast. Which, from the ferry approach into St Helier, looks slightly more like pillage than planning.

But there is generally a strong sense of protecting land here, perhaps due to its history of occupation, which goes back way beyond the most recent one of World War II. Much was lost over the years due to such occupations and invasions, yet this small island is still home to natural riches – riches which also need investment, shareholders and marketing to survive.
What you can do:
Check out the Sites of Special Interest (SSIs)
which range from the ancient St Catherine's Woods on the northeast coast, to Les Landes, the maritime heathland on the northwest coast. Visit them and spread the conservation word. Because even in rich countries, conservationists have to battle with the powers that be to protect land, and when tourists give it the seal of approval, so does the state.
A good example of this is at St Ouen's Pond, a wetland on the west coast which you could easily fly past on your bike, distracted by the white sands of St Ouen's Bay beside it. But this peaceful place is home to everything from orchids to owls, kestrels to cuckoo flowers. St Ouen's Pond is also part of the island's first Coastal National Park, which was designated in July 2011, but somewhat bizarrely is not being shouted about in tourist circles. But it does exist, and along with it comes much tighter planning restrictions. One organisation that does promote the park is
The National Trust for Jersey
, so keep an eye on their site for more details.
It's a Channel Island catwalk of biodiverse beauties, but unless they tell people about it, it's like this bevvy is all dressed up with nowhere to go.