Having survived tens of thousands of years of natural change, humankind has managed to wreck havoc on coral reefs – the beautiful and life-sustaining underwater organisms that over 25 percent of all marine life on the planet calls home.
Shockingly, one quarter of coral reefs worldwide are already considered damaged beyond repair and two-thirds of those that remain salvageable are under threat. Major threats include destructive fishing practices; careless tourism (overdevelopment, thoughtless diving, snorkeling and boating, people touching reefs or collecting coral); pollution from urban and industrial waste, sewage, agrochemicals and oil, which poison the reefs and up the level of nitrogen in the seawater, which effectively suffocates reefs; and climate change – corals simply cannot survive if the temperature of the sea is too high and reacts by 'bleaching', a literal and visually dramatic stress response that eventually leads to death.
Oceanic acidification, disease, sedimentation due to deforestation, coral mining, and coastal development are other major concerns that affect the health of coral reefs. There is room for optimism, however, with around 40 percent of the world's reefs still regarded as being relatively healthy and not facing immediate danger. Importantly, there is still time to take action and join the effort to preserve some of the richest natural habitats our planet has to offer.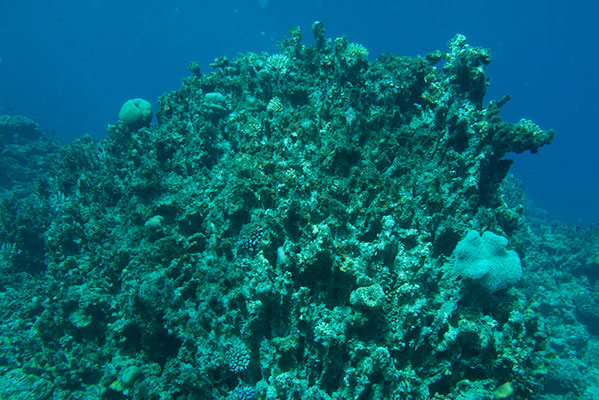 What you can do
The future health of our seas depends hugely on what we pump into it – even though your eco-intentions might be good, there's no guarantee that the intentions of the accommodation you're staying at are too, so ask to see their waste policy just to make sure you're on the same page. Ocean warming caused by climate change, which in turn adds to the existing problem with rising sea levels is another concern where are glorious oceans are concerned and is a factor that's hugely affected by CO2 emissions caused by flying – try and reduce the use of internal flights wherever possible and be mindful of your energy use at home and abroad too.
You can read more about the effect of ocean warming on our seas
here
.
Click here
to view our friends, Coral Cay Conservation's guidelines for responsible diving and snorkelling and the safe exploration of coral reefs.