Scuba diving holidays travel guide
---
2 Minute Summary
Years ago, scuba diving had much more of a macho reputation – something that Royal Marines learned to do by way of tests not dissimilar to that god-awful thing they make you do at school where you retrieve a brick from the bottom of a pool in your PJs. Then, along came PADI and suddenly scuba was accessible; scuba was for families and for enjoyment; and, vitally, scuba was all about discovering spellbindingly beautiful marine life. There are now more aquatically-gifted destinations than ever from which you can pick a scuba diving experience to suit you, be that close to home, in a distant paradise, or even on board a boat. If you're a beginner it's easy to pick up and is broken down into manageable bite-size chunks, so within five days you can be scuba diving freely among the weird and wonderful creatures that make up our spectacular underwater world. Equally, there's a wealth of trips out there for more experienced diver who already have the basics under their belt.
Let our scuba diving holidays travel guide help you decide which trip is the right one for you.

Hello.
If you'd like to chat about diving or need help finding a holiday to suit you we're very happy to help.
Rosy & team.
01273 823 700
Is a scuba diving holiday for you?
---
RESPONSIBLE TRAVEL RECOMMENDS
Go on a scuba diving holiday if…
...You're a complete beginner - everyone over the age of 10 is welcome.
...You are in good health – a medical statement, which needs to be signed by your doctor, is required for both beginners and certified divers.
...You have a disability – diving often gives ability back to people and it's one of few sports that can often find a way round physical barriers. Just chat to your holiday provider beforehand, so your limitations – if any – can be factored in.
...You want a slice of authentic local life – there are of course diving holidays at 5* artificial, over-packed resorts, but an exceptional diving holiday can offer you a location with a bit of culture thrown in too.
...You are committed to the theory involved too – the underwater world is mind-blowingly brilliant, but it's essential that it's explored safely.
...You are looking for an alternative trip - diving holidays, especially those incorporating marine conservation, aren't like booking a villa for a week somewhere sunny, they're an entirely different experience where you will be learning to do something incredible, but probably out of your comfort zone too.
Don't go on a scuba holiday holiday if…
...You are travelling with very young kids – PADI set the minimum age for learner divers to 10 because of lung capacity and physical strength; it's a much safer option if your kids are a bit bigger.
...You want to party – some diving holidays are more social than others, but none are about getting smashed and staying out until 6am.
...You can't manage your expectations – there's more to being underwater that just counting fish; it's an entirely new landscape with its own set of rules, so you can never guarantee what marine life you'll see or how often you'll see it.
What does a scuba diving holiday entail?
---
OUR GUIDE TO SCUBA DIVING HOLIDAYS
With an estimated 20 million active scuba divers worldwide and one million newcomers joining the underwater party annually, diving is an increasingly popular pastime and there is a massive amount of scuba diving holiday options out there, each one different in terms of style, focus, level of luxury or location. Two things are certain though – firstly, what a diving holiday entails is predominantly a lot of diving, and secondly, you don't have to be a diver to go on a diving holiday – you don't even have to have ever pulled on a pair of flippers.
The underpinning of any diver's ability in the water is the
Open Water Diver qualification
, which can be taken by anyone aged 10 and up. It requires an average of five half days in the water, with the remainder of the day set aside for learning, exploration of the local area or travelling between dive spots. More advanced courses tend to take place over three half days. It's essential that you're committed to pushing yourself; diving is a pretty physical practice and not everyone adapts to their new subsurface surroundings as quickly as they might presume.
The biggest misconception? That you'll need to spend half of your holiday with your head buried in a book studying all of the essential theory. Thanks to good old technology and a hefty dose of forward thinking, you can now complete all of your theory online before you go on holiday, or you can choose to go 'half and half', completing all of your theory as well as your closed water work at a local dive centre before arriving on your diving holiday and heading straight for the open water.

Most holidays provide all of your diving equipment and accommodation within the cost of the booking, but aside from this they vary widely. There are holidays for those who like their sheets with a high thread count; back to nature conservation holidays for those who prefer their sheets lining the bottom of a tree house; and lots of liveaboard sailing options too. And as for food, almost all diving holidays provide at least one meal daily – usually breakfast when everyone is together and getting ready for the day ahead, but many encourage some of the cost of your holiday to be shared among the local pot, so there are cafes and restaurants near to most popular dive sites and resorts in which to grab lunch and dinner.
Proper accreditation is crucial
---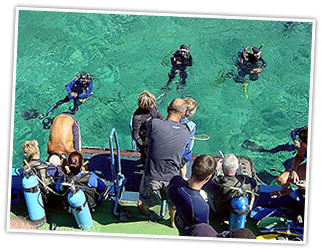 The number one thing you must be absolutely sure of is that the diving company is properly accredited. They need to have the local accreditations for the country that you're visiting and be compliant with the professional diver membership and diver-training organisation that they are affiliated with, be that PADI or another well-recognised course provider. Sadly, bogus operators will always be a problem with popular outdoor activities and in terms of diving are often trying to undercut reputable companies on money alone. But you get what you pay for; scrimp on reputation and it's likely you'll get bundled in the back of your car and taken somewhere for a brief, 30-minute dive regardless of the size of your group or how many people are already at the dive spot. Both the quality of your experience and the safety in place could be compromised.
Proper diving instruction is driven by a very high set of standards and qualifications and the instructors will have worked very hard to get there and feel confident in guaranteeing your safety. Do your research and ask questions; any diving holiday provider worth its salt will be proud to show you proof of their accreditation.