"Gain confidence in open water and learn to dive safely in the beautiful Red Sea under the expert supervision of our PADI instructors, staying in comfortable, family-owned accommodation. "
Highlights
PADI certified Open Water Courses | Max 4 students to one PADI instructor | E-learning theory course available prior to arrival with discount if purchased direct from us | PADI 5* Gold Palm, family-owned resort | Daily beach breakfasts | Bars & restaurants of Dahab within easy reach | Options for boat safari, Ras Abu Galum visit, candlelit Bedouin dinners and help with celebrating special occasions
Description of Learn to scuba dive in the Red Sea
Join us at our boutique family-run PADI 5* Gold Palm resort and learn to scuba dive in Red Sea with the beaches of the famous Eel Garden area in Dahab, on your doorstep. Just 10 minutes' walk from the restaurants and bars of the main bay of Dahab, we are close enough to enjoy the vibrant bustle but far enough away to enjoy the stars.

The open water dive course is designed to take you from a beginner to a certified diver in just four days, beginning in the shallows to learn the necessary skills and progressing to deeper water as the course progresses (max 18 meters, 12 for juniors). We pride ourselves on our safety and eco travel standards and offer responsible dive holidays in every sense. We keep our groups deliberately small, with a maximum ratio of four students to one PADI Instructor, so you will learn to dive under expert supervision. We go out of our way to teach good buoyancy skills underwater as the key skill for minimizing unintentional damage to the marine environment we will be exploring.

To help you get the most dive time in whilst you are with us, we suggest getting the theory part of the course out of the way before you arrive with some PADI E-learning – leaving you more time in the water or relaxing on the beach and less time studying whist you're here. This can be booked either via PADI or directly through us and us easily downloadable onto most smart devices, along with your Open Water manual. Non electronic copies of the manual are available to buy for around £35.

In addition to the open water beginners course we have several other PADI course available which can be taken after you complete the first. These include the PADI Advance course, PADI specialities (including photography, night, and deep dives), PADI Rescue course and PADI EFR course which will teach you all the most important aspects of first aid - ask us for more details.

While staying with us, we have various accommodation options available within our grounds including sea-view rooms, garden chalets and two family and friends' suites. All rooms are fitted with air con, wet room style showers and include breakfast which can be enjoyed on the beach (we recommend trying the lemon sugar pancakes)! Our restaurant is open all day, serving freshly cooked local delicacies to satiate post-dive hunger.

All dive holidays can be supplemented with additional activities which we are more than happy to arrange. From boat safaris to explore un-spoilt reefs and expeditions to the remote national park of Ras Abu Glaum to unforgettable candlelit Bedouin Dinners at the top of the Wadi where you'll get the chance to make fresh Bedouin bread and enjoy post dinner fireside games.

Please get in touch with us for the latest prices and flight advice.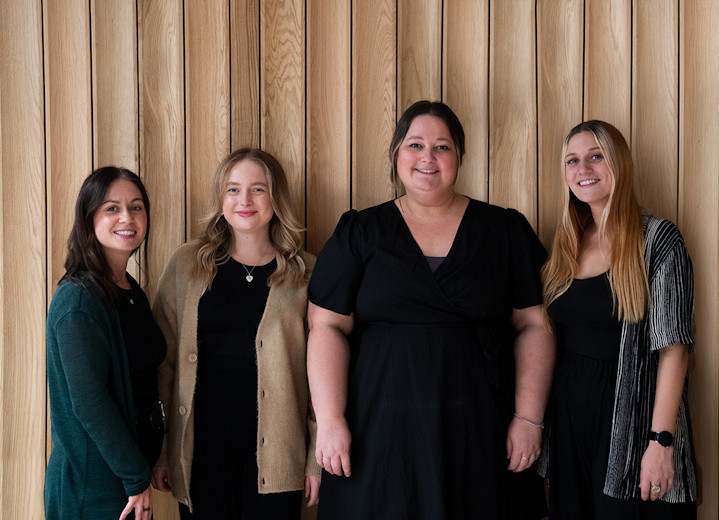 Departure information
Courses are run throughout the year, courses start day after arrival.
Single use plastic-free:
We feel in many ways that scuba divers and even snorkellers are most aware of the impact of plastics on our oceans as they see the effects for themselves first-hand. We have been aware of the issue for quite some time and as such have put a number of plastic reduction and eradication schemes into place at our resort.
preserving food:
We use re-useable tubs for our food and try to use paper for preserving food stuffs. Glass pots are used for our jams and butter at breakfast and ceramic dishes for our ketchup.
Bags:
We provide cotton bags in guests' rooms for local shopping, so they can say 'no' to plastic shopping bags. We also use these and cardboard boxes to transport the shopping we do for the club.
Tea & coffee:
Our rooms also feature a coffee and tea making tray without any plastic in sight. We offer coffee in a jar and a carton of milk, rather than the single use plastic pots.
Straws:
We have been plastic straw-free for more than 3 years now. We have also persuaded many cafés and restaurants in Dahab to follow suit and go 'straw free' too….and our 3 kids 11,14,19 are all committed to this and regularly make sure the cafes are on track.
Water bottles:
We write to our guests before their holiday and ask them to bring their own re-fillable water bottles with them which they can fill up from our main water station in the club. For now this reduces the usage of plastic bottles greatly, but it is not perfect. We are looking at investing in a water filter system which will provide drinking water on tap and we are also looking to find a supplier of re-useable water bottles here in Egypt too.
Rubbish:
We make sure to always pick up any rubbish we see on the shores or in the water, not only does every little help, but guests see and follow our example.
Education:
We continue to look for ways to reduce our impact on the environment, both with reduced plastic use as well as energy saving techniques. Our biggest goal alongside these is to raise awareness, not only amongst guests, but also our team who are both Egyptian and Bedouins….and the effect of this growing awareness is starting to show.
Responsible tourism
Responsible tourism: Learn to scuba dive in the Red Sea
Environment
We re-use and then re-cycle all our plastic bottles and all left over food is fed to the local goats. We encourage reduced use of Air Con systems and ask you to switch them off when not there. We provide a cotton shopping bag to all our guests to reduce plastic bag use. These bags are also used by our team when shopping for groceries. We only clean rooms on request, no unnecessary washing. All watering of our garden is done with recycled water from the dive rinse pool. We use fish caught in deep sustainable waters only. We post environment advise in all our rooms of how to reduce your impact on the environment whilst you are here in Dahab.
We strive to 'make a difference' to the environment with our diving. With a MAX ratio of 4-1 divers to guide, means that we can control our divers and make sure they do no damage, dramatically reducing the impact of our divers on the reef.
All our instructors are aware of the importance of protecting the reef and they remove rubbish from underwater, if they see any. This doubles the effect as customers see us taking care of the environment and follow suit and show a good example by removing anything underwater that should not be there.
We believe you will come as a guest and leave as a better informed, more responsible, non coral bashing, and more environmentally aware diver.
Community
We are proud to be member of Responsible Travel and take our role as vacation providers in this precious area very seriously, and are committed to finding new ways to reduce impact from tourism.
We employ Egyptian, Bedouin and Nubian workers as our full time team here. Local Bedouins run our dive cars, Camel Safaris and all the trips we do. We consider our Bedouin friends to be an extension of our family.
All of our kids are very aware of how precious this environment is and as they are bi-lingual are also able to chat away to the local kids about why it is wrong to fish, why not to throw rubbish in the sea etc and is very effective. This is the only way, via the kids, as the adults are too stuck in their ways to want to change. We pick rubbish from the beach at every site we go to both above and below water.
35 Reviews of Learn to scuba dive in the Red Sea
---
Popular similar holidays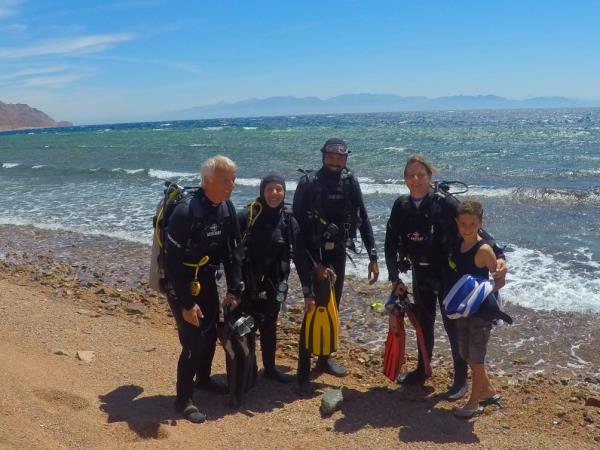 Enjoy the amazing shore diving in Dahab, with our 4-1 max
From £475 7 days excluding flights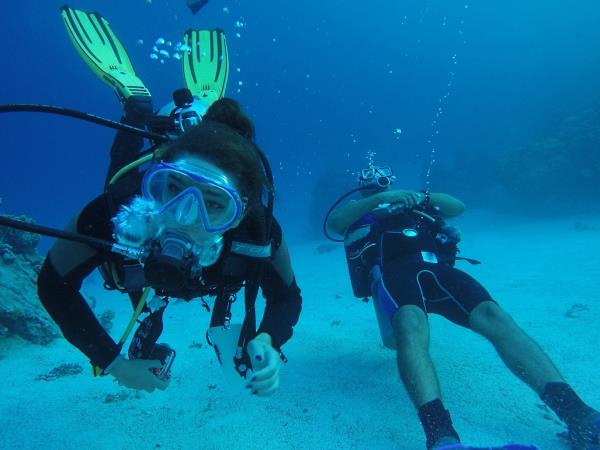 Family Scuba diving holidays for certified divers
From £475 7 days excluding flights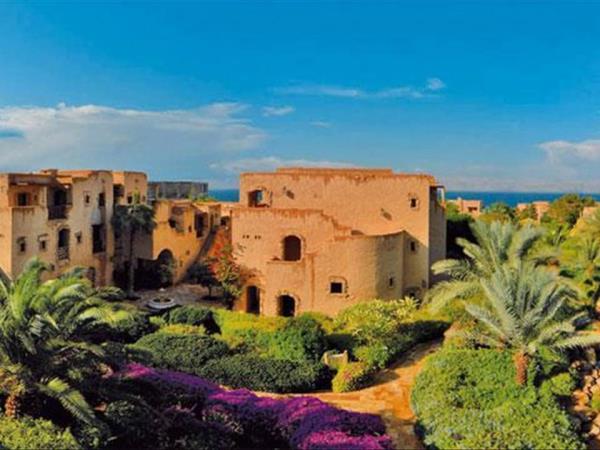 Dive the Red Sea with your own yacht and crew
From US $1975 8 days excluding flights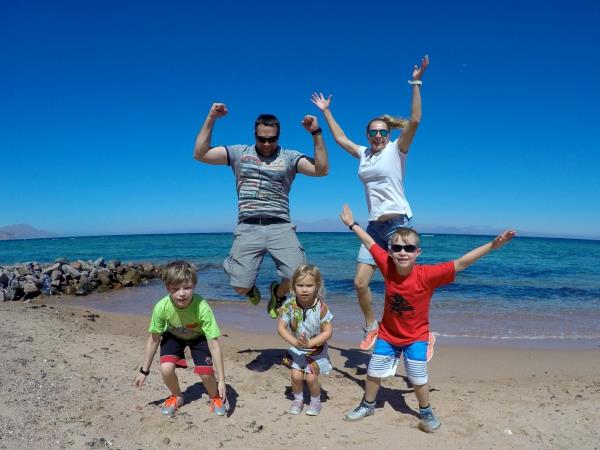 Learn to scuba diver, as a family, safely, in the Red Sea
From £555 7 days excluding flights