Jordan family holidays guide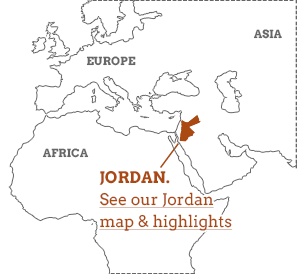 Jordan is extremely warm, but not in a way that might alarm you for a family holiday. As well as all the magnificent sites and landscapes, it is the warmth of Jordanian people that travellers rave about first and foremost, albeit at the top of a long list of family favourites. There are five UNESCO World Heritage Sites in Jordan, but if there was a UNESCO designation for warmth and welcome, which is clearly innate to Jordanian culture, the country would be a rightful recipient.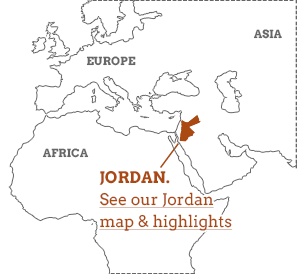 What my teenagers didnít expect from this trip was a gaining sense of how we are just specks in an enormous world. Wadi Rum does that to you.

Jordan is also a safe country to travel in, and boasts just about every aspect of educational benefits that you might seek on a family holiday. The historical sites, the geography of the desert and Dead Sea, the cultural importance of Bedouins and, something that is too cool for school, an endless amount of fun and adventure. Read more in our Jordan family holidays guide.
best time to go on a family holiday to jordan

February half term in Jordan with our kids was a little chilly, but the warmth of Jordanians was like a glorious winter glow bestowed upon us.

The best time to go to Jordan with your family is now. Tourism is relatively quiet as people donít realise it is super safe to travel to, which means that some of the big tourism sites arenít overcrowded, even during peak season school holidays. Summer holidays can be boiling though, reaching as high as 40įC but May and October half terms are perfect. And October is stunning for diving and snorkeling too. Christmas has its own magic in Jordan, particularly in Amman where the Christian communityís excitement spreads throughout the city.
JORDAN FAMILY HOLIDAYS, MONTH BY MONTH
July and August school holidays are the driest months with soaring temperatures, as the Sirocco wind brings its desert heat in, with possible sand storms during this time.
If you want to enjoy the country during the cooler months, then the Christmas holidays in Jordan are perfect, but not for beach time as temperatures can drop to as low as 5-10įC.There is also a higher risk of rain.
During February half term you will get warm days but chillier evenings and so for desert nights you will need to wrap up. It has been known to snow during February on higher ground, but we think seeing Jordan in the snow would be pretty cool really.
Easter holidays or May half term are beautiful times in Jordan. Spring starts as early as March when the country starts to gain a lot more colour, with mountain valleys turning green and wildflowers starting to appear.
The Jerash Festival of Culture and Arts takes place in late July and early August, when the ancient plazas, avenues and theatres are bursting with events.
The holy month of Ramadan changes each year as it is based on the lunar cycle. Some businesses may be closed during the day during Ramadan and it is important to be sensitive to people fasting during this time. Chat with your tour operator if you plan to travel during this time which is also a wonderful time to learn about the cultural and religious practices.
For diving in Aqaba, the best time is October half term when water is a warm 26įC, plus marine life is abundant during this time including eagle rays and turtles.
Our Jordan family Holidays
If you'd like to chat about Jordan family or need help finding a holiday to suit you we're very happy to help.

THINGS TO DO ON A FAMILY HOLIDAY IN JORDAN
Things to do on a family holiday in Jordan...
Enjoy adventures in wonderland. Jordan is home to some of the wildest and most adventurous places to explore in the world. Over 1,000km2, in fact, of wadis, wondrous mountain ranges, desert canyons and plains, forests and wetlands. All of these are now finding their place on the worldwide map of responsible adventure tourism, from camel safaris into Wadi Rum to sleeping under the stars with traditional Bedouin tribes. Jordanís Royal Family is also committed to keeping cultural heritage at the core of tourism and so itís not about just jumping on the adventure tourism bandwagon. Landscape and community are protected along the way, making for an even richer family travel experience, whether you are hiking or horse riding, cycling or snorkelling.
Visit Petra and other ancient sites. Even if ruins and ancient heritage arenít your childrenís idea of fun times, Petra will blow their minds. Itís almost better not to show them photos before they go, as they will be so overawed by the ancient Rose City that lay hidden from the world for centuries. From the minute they enter through the narrow canyon known as the Siq, they will be transfixed. The added bonus is that they get a chance to yell ďThis is Siq!Ē at the top of their voices.
Combine Jordan with Egyptian wonders on a tailor made holiday to suit your familyís ages ranges and interests, taking two weeks to explore both these countries in one go.
Things not to do on a family holiday in Jordan..
Disrespect the Bedouin people. Please remember that Petra was once their home, and that they were resettled in 1985 when Petra became a UNESCO site; many of the guides here still live in traditional communities, the largest being Wadi Musa. In Wadi Rumís Rum village, many Bedouin are working as a cooperative, largely responsible for desert tours and camping activities. Please donít take photos of local people without asking, and do learn about their culture and support their small businesses in whatever ways you can.
Turn a blind eye if you think any animals are being mistreated for tourism purposes, such as camels, donkeys or horses. This video from People for the Ethical Treatment of Animals (PETA) describes some of the negative practices. Itís not all bad, however, with a wonderful organisation called SPANA caring for over 4,000 working animals a year in Jordan as well as educating local communities. They run a veterinary clinic at Wadi Al Seer as well as clinics that travel out to remote communities. Do please donate to their cause.
Wear cosmetics when scuba diving in Aqaba as the coral reef is in danger of degradation. And never touch the coral or litter the shore. Read our Responsible scuba diving guide for more details.
Is Jordan safe to visit with kids?
Jordan is a very safe country to travel with kids. True, it's sandwiched between Syria, Iraq and Israel, which may give some cause for concern, but Jordan is politically stable, and known for being very welcoming to children.

Visiting Jordan with children, what you need to think about most are: packing for the climate at the time of year you'll be there; and journey times between locations. However, you can book a Jordan trip designed expressly with families in mind through our partners, and be confident that every step of the way has been carefully planned to ensure everyone is comfortable.
More about Jordan family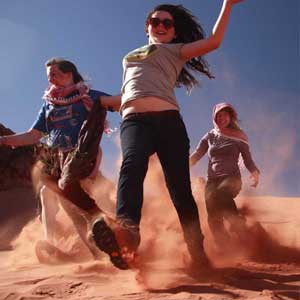 Find the best things to do with children in our Jordan family holidays map and highlights, including snorkelling in the Red Sea, visiting Petra and being wow-ed by Wadi Rum. In fact, we think Jordan is an all round wow place to go with families really.