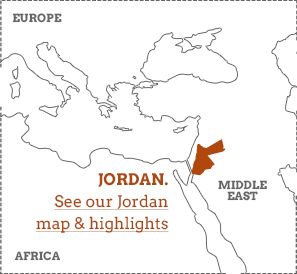 Visiting Petra when the ancient rock-hewn city is lit up by candlelight is bound to be one of the more memorable moments of your stay in Jordan. But the diverse and dramatic landscapes here, and the cultural influences that have shaped Jordan over thousands of years, are just as warmly illuminating. Jordan is literally warm too, of course, given 90 percent of the country is desert, where nomadic Bedouin tribes still wander, their hospitality to strangers legendary.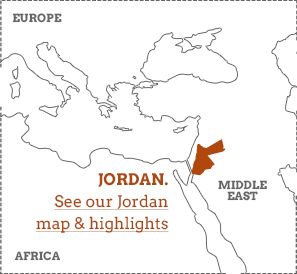 Petra is mystical, beguiling and romantic. At night, when lit by the flickering flames of more than 2,000 candles, it seems to make the rose rock glow from within.

The remainder of Jordan is made up of the Eastern Plateau and the Jordan Valley. The former rises steeply to more than 1,000m, forming a series of rugged mountains scarred with deep narrow canyons or wadis, such as the famous Wadi Rum. The Jordan Valley is part of the Great Rift Valley Ė flat, fertile land in the north sinking down to the mineral-rich Dead Sea in the centre and then a hot dry plain, Wadi Araba, that ends on the shores of the Red Sea.

Find out more in our Jordan travel guide.
Jordan is...
a country that extends a welcome as warm as the Red Sea in July.
Jordan isnít...
just about ancient sites. It promises adventures in wadis, water and wilderness.
What we rate & what we donít in Jordan
Umm Sayhoon
Access to the ancient rock city of Petra is via the narrow Al Siq canyon, however after a day of exploring it pays to leave by the lower gate instead. Following a road uphill a little way brings you to this Bedouin village which doesnít see great numbers of visitors and welcomes those who do wander past. Itís not unusual to be invited into someoneís home for a cup of tea.
Birdwatching
Jordan is one of the best places in the world for birdwatching Ė a hub for migratory species between Asia, Africa and Europe. In fact, almost 10 percent of the country is designated an Important Birding Area and you can see more than 400 species here. The best spots for birding in Jordan include the Dana Reserve, wetlands of Azraq and Petra.
Covering up
It makes sense to cover up against the hot sun in Jordan. But the other reason to cover arms and legs is simply as a nod to the conservative culture here. Itís unlikely that anyone is going to tell you off for wearing shorts or a skirt, but most Jordanians donít so itís respectful to pack long-sleeved shirts and trousers.
A nice cuppa
If you want to get to know Jordanian people and their culture, itís very easy Ė just never turn down a cup of tea or coffee when youíre offered it. Enjoying both drinks can be almost ritualistic in Jordan and being invited into someoneís home to share a cup is very common, especially when youíre accompanied by a local guide.
Hiking
Walking is a popular activity in Jordan, and there are some fantastic routes including many in the Dana Reserve. However, hiking should always be in the company of a guide, as the terrain and climate can be inhospitable. You need to be with someone that knows the way perfectly. Walking with local guides is also a fantastic way to learn more about Jordanian culture, nature and history.
Bedouin culture
Along with exploring Petra, perhaps the most common feature of a holiday in Jordan is a visit to a Bedouin encampment out in the desert sands. And for good reason. Itís a thrilling way to learn about a nomadic way of life that is at risk of dying out and your visit can help centuries-old traditions survive. Sleep over for a memorable night under a tapestry of stars.
Long showers
Jordan suffers from severe water scarcity that sometimes causes tension between communities. Itís something thatís only going to get worse as the climate crisis intensifies, so do your bit to help by keeping your daily shower short and bringing a reusable water bottle to help minimise plastic pollution.
Overworked animals
Working animals are commonplace in Jordan and sadly there is still much work to be done in raising awareness around their treatment. Camels and donkeys particularly are often abused, malnourished and forced to carry very heavy loads. If you see an animal being mistreated, get involved. Alert your guides and tour operator and share images and videos so that the message is heard.
The Treasury
Donít get us wrong Ė this iconic rock-hewn marvel is breathtaking. But thereís far more to Petra than simply its most famous sight. If you spend a full day, or even two, exploring this massive ancient capital then itís possible to escape most of the crowds. Climbing the many steps up to the Monastery makes for some seriously impressive views, too.
If you'd like to chat about Jordan or need help finding a holiday to suit you we're very happy to help.

Eating & drinking in Jordan
Hummus, baba ganoush, tabouleh, falafel and kebabs all feature regularly on Jordanian tables.

A traditional Bedouin coffee ceremony involves drinking three cups of coffee Ė be prepared.

Jordan has one of the oldest winemaking histories in the world. Although largely a Muslim country, drinking alcohol in Jordan is not a taboo, and you will often find it in hotels and restaurants. Be sure to try the wine if you have the opportunity.

Mansaf, the dish of special occasions, is lamb seasoned with herbs and spices, cooked with onion in yoghurt and served on heaps of rice with a bed of Bedouin bread. Zarb is an ancient tradition Ė lamb or chicken cooked in an oven with hot coals in desert sands.

For an insight into the Bedouin's last years in Petra, read Marguerite van Geldermalsen's
Married to a Bedouin
. She is still in Petra and sells jewellery made by local women.

People & language in Jordan
Over 90 percent of Jordanians are Sunni Muslims, but this is also home to one of the worldís oldest Christian communities, the majority being Greek Orthodox. This is not a theocratic state and all Jordanians have full freedom of worship. The official language is Arabic, but English is widely spoken, especially in the cities. However, attempting a few words of Arabic will gain you respect from the locals and is a good way to break the ice.

Salam or Marhaba  =  Hello

Ismi...  =  My name isÖ

Shukran  =  Thank you

Afwan  =  You are welcome (answer to Shukran)

Jameel or helow  =  Beautiful
Gifts & shopping in Jordan
Jordanian wine is a great present. Check out Omar Zumotís Saint George label using organic viticulture techniques.

The Soap House in Orjan, Al Ayoun, sells beautiful soaps made from local olive oil.

Ideal souvenirs from craft workshops at the Dana Reserve include silver jewellery and leather goods.

The art of mosaic lives on in Madaba, with fine work for sale at Art River Mosaic Workshop.

Jabal Amman is the cultural hub and craft shopping area of Amman.

Petra is mystical, beguiling and romantic. At night, when lit by the flickering flames of more than 2,000 candles, it seems to make the rose rock glow from within.

Is Jordan expensive to travel to?
Street food lunch: £5

Good quality dinner: £10

Kilo of large khubez (pieces of bread): £0.50

Shawarma sandwich: £1

Freshly squeezed juice: £0.50

Jordanian wine: £6-10 per bottle
A brief history of Jordan
Jordan has been a hub for humanity for millennia. There are archaeological finds dating back to Palaeolithic times and once societies developed its importance increased.
Its position as a link between continents means any movement of people between Africa, Asia, Arabia and Europe would be likely to pass through Jordan. This role as a pathway and a trade route, a conduit for commerce and communication, gave Jordan strategic importance and this in turn brought it to the attention of foreign civilisations.
Read more