Jordan is a superb place for birdwatching, as its geographical position means that it is a hub for migratory species from Europe, Africa and Asia. The birdlife of all three continents passes through Jordan twice a year on their passage between seasonal habitats, and sometimes it is possible to see specimens from each at the same time. There is good birdwatching to be had all around Jordan, yet some sites in particular are treasure troves for twitchers.
The importance of local guides
When it comes to successful
birdwatching holidays in Jordan
, the importance of having a good local guide cannot be overstated. Not only do they know what you can see, when and where (often thanks to sightings reported through connections), but they're also full of useful advice when it comes to aiming your binoculars. No baiting is used to attract birds; instead their welfare is prioritised to keep Jordan an attractive stopover for so many species.
And just as a birding trip in Jordan helps conserve protected areas through profits from accommodation and entrance fees, so hiring local guides for their expertise ensures that money enters their communities, which encourages everyone to protect birds. And importantly, report sightings.
Our top Jordan Holiday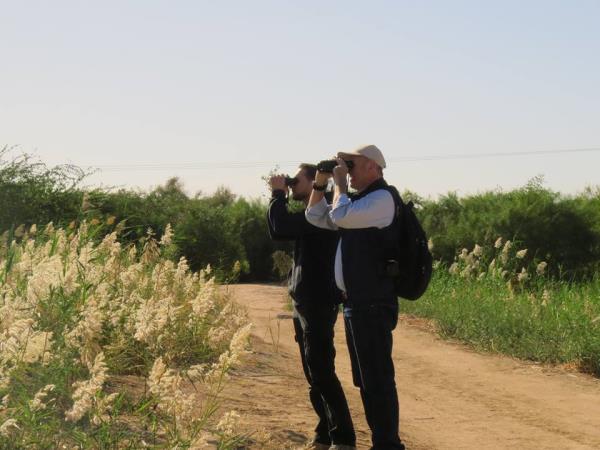 Observe the migrant birds from the theater of nature
From
US $2430
10 days
ex flights
Tailor made:
This trip can be tailor made throughout the year to suit your requirements
If you'd like to chat about Jordan or need help finding a holiday to suit you we're very happy to help.

Top 3 places for birdwatching in Jordan
Jordan is so important for bird species that almost 10 percent of its entire landmass has been designated an Important Birding Area (IBA), an international scheme to increase the protection for bird habitats. Seventeen sites in Jordan have been declared IBAs; in order to qualify for this title the area must provide an essential habitat for one or more species.
Azraq Wetland Reserve
The wetlands of Azraq out in the Eastern Desert are a favoured stopping off point not just for waterbirds but for many other species, including raptors attracted by the wealth of prey. Depending on when you visit, some of the bird species you might see in Azraq are cranes, desert lark, Temmiink's horned lark, hoopoe lark, trumpeter finch and desert wheatear.
Dana Reserve
Birds of prey are well represented in the 
Dana Reserve
too; there are many migratory species, as well as Bonelli's eagle, which breed there. Dana is also a good place to spot Syrian serin. At times, the skies of Jordan are dark with the dramatic spectacle of thousands of black kites, steppe eagles and steppe buzzards soaring overhead.
Petra
The Rose City is not all about the wonder of such buildings as the Treasury. It is also an excellent place for birdwatching, with at least two interesting species to be found here: Hume's tawny owl and the pretty Sinai rosefinch.