Bird watching in Jordan
---
At the crossroads of Asia, Europe & africa
Jordan is an exceptional place for bird watching as its geographical position means that it is a hub for migratory species from Europe, Africa and Asia. The birdlife of all three continents passes through Jordan twice a year on their passage between seasonal habitats, and sometimes it is possible to see specimens from each at the same time. All of Jordan makes for good bird watching, yet some sites in particular are treasure troves for twitchers.
Important Birding & Biodiversity Areas
Jordan is so important to bird species that almost 10 percent of its entire landmass has been designated an Important Birding Area (IBA), an international scheme to increase the protection for bird habitats. 17 sites in Jordan have been declared IBAs; In order to qualify for this title the area must provide an essential habitat for one or more species.
Azraq
The wetlands of Azraq, out in the Eastern Desert is a favoured stopping off point not just for waterbirds but many other species, including raptors attracted by the wealth of prey. Depending on when you visit, some of the bird species you might see in Azraq are Cranes, Desert Lark, Temmiink's Horned Lark, Hoopoe Lark, Trumpeter Finch and Desert Wheatear.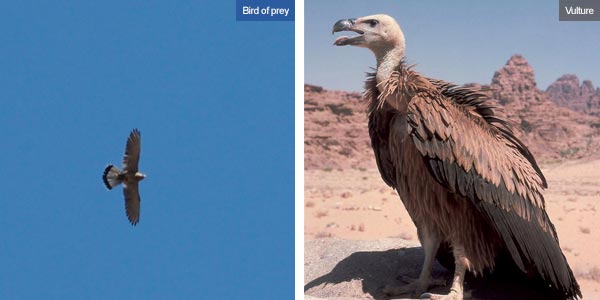 Dana Reserve
Birds of prey are well represented in the
Visit Dana Reserve
too; there are many migratory species, as well as Bonelli's Eagle, which breed there. Dana is also a good place to spot Syrian serin. At times, the skies of Jordan are full as the dramatic spectacle of thousands of black kites, steppe eagles and steppe buzzards soar overhead.
Petra
The Rose City is not all about antiquities, it is also an excellent place for birds, with at least two interesting species found here: Hume's tawny owl and the pretty Sinai rosefinch.
Read more about
Azraq Wetland Reserve
and
Dana Reserve
in Jordan

Hello.
If you'd like to chat about Jordan or need help finding a holiday to suit you we're very happy to help.
Rosy & team.
01273 823 700