Walking in Jordan
---
Follow in the footsteps of Lawrence of Arabia
Follow in the footsteps of Lawrence of Arabia and hike the majestic mountains of Wadi Rum, or see an Arcadian landscape of rural communities farming the same land that their families have for centuries along the Al Ayoun Trail. Walking takes you closer to this beautiful land and people. Read more about the various walking trails in Jordan below.
Al Ayoun Trail
Where?
The Al Ayoun Trail meanders through the mountainous and verdant agricultural communities of Rasun, Orjan and Baoun in northern Jordan. It is a twelve kilometre walk that takes you through villages that have held communities for countless generations, and past fields tilled since biblical and Bronze Age times.
Timeless
Carefully cultivated for all those years, the whole area is painted with the rich green foliage of family-owned olive groves and well-tended orchards of apricot, cherry, pomegranate, fig and almond trees. Some of the olive trees have served the families here for so long that they are as gnarled and stout as ancient European oaks.
Water
Water is a scarce and precious resource in Jordan, but this area is blessed with a number of springs that gush from the rocks at the base of the steep wadi cliffs.
The water is carefully carried away in narrow, babbling irrigation canals to feed the thirsty market gardens and orchards. In the past, the water was also used for power, running seven mills; the ruins of some can still be seen.
"There are more than thirteen natural springs in the area. Because of the water, here it is always green"
- Mahmoud Hawawreh
Culture
Each of the three villages en route has its own story; Baoun was the birthplace of Aisha al Baouniya, a pre-eminent female Islamic scholar of the 15th century. The forests around Rasun are dotted with dolmens, mysterious Bronze Age burial chambers. Orjan has a Christian tradition dating back to the birth of the religion and still has a Christian community today.
Abraham Trail
The Al Ayoun Trail is one section of an international walking route that attempts to recreate the trek undertaken by Prophet Abraham, a key figure in Muslim, Christian and Jewish faiths.
---
Dana Village Trail
Ecology
Of all the nature reserves in Jordan, Dana is special. Not only is it the country's largest, it also has an incredibly diverse biosphere. From the lofty, rugged cliff tops of the Great Rift Valley, down 1700 meters to the desert of Wadi Arabia, Dana's territory passes through four distinct eco-zones giving it a wealth of diverse plant, animal and birdlife.
Scenery
It is saturated with stunning views. Stood at the very lip of the Great Rift Valley you can look down through the snaking near-vertical wadis towards the desert far below. At sunset it seems as though you are stood at the edge of the world.
"Dana is a treasure. I love it. I was born and grew up here but every day and every moment you feel it is different. I watch the sunset and sunrise. I feel like a person who has come here for the first time"
Abdullah Hwaldeh, Dana Guest House Duty Manager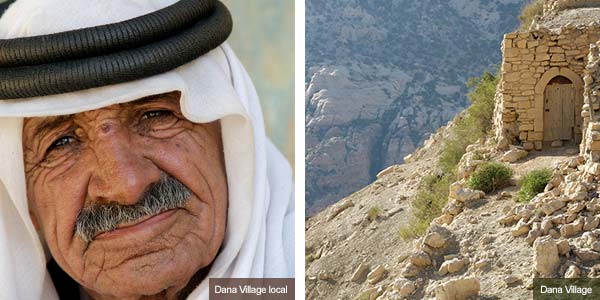 History
Dana village perches like an eagle's nest at the brink of the precipice. Its natural defences, fertile soil and springs have made it an ideal home for human communities for over 4000 years. In recent years the picturesque, honey-coloured, rock-built houses of Dana village have been slowly abandoned as families left in search of jobs elsewhere.
New life
An innovative project by a group called Friends of Dana and the work of the Royal Society for the Conservation of Nature has breathed new life into this community. Tourism has brought jobs and local people are returning to make Dana their home once more.
Tour
The Village Trail explores the narrow alleyways of Dana with glimpses through door-less entrances into abandoned houses, past local people sitting on their doorsteps and out into the terraced fields where olive trees, herbs and crops are still grown.
This is just one of several walks that start from three accommodation sites in Dana Reserve.

Read more about
Dana Reserve
.
---
Jabal Amman to Jabal Luweibdeh
Amman is a city on hills, originally seven, now around twenty. The areas of the city take their names from the hills they are built on. Although Amman is a large, modern, busy capital, it is possible to find quiet backstreets to wander through on foot.
The two hills
Two areas of Amman that lend themselves well to walking and exploring are Jabel Amman and Jabal Luweibdeh - 'jabal' is hill in Arabic. Both have narrow streets that snake around the hills following their contours, interconnected with steps and quiet alleys descending straight down the fall line. Both have strong cultural and artistic quarters with galleries, coffee shops, craft shops and historical buildings.
"There are a couple of neighbourhoods, Jabal Amman, Jabal Luweibdeh... that are gaining momentum as cultural hotspots"
Safa Hijazeen
Jabal Amman
On Jabal Amman the focal point is Wild Jordan. This is the superbly designed headquarters of the Royal Society for the Conservation of Nature, RSCN, a real architectural gem with a restaurant offering delicious views and innovative menus plus a gift shop that sells high quality crafts from all of the small scale artisan projects the society supports.
Jabal Luweibdeh
The epicentre of Jabal Luweibdeh is Darat al Funun, an art centre of international reputation housed in atmospheric and elegant 1920's buildings, with a cafe, gallery space, gardens and an outdoor sculpture studio.
Guides
There is a guidebook with a map of Jabal Luweibdeh called "My Neighbourhood" by Saleem Ayoub Quna and the RSCN has a pamphlet with route for a suggested walk around Jabal Amman.
---
Soap Maker's Trail
Where?
The Soap Maker's Trail is one of several walks through the Ajloun Forest Reserve in the mountains of northern Jordan. Most walks in the Reserve are guided. Although Ajloun is in the same area as Al Ayoun, the walks they offer are very different. Whilst the Abraham trail is through a picturesque landscape of rural communities, the tracks within the reserve reveal countryside untouched by agriculture or human habitation.
Scenery
Paths pass under a canopy of evergreen oak, rugged and small trees with intricately twisted trunks and boughs. Every now and then, the unusual pink-tinted trunks of strawberry trees appear in stark contrast. Wild pistachio and carob trees also make occasional appearances as you wind your way between the trunks and duck under branches. The forest is dotted with small meadows, and if you are here in the spring, the whole area is carpeted in delicate wild flowers.
Terrain
The Soap Maker's Trail is seven kilometres long over hilly terrain, and although not punishingly steep, the path can be quite rocky in places. Expect to walk up to the crest of hills from where there are beautiful views across the reserve and down into the wadis.
The trail starts at the visitor's centre and passes through the forest before dropping out of the reserve to finish with a visit to the Soap House where local women make soap from olive oil and locally-grown herbs.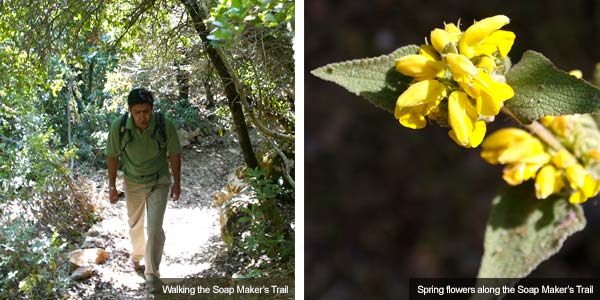 Hello.
If you'd like to chat about Jordan or need help finding a holiday to suit you we're very happy to help.
Rosy & team.
01273 823 700