Laos travel guide
---
2 minute summary
Put simply, Laos is beguiling: the mysterious neighbour of Thailand, a country that sees 10 times more foreign visitors annually, but has not one ounce of Laos's enigmatic pull. Enchanting and unspoiled, the country retains a very laid back and distinctly old-fashioned charm, its architecture vying between the stilted wooden huts of its shabby riverside settlements, decaying colonial piles, and impeccably preserved French-Indochinese temples. The pace of life in Laos is indulgently slow, but opt for a lie-in and you'll miss the essence of what makes this Buddhist nation so effortlessly spellbinding. With the dawn comes shuffling monks in robes of bright burned orange, and the riverbanks, lapped at by the lazy waves of the Mekong River and cradled by a protective ring of mist-shrouded mountains, come alive with the fascinating and staggeringly simple day to day lives of its gentle people.

Plan your journey into Southeast Asia's most hidden gem with our Laos travel guide.

Hello.
If you'd like to chat about Laos or need help finding a holiday to suit you we're very happy to help.
Rosy & team.
01273 823 700
Laos is... ...all about

kicking back

and going with the

flow
Laos isn't... ...a fast-paced

cosmopolitan

country
What we rate & what we don't
---
Our best & worst of laos holidays
Underrated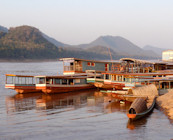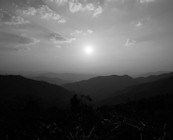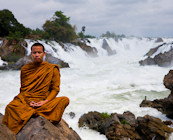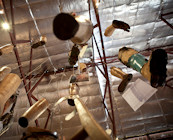 River travel
Laos is a country of many rivers that traverse dense jungle, deep gorges and cavernous caves; they are the lifeline of most rural communities. Many rivers run where roads don't, so as you pass through the country's lowland valleys you will see undisturbed rainforest, tribesmen fishing with their hands and coconut palms swaying over the distant views of temples.
Northern Laos
Many travellers tend to stick to northern central Laos because it's easier to reach, but head further north and you'll find a wonderfully undeveloped and culturally diverse area, home to over 30 different ethnicities, karst limestone cliffs, mountains and lush jungle. Put the extra work in to get there and you'll reap the rewards - it's unlikely to be long before Laos's best-kept secret gets out.
Local life
Laos might not have Cambodia's Angkor Wat or Thailand's beaches, but that's what makes it special – a trip to Laos isn't about ticking must-dos off an itinerary, it's about experiencing the culture and getting into the laid back vibe of local life. Staggeringly uncomplicated, the Laotian lifestyle will have you throwing away your watch and judging time by daylight or darkness in no time.
COPE centre
Sitting beside the mighty Mekong in Vientiane is the COPE Centre, an organisation dedicated to helping Laotian people who have been injured or affected by the country's devastating amount of unexploded ordnance. You can learn about the problem and discover more about the work undertaken by COPE via an eye-opening interactive exhibition.
Rated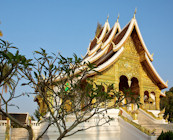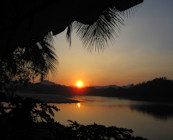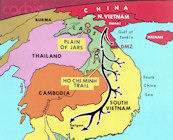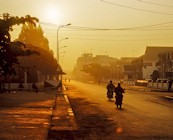 Luang Prabang
Luang Prabang is one of the most magical shores along the Mekong; it's gleaming architectural treasures are all protected sites and shine below the tropical sky like beacons against a beautifully faded French colonial backdrop. It's a firm fixture on Laos's tourist map, but its old world charm is undiminished and the tourist pound seems only to have provided a welcome polish.
Mekong River
Laos's most important resource and the greatest river in the whole of Southeast Asia, it's almost impossible to reference the Mekong without using every known superlative. It brings life to millions, not least those in Laos, the country that will finally fulfil the Mekong of your imagination – lapping water, hazy skies, lush thick jungle and a low, burning sun silhouetting the distant mountains.
Combining countries
There's a lot to see in Southeast Asia alongside Laos: Bangkok's Grand Palace; the stunning limestone seascape of Halong Bay; Saigon's sophisticated swagger – the country's landlocked position screams out for an adventure combining its intriguing neighbours and you can spend up to an entire month exploring the wonders of them all.
Vientiane
The lackadaisical approach to life that Laotians see to have nailed is nowhere more felt than in Vientiane, the Lao capital and an irresistible blend of tumbledown ruins all hugging the middle Mekong. It needs little other than Wat Si Sisket, a collection of black and gold columned cloisters that house hundreds of terracotta Buddhas; it is the most beautiful temple you will ever see.
Overrated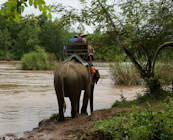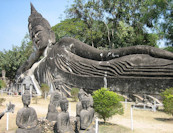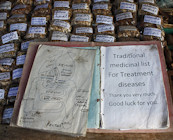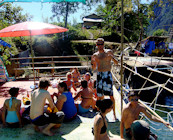 Elephant trekking
The classic jungle experience: swaying through nature atop a well-trained elephant, guided by a mahout. Sadly, the processes required to train an elephant are somewhat less idyllic. Only visit sanctuaries that don't offer rides or performances – elephants do not naturally paint, dance or make music, and supporting this condones keeping captive elephants for tourists' entertainment
Buddha Park
Buddha Park, a religious sculpture park with a reclining 40-metre Buddha for its centerpiece is like marmite: you either love it or you hate it. A monk built it, but that's about as authentic as it gets. It's popular because it's something to do for a few hours in Vientiane, but it's not something that people go to Vientiane for.
Traditional Chinese Medicine
Despite claims that the exotic lotions and potions sold in Laos under the umbrella heading 'Traditional Chinese Medicine' can cure all ills, the animal parts used in them such as bear bile, tiger bones and rhino horn, involves inhumane treatment of thousands of endangered species. Plus, they don't work. Two very good reasons to steer well clear.
Vang Vieng
Put politely, Vang Vieng's appeal is subjective - over the years it's gone from being a very quiet riverside town to a backpacker mecca, which is great if you're a backpacker, but is hugely at odds with its serene karst river scenery. As a result, it's become somewhere that travellers who used to love staying there now swerve and is sadly far more techno and tubing than reading and romance.
Food, shopping & people
---
Travel like a local on your laos holiday
Eating & drinking in Laos
---
Gluten free food faddists look away: sticky rice is as ubiquitous in Laos as air and will be your staple breakfast, lunch and dinner.

'Lao-lao' = Laotian homemade rice whiskey. It costs about £1; you'll have the best time of your life, but your head will pay in the morning.

Kaipen is a nutty, crunchy, salty speciality made from river algae – it shouldn't be nice, but it is. It's a superfood no less.

If you chance upon a beautiful purple banana flower, pick it and eat it; they can be eaten raw or cooked.




Adultery holds a prison sentence

in Laos; half way through the sentence the cheated is given the option to

free the cheater

(or not).
People & language
---
A mixed mosaic of ethnic groups, Laos has over 130 different tribes divided into 4 language groups. The Tai-Kadai are the largest ethnic group and are all Buddhist; the Austro Asiatic are shamanist and have shorter stilts on their houses than the Tai-Kadai; the Miao-Yao have a written language similar to Chinese, and the Sino-Tibetan, the least developed ethnicity in Laos, still hunt and gather and have no written alphabet. •

Any point, problem or possibility raised in Laos will be met with 'baw pen nyang', which means 'no worries' and defines the country's delightfully lackadaisical attitude.

The tricky 's' at the end of Laos is a source of constant debate, but we're sticking our neck out. It's Laos as in 'house' and Lao as in 'cow' – the Lao people live in Laos.
Gifts & shopping
---
If you want to buy traditional Lao hand-woven clothing, there are women sat at hand looms in many of the traditional villages near Luang Namtha who can produce all manner of different designs for about £4 a pop.

Saoban is a fairtrade outlet in Vientiane that supports local women and sells their artisan silk and cotton products.

A fairtrade homeware outlet supporting local enterprise, 'ma te sai' in Luang Prabang means 'where is it from?' and sells woven bags, embroidery and gorgeous Buddhist lanterns.


The one sport in which Laos ranks among the world's best is

the classic French pastime, petanque.
How much does it cost?
---
A beer: 65p

A basic lunch: £2.50 - £4

Bus/boat ticket (7hrs): £4 - £7

Kilo of fruit: 50p - £1.50

Laundry: £1 per kilo
A brief history of Laos
---
Ethnically, the Laotian people originate from southern China and settled in present day Laos, a landlocked country bordered by Myanmar, China, Vietnam, Cambodia and Thailand, in the 13th century. The Lao kingdom of Lan Xang, meaning 'kingdom of a million elephants', was then a powerful force in Southeast Asia and its territory covered most of present day northeastern Thailand (then Siam).
Read more ▼