Laos is an extremely poor country, one of the poorest in Southeast Asia, and all of its problems with animal rights seem to stem from the poverty that pervades the country.
Take the Asian elephant for example, the majestic gentle giant after whom ancient Laos, Lan Xang, was originally named and proudly credited for having 'millions' of, today, Laos's elephant population is thought to be under 500, which is devastating.
The elephant problem is threefold: firstly, logging, the business of felling trees for which elephants are widely used to move heavy loads across steep terrain. Not only is deforestation destroying the elephants' natural habitat with only an estimated 40% of Laos now covered in forest leaving herds trapped, migration routes blocked and food supply insufficient, but logging is dangerous and hard work for the elephants – many are malnourished and injury is common; there have even been stories of elephants being fed amphetamines to prolong their working hours. Secondly, the increasingly rapacious trade in wild elephants to meet the demands of neighbouring Thailand's elephant tourism is encouraging smugglers to traffic young domestic elephants across the border, furthering the decline of an already diminishing population. Thirdly, elephant tourism is a problem in Laos itself – a ride on an elephant's back through a national park may seem like a wonderfully romantic way to see nature, but a lot of elephants used for trekking are overworked heaving heavy chairs around on their backs all day (heavier still when you factor in the weight of two humans) and can develop sores and extreme fatigue. They must also be tortured into submission at a young age – certainly a less romantic way to see the forest.
The treatment of endangered animals is also a growing problem is Laos; the continual pressure for the local population to make money means that if killing endangered animals to satisfy the bizarre, but very present western appetite for animal souvenirs and 'exotic' foods makes them money then that's what they'll do. And let's not forget the 'medicinal' purposes for which animal parts are put to use. Despite claims that the exotic lotions and potions sold in Laos under the umbrella heading 'Traditional Chinese Medicine' can cure all ills, the animal parts used in them such as bear bile,
tiger bones
and rhino horn are extracted in the most barbaric ways causing nothing but pain, extreme discomfort and in most cases, death of the animal involved.
To ride on the back of an overworked elephant, buy a bear claw, or eat a stew made from endangered ungulate is not to experience the 'real Laos', it is simply to encourage the exploitation and abuse of the country's already depleting wildlife, albeit out of blissful ignorance. A seemingly harmless experience or trinket may put a smile on your face and a pretty penny in the pocket of a poor Laotian, but if tourists continue to feed the demand for animal exploitation eventually the wildlife will vanish, the supply will collapse and no one will be left smiling.
Fortunately, all is not lost and tourism is offering up some positive solutions in light of Laos's animal rights problems. Rescue centres such as
Free the Bears
are becoming louder and more widely heard against the country's problem with bear poachers, some of whom have been encouraged to become game keepers for wildlife protection agencies.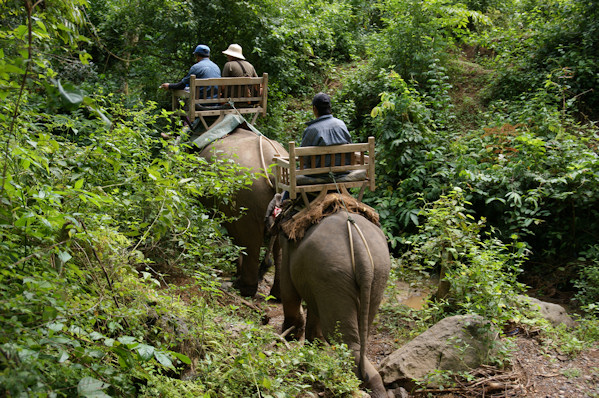 What you can do:
It's easy to get carried away with the exoticism and apparent 'traditional' practices of far flung destinations, but it's important to remember that just because you can eat it or buy it, it doesn't mean you should. A turtle shell should be on the back of a turtle swimming in the sea, not painted and put on your mantelpiece. And seriously, jungle meat? Chances are it won't taste half as good as it looks prowling in the wild, so it's best to stick to eating what you know is sustainable. The same goes for any Traditional Chinese Medicine involving animal parts – tiger bones or penis, bear bile, rhino horn – avoid it like the plague and be extra sure of what ingredients make up any cosmetics or creams that you buy. As for elephants: get off their backs! Riding on an elephant's back hardly represents the nature and majesty of an elephant's spirit. You can read more about this in our
'elephants in tourism'
guide.