Elephant trekking holidays
Elephant trekking, or elephant riding, has long been on the Asia traveller's bucket list. Whether learning how to be a mahout in Thailand, tracking rhinos and tigers through the jungles of Nepal or riding a rescued elephant in a Sri Lankan sanctuary, elephant rides have traditionally been seen as a way of getting closer to nature while simultaneously conserving this endangered species.

However, more and more travellers and tour operators are starting to question the ethics of riding these wild animals, as well as the methods used to train them. And the more questions that are asked about elephant riding, the clearer it becomes that not only is this not an ethical means of conserving elephants, but it is, in fact, precipitating their extinction in the wild.

No more than 45,000 Asian elephants remain in their natural environment, scattered across 13 countries in ever decreasing patches of land; they are classified as endangered throughout their range. The more elephants that are taken from their natural habitat to supply temples, sanctuaries and camps, the smaller their chances of survival. These days, no animal lover would dream of purchasing ivory, yet riding an elephant while on holiday could ultimately have the same impact on elephant populations.

For the millions of tourists travelling to Asia every year, a captive elephant encounter will be high on their wish lists. But so often there is a tragic story behind the elephants in these camps, as many of them will have been taken from the wild. The capture and smuggling of endangered Asian elephant calves for tourism is having a catastrophic impact on some of the last wild populations of the species.

– Jo Cary-Elwes, Elephant Family
Elephant riding is frequently compared to horse riding, husky sledding or the use of livestock in farming. Asian elephants have been domesticated for generations – centuries – so how can this be any crueller than riding a horse?
The key misunderstanding is that elephants are not, in fact, 'domesticated' – they are captive, wild elephants. Due to the difficulty of breeding elephants in captivity, they have never undergone controlled breeding in the same way as other domesticated animals; all their wild instincts remain even if they have been born in captivity or captured as babies. There are no domestic breeds of elephant. This means that all elephants must be broken in and controlled in order for them to work, be around humans – and give rides. One of the traditional ways of doing this is a process known as phajaan, or 'crushing the spirit', which originated in the hill tribes of Thailand and India. During this horrific ritual, the young elephant is kept in a cage for several days and tied to prevent it from moving. It may be deprived of food, water or sleep, and beaten, burned and stabbed to literally beat it into submission. Almost all captive elephants across Asia have endured some kind of breaking in process, and a newly broken in baby elephant can be worth thousands of pounds. This is a lucrative business. Once the elephant's spirit has been crushed, they are put through further physical abuse to teach them to perform unnatural acts: painting, dancing, pulling logs and allowing people to ride on their backs or necks. They are threatened with punishment if they don't behave. Tourists may never see an elephant being hit or abused – but if they are giving rides or performing tricks, it is because they have been taught that they will be hit if they don't. Positive reinforcement training is being introduced – the 'carrot' rather than the 'stick' method of controlling an elephant – largely by conservation organisations and genuine sanctuaries. But this is still rare, and there is no way to know if positive reinforcement has been used at the particular sanctuary or camp you are visiting. Sitting on an elephant's back, rather than its neck, causes physical harm to the elephant. Elephants may be enormous, but they have not been bred to be ridden. Their spine is damaged, their growth stunted, and internal organs may be affected. The chairs used to carry tourists add yet more weight, causing more spinal pressure and sores. Ironically, in Thailand, wild elephants are protected – yet their captive cousins have no laws protecting them at all. There are no welfare standards that elephant camps and sanctuaries have to adhere to, and no criteria for riding. This means they can be ridden all day, chained all day, they can carry as many tourists will fit on their back, and they can be hit with bull hooks to control them. In extreme cases, they may also be given amphetamines to suppress their huge appetites and make them work longer hours.
Information provided by Elemotion, Elephant Family, FAADA, Boon Lott's Elephant Sanctuary and our partner The Beyond Tourism Co.
Our top trip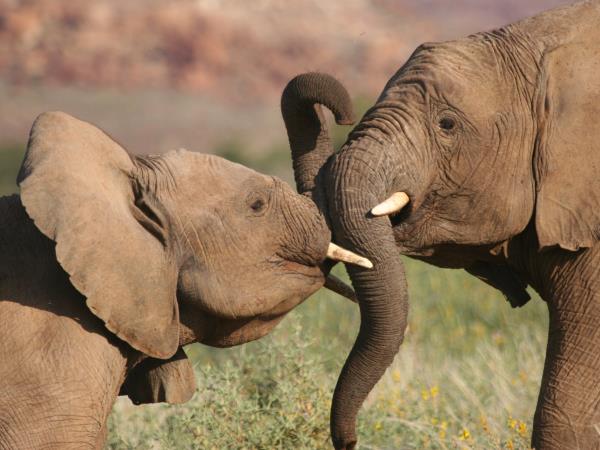 Preserve the beautiful desert elephants of Namibia!
From
£995

to

£4995
11 days
ex flights
Small group travel:
2024: 1 Jan, 15 Jan, 29 Jan, 12 Feb, 26 Feb, 11 Mar, 25 Mar, 8 Apr, 22 Apr, 6 May, 20 May, 3 Jun, 17 Jun, 1 Jul, 15 Jul, 29 Jul, 12 Aug, 26 Aug, 9 Sep, 23 Sep, 7 Oct, 21 Oct, 4 Nov, 18 Nov, 2 Dec
If you'd like to chat about Elephant conservation or need help finding a holiday to suit you we're very happy to help.

A future without trekking
Dave Tucker from our partner The Beyond Tourism Co. says: "I keep hearing stories of elephant camps that are changing to be 'no rides' within Thailand because of what customers are saying to them. It's having a ripple effect, people are seeing that places like Boon Lott's and Elephant Nature Park can be successful without offering rides and they are coming to them for advice on how to phase it out. That kind of leadership and example is having an effect on turning round other camps. Once people see that it is still profitable then the ball will start rolling. So my advice to tourists is: if the camp is doing shows or rides, avoid it. Even better, write them an email and tell them why you are avoiding it so that it's very clear and unambiguous and puts more pressure on them to change things."
Press release from our partnerIntrepid Travel:
"Intrepid Travel ended elephant rides and visits to entertainment venues on all of its trips earlier this year, following an extensive three year research process to assess the welfare of captive elephants at entertainment venues in Asia. The research was conducted by the World Society for the Protection of Animals (WSPA) with the support of Intrepid Travel, who have worked with the animal charity since 2000.

According to Intrepid Travel, the change has been popular with their travellers. 'Intrepid Travellers want to know that their travel choices are not causing harm and appreciate learning how elephants are cared for without seeing them do unnatural performances,' said Geoff Manchester, Intrepid Travel Co-founder."
More Elephant conservation articles