Seeing elephants in nature
---
WHERE THE WILD ONES ARE
Visiting a sanctuary may guarantee sightings and allow you to get up close or even touch and feed the resident elephants but honestly, nothing beats seeing a truly wild elephant moving across the African savannah or shuffling through an Asian forest. They are huge, intelligent and utterly untamed, and the slight sense of danger only adds to the breathtaking nature of your ele encounter. You will learn far more in just a few minutes with a wild herd than you would from days with a captive individual, as you observe their behaviour, free of chains, without distressed rocking or human interaction. The way the entire herd protects a tiny baby, the care with which desert elephants treat the scant vegetation, the heart-stopping mock charges if your vehicle separates a herd crossing the road are all magical.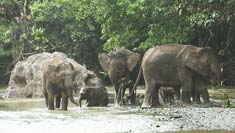 Borneo
No one is certain whether Borneo's elephants – known as pygmy elephants – are native to this island, or descended from elephants given to the Sultan of Sulu in the 18th century, but Malaysian
Sabah
and the northern regions of Indonesian Kalimantan both have wild elephant populations. Cruise past them on the Kinabatangan River or track them in the remote Danum Valley and Tabin Wildlife Reserve.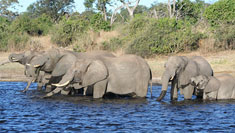 Botswana
The preservation of ancient migration routes – free from fences and farmland – have created a significant wildlife haven, and created space for one of Africa's greatest wildlife spectacles: over 130,000 elephants, more than anywhere else in the world. See them in up close in the
Okavango Delta
, in Chobe National Park and in Kasane, from a jeep, canoe or on foot. This is the ultimate elephant indulgence.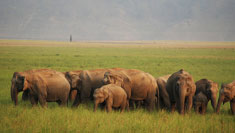 India
Captive elephants are a feature of daily life in the temples and streets of India so it may come as some surprise that these creatures can be seen roaming freely in the grasslands and forests of their natural habitats. Corbett National Park, in the far north, is one of the best places to see them; up to 350 individuals live here. Southern India's Nagarhole National Park also shelters wild elephants.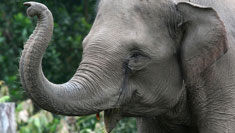 Indonesia
Few associate elephants with these islands, but the Sumatran elephant is a subspecies which has been classified as critically endangered, having lost 80 percent of its population in less than 25 years. You can come and see them in Tesso Nilo and Way Kambas National Parks. Beware the elephant camps in Bali – there is no native population here, so they exist purely for tourism.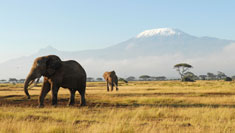 Kenya
From Amboseli at the foot of Kilimanjaro to the expanse of the Masai Mara, Kenya has some of the most iconic elephant backdrops in the world. Huge herds can be seen here, and visiting researchers from local projects sometimes offer talks at lodges. Kenya lost half of its elephants during the 1970s, but numbers are increasing. Although poaching continues, tourism is contributing greatly to anti-poaching efforts.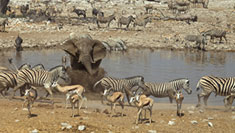 Namibia
The waterholes of Etosha are home to white elephants, their skin salt-crusted after bathing in the salt pans. Kunene's desert-adapted elephants are a unique subspecies which have evolved to deal with the harsh environment and can survive days without drinking. Elephant Human Relations Aid (
EHRA
) runs volunteer trips to monitor these remote herds.
Nepal
Nepal's elephant population is small but stable, thanks to focussed conservation efforts. Wild elephants are often migratory visitors from Bengal and India, but Bardiya National Park has a significant and growing population of around 80, 10 times as many as in the 1990s. Nepal also uses elephant safaris to support conservation work with rhinos and tigers.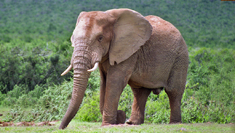 South Africa
Self-drive fans should head to South Africa for their elephant encounters. Kruger is one of the most developed spots for game drives, and elephants are abundant, with access to transfrontier migration routes. Across
KwaZulu Natal
there are private reserves, and just off the
Garden Route
, Addo Elephant Park has over 550 elephants – up from just 16 in 1931, thanks to conservation efforts.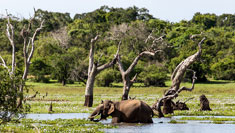 Sri Lanka
The elephant is the national animal of Sri Lanka, and this island has clung onto its populations of wild elephants – a recognised subspecies, and the largest of all Asian elephants. They are protected in national parks including Yala, Udawalawe,
Wilpattu
and Minneriya. The best time to visit is at the end of the dry season when you'll enjoy herds gathering at waterholes.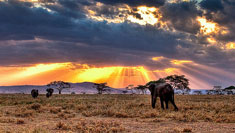 Tanzania
Tanzania is overflowing with classic game country, from the
Serengeti
and Tarangire to Ngorongoro and
Selous Game Reserve
, one of the world's largest. Well-worn migration trails give clues to the elephants' movements. A
Tanzania safari
contributes hugely to the protection of the elephants that live here; sadly, thousands are lost to poaching every year, and park fees fund rangers and training to reduce this toll.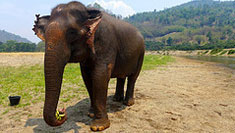 Thailand
Between 3,000 and 3,700 elephants roam freely in the dense jungles of
Thailand
, including Khao Sok, Kuiburi and Khao Yai National Parks; the latter is a UNESCO site . Their capture is illegal in Thailand, allowing numbers to recover. Some reserves have tree houses to spend the night in – one of your best chances to catch a glimpse of this elusive species.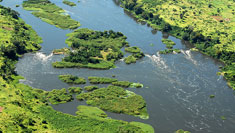 Uganda
Few would associate Uganda with elephants; it is synonymous with its other wildlife giant – the gorilla. But several of its national parks have elephant populations, which you can track in safari vehicles, or cruise past on riverboats, down the Kazinga Channel or along the River Nile. If you're extra lucky, you might spot a forest elephant in the foothills of the volcanoes.
Zambia
South Luangwa National Park protects over 9,000km2 of African wilderness – a perfect haven for wild elephant herds. Its oxbow lakes draw wildlife from across the park, so you can just sit back and enjoy the spectacle. As well as game drives, bushwalks are possible here, making an elephant encounter even more thrilling.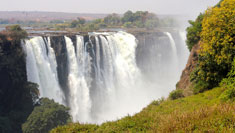 Zimbabwe
Up to 84,000 elephants live in
Zimbabwe
– though poaching is a serious threat. Its largest national park, Hwange, is unfenced, so herds are free to migrate across national borders. Volunteer projects near Victoria Falls and in central Zimbabwe support wild elephant and rhino populations through behavioural observation, conservation education, game counts and land management.

Hello.
If you'd like to chat about elephant conservation or need help finding a holiday to suit you we're very happy to help.
Rosy & team.
01273 823 700