It's a beautiful word, Serengeti, coming from the word 'Siringet' which is Maa (language of the Maasai) for 'open plains'. Plains that are home to the greatest natural wildlife festival on earth: The Great Migration, when over two million wildebeest, zebra and more head north to Kenya in search of fresh fodder. It's like Glastonbury Festival for wildlife lovers, except it goes on for longer, is wilder and the noise levels don't need giant speakers to get your blood going. Today the term refers geographically to the Serengeti ecosystem, covering 30,000km2. Most of it is in Tanzania, with the smaller section that stretches into Kenya called the Maasai Mara.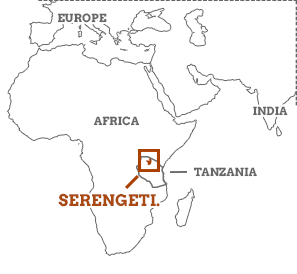 No one can return from the Serengeti unchanged, for tawny lions will forever prowl our memory and great herds throng our imagination.

– George Schaller, pioneering wildlife conservationist, biologist and author
This Serengeti travel guide refers to holidays in and around Serengeti National Park, Tanzania, which protects about half of the Serengeti and is mind blowing. Which is why, while you are there, there is one other Maa word you will want to share with your hosts: kashipa. Meaning, simply, 'I'm happy'.
The Serengeti is...
home to the world's greatest wildlife show: the Great Wildebeest Migration. It goes on for months too.
The Serengeti isn't...
just about jeep safaris. You can walk, camp and even cycle. And it isn't all sundowners at sunset on an Amex account; budget safaris are available too.
Serengeti map & highlights
The biggest highlight of the Serengeti is, of course, the Great Migration of millions of wildebeest, zebra and more. However, the Serengeti is far from a flash in the pan,' one minute they're here, the next they're gone' sort of wildlife experience. The Big Five are here to stay. The Serengeti National Park has one of biggest populations of lion in all of Africa. There are thousands of buffalo, elephants are omnipresent, hippos are forever hovering at rivers and lakes, and there are also the more elusive leopards and rhinos to catch a sighting of. So even when the gnu has gone, the Serengeti never sleeps.
1. Mara River
The Mara River rises in the Kenyan Highlands, flows through the Serengeti, and, after nearly 400km, drains into Lake Victoria. Famously the most perilous crossing for wildebeest and other animals on the Great Migration, as predators lie in wait. As do wildlife watchers keen to see the greatest wildlife show on earth, staying in nearby camps to catch sight of hippos, Nile crocodiles, rare black rhino and many more.
2. Naabi Hill
A rocky outcrop just beside one of the main gates into the park, do hike up to the top for a smack-in-the-face panoramic view of what lies ahead. Bring binoculars for this one to spot giraffes or zebras in the distance. These rocky outcrops formed by erosion of the volcanic rock are known as kopjes and, once hunting vantage points, are havens for reptiles, birds and butterflies.
3. Ol Doinyo & Lake Natron
The Serengeti landscape is interrupted solely by the nearby Ol Doinyo Lengai volcano. Translated from Maa as 'Mountain of God', you do need almighty strength to climb it. Serengeti cycling holidays pass by, with an option of a guided climb. Although most are happy to enjoy views of this sizzling 2,878m cone from their campsite on the banks of nearby Lake Natron, famous for its flamboyance of flamingoes.
4. Serengeti National Park
This is bow down, kiss the earth and worship the supreme one, when it comes to wildlife watching. Created in 1951, this legendary landscape protects 15,000km2 of vast plains, originally created to protect the lion population, but which led to the displacement of the Maasai. Today, this UNESCO site is home to lions, elephants, cheetah, giraffe, hippos, zebra, buffalo and the wondrous wildebeest.
5. Simba Kopje
The Serengeti has several rocky outcrops formed by erosion of the volcanic rock. Simba are the highest ones, also known as Lion Hill. Due to their elevated status these Serengeti royalty and their cheetah courtiers can monitor their magnificent kingdom from up above. Down below is a small hippo pool as well as Lake Magadi to the west, famous for its pink flamingoes.
6. The Great Migration
Nearly two million wildebeest head north through the Serengeti, accompanied by thousands of gazelles, zebra and eland in search of greener pastures in Kenya's Masai Mara from July-Oct. During this exquisite exodus, crocodiles, lions, cheetahs and hyena lie in wait at key vulnerable points. The main one is the Mara River but also the Mbalageti and Grumeti Rivers and the Ndutu, Masek and Lagarja Lakes.
If you'd like to chat about Serengeti or need help finding a holiday to suit you we're very happy to help.

More Serengeti articles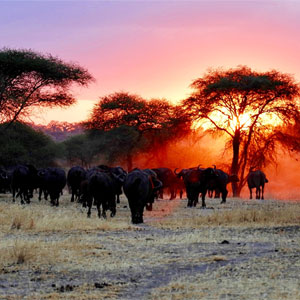 Great Migration or no, whatever time of year you visit the Serengeti is full of surprises. And it is always sublime.