Best time to visit the Serengeti

People have tried forever to predict the start of the Great Migration. But the animals' instincts will forever remain secret. No year is ever the same, which is why we love it.

The best time to visit the Serengeti for most people is when the Great Wildebeest Migration is in full flow, but actually you can see evidence of movement for many months, not just when the dramatic River Mara crossings are happening, which is June to September. During these months it is also extremely hot, pushing over the 30°C mark. Many people avoid the rainy season, March to early May, with another short one November to December. Although there is still great wildlife to be seen, at a fraction of the cost. However, January to February is green and gorgeous with young wildlife being introduced to the world.
WHAT TO DO IN THE SERENGETI
& WHAT NOT TO
Things to do in the Serengeti…
Going on a game drive is, of course, the top thing to do in the Serengeti. You can't avoid it; wildlife is everywhere. You can choose between a luxury safari camping, hotels or eco lodges, a small group tour or a tailor made trip with your own driver guide. Most safari holidays to the Serengeti National Park include the neighbouring wildlife wonders of Lake Manyara National Park and the Ngorongoro Crater. One of the most exciting ways for the more adventurous to see the Serengeti is from a saddle, with wonderful cycling holidays on offer.
Meet with local Maasai communities and read up on the issues of their land rights and history of stewardship before you travel there. Some trips are guilty of adding on a token visit to a Maasai village at the end of a trip, after you have ticked off the Big Five, without acknowledging the fact that people are at the core of the Serengeti. There are also other tribes here, such as the Hadzabe, also known as the Hadza, who have been exploited for tourism purposes and also lost a lot of their land, although their legal rights have recently improved. Read more about the Hadza. Support local people financially during your trip but also by respecting their cultures and reading up on their important heritage in advance.
Things not to do in the Serengeti...
Travel independently. This is not a thing in Serengeti National Park, as you can't go off road, and you need to be accompanied by a licensed driver guide or tour operator. For self drive safaris, head to South Africa or Namibia.
Disrespect your Maasai guide or any indigenous people you meet along the way. They have been stewards of these great landscapes for centuries. However, there have been a lot of issues over displacement of people in order to create the national park, many of which are ongoing as the government considers expanding the park borders towards Lake Victoria, for better water access. Read more.
Ignore your driver or guide's advice when around wildlife, especially on walking safaris. And make sure you travel with a responsible holiday company, who practices all the responsible wildlife watching guidelines.
It may be a very popular tourist destination, but don't overlook the fact that you will need to take some medical precautions. Visit your GP or travel clinic six to eight weeks before travelling to Tanzania as you may need to show a Yellow Fever certificate, get other vaccinations and get anti malarial medication. Always wear long sleeves and trousers, use mosquito nets and only drink bottled water.
If you'd like to chat about Serengeti or need help finding a holiday to suit you we're very happy to help.

Amanda Marks, from our supplier Tribes Travel: "The Great Migration moves constantly so you have it from December to March in the southern Serengeti – you can find the wildlife there quite easily. They tend to give birth at the beginning of the year, then move north and west, though they are more spread out so it's not such a spectacle – but you can still find them. Then from July to October they are in Kenya, but they are also in the very north of the Serengeti, which is just as good a place to see the migration."
Making the most of the experience
Andrew Appleyard, from our supplier Exodus, on his love of the Serengeti: "It is one of those incredible things to see the huge migrations lines. When I led one of my last safaris down there we saw the Big Five within a few hours and so I asked the group what they wanted to do. They asked me "what would you do?" I said I'd park the vehicle up in the middle of the migration, turn the engine off and sit there for two or three hours and just watch it pass. And that would be my top tip. I'd also ban photography for an hour – get everyone to put their cameras down. Too many people just shoot Africa through a lens and come back with 7,000 images – but don't actually just sit there and take it all in. So I make everyone put their cameras down and just sit there and watch it with their engines off."
Family travel advice
Amanda Marks, from our supplier Tribes Travel, shares her advice for those travelling in the Serengeti and Tanzania with children: "I first took my children to Tanzania when my youngest was five. In the north it's quite easy to have your own driver guide and your own vehicle; if you have that then you can do what you like. I travelled with children aged five, eight, 11 and 13 plus their parents – a group of 10. We had two vehicles and did what we wanted. You can do that in Kenya as well, but I think that Tanzania's northern circuit has more places to stop, so it's easier to break up the journey without travelling for miles and miles. If you have the right guide you'll have a brilliant time. Ours had my youngest sat on his knee and he was driving the vehicle through the national park! It's all about picking the right way to do a safari and choosing accommodation that has a pool. But if you choose the wrong places to stay and a guide not prepared for children, you won't have a brilliant time, you won't be able to let off steam at the end of the day and it can be quite boring if the children choose to tune out of the wildlife and are just sat in a car all day."
Photography tips
Dereck and Beverly Joubert are internationally renowned filmmakers, conservationists and National Geographic Explorers-in-Residence. Here is their advice for taking better photographs on safari: "When people arrive with short lenses, the problem is that they push to get closer to the animals. But with digital cameras today, you don't have to be as close as you think. You can always crop later on. The key is really to get natural behaviour by standing back a little bit and letting these things pan out. If you push too hard you will destroy the animals' natural behaviour and your opportunities as a photographer."
Budget tips
Richard Madden, author of The Telegraph's Bush Telegraph column, shares his advice for going on safari off-season:
"Consider picking up a bargain and travelling outside the peak (dry/winter) season. If you travel during the wet season, the bush is actually greener, lusher and more beautiful and the summer storms can be an intoxicating experience leaving the bush feeling fresh and revitalised. While the wildlife is more dispersed and not so focused around the waterholes, you will still often see all the large predators."
At Responsible Travel, we think the best people to advise our travellers are often... other travellers. They always return from our tours with packing tips, weather reports, ideas about what to do - and opinions about what not to.

We have selected some of the most useful Serengeti travel tips that our guests have provided over the years to help you make the very most of your holiday.

Our most memorable moments were our interactions with local people... We will forever hold in our hearts how warm and inviting everyone was.

"Book stays in tented camps. These are much more exciting than lodges and extremely comfortable too... We loved the Serengeti most... and the way Albert, our guide, helped us discover it. Also, Kirirumu camp was fantastic" – Catherine Hofman

"If you go during the dry season be prepared for dust on a grand scale! Having said that what you are seeing and doing overrides any discomfort. Don't forget your lip salve and hair conditioner as the air is very dry! You need to be fairly fit as the game drives involve long days over very bumpy roads ...make sure you always have tissues/loo paper with you as most toilet stops are al fresco" – Linda de Zilva

"The best tips I could give is: - Pack lightly (water is in short supply so bring things you can wear more than once) - Bring lots of US dollars (you can use US dollars everywhere - even in the tribal communities) - Buy on the local market (if you plan to donate to a school or community, buy the supplies locally to support the community rather than bringing them from home)" – Teresa Vandenbosch

"Aim to enjoy every part of the holiday, whether it is the flight in a prop plane and landing on an air strip with elephants and giraffes standing to on either side (or in the middle), or hundreds of hairy caterpillars in procession. Big or small, take it all in and enjoy watching and listening. The animals will be doing something different every time you see them and remember that it is a privilege to be in their environment. Don't worry about dressing up for travel or evening meals, and forget make-up and hair styling too. I would also recommend taking a travel washing line and biodegradable washing liquid and doing regular washes- the clothes dry quickly. And ladies, wear a sports bra"– Joanne Davenport

"Be prepared - it's a different world and if you want total relaxation and comfort, safaris aren't for you. However if you can put up with insect bites and a sore bottom then you will see some truly awesome sights. We think our holiday was well worth the money as we knew we were supporting local people and eco projects. That's what makes this holiday unique. Talk to your tour operator about how you can help the local people. The operator gave us great advice to bring pens and paper for the school kids, balloons as well and they loved that, we just wish we'd brought more" – Clare Hewitt

We found that the all day drive gave us the best opportunity for seeing the animals. Also we didn't expect the days to be so planned out but it worked really well...

More Serengeti articles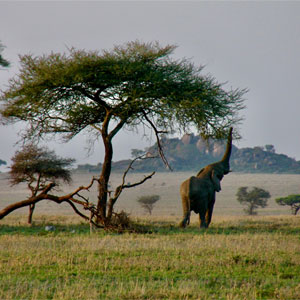 The Serengeti is the world's greatest wildlife stage, with no prologue necessary, because here you go straight to the drama.