Elephant sanctuaries which we do & don't support
---
The good & the bad in elephant conservation
Although the ideal place for elephants to live is in the wild, this is not always possible. Many elephants have been rescued from temples, zoos or circus-style attractions; they may have been orphaned or injured, and it is rarely safe or feasible for them to be returned to the wild. In this case, they may be cared for in elephant sanctuaries or rescue and rehabilitation centres, and these centres supplement their income (elephants are unsurprisingly costly to house, feed and care for) by opening their gates to tourists and volunteers. However it is difficult to know whether a place that brands itself as a sanctuary or rehabilitation centre really is as ethical as it claims to be.
We have refined our own stance on elephant tourism over the last few years, following discussions with NGOs and tour operators, and as a result we do not promote any sanctuaries which offer elephant rides, performances or other types of unnatural behaviour designed for tourists. We only promote trips to legitimate sanctuaries and rescue centres for elephants that cannot be returned to the wild. Captive breeding should take place only if there are measures in place for the babies to be able to be released into wild or semi wild conditions once they are old enough, rather than being kept in small enclosures or given to mahouts to be used in the logging industry.

In light of this we have undertaken research into a number of elephant sanctuaries and below are our findings on the elephant centres which we do and don't support. This is an ongoing process and we have, for example, seen some centres change for the better as awareness grows surrounding issues such as elephant rides. Please do get in touch with us if you have any additional information, updates or wish us to re-review an organisation on the list.
Elephant sanctuaries & projects which we support
---
Cambodia
---
Elephant Valley Project, Mondulkiri, Cambodia. This registered Cambodian NGO leads the way when it comes to setting high ethical animal welfare standards in Southeast Asia. They put elephants first and the only experience they offer is 'watching elephants being real elephants'.
India
---
Elephant Conservation and Care Center, Mathura. India's first chain-free camp with generous open space and well run visits.
Kenya
---
The David Sheldrick Wildlife Trust.
A well run orphan rescue and rehabilitation program with a high success rate of releasing elephants and also rhinos back into the wild.
Mwaluganje Elephant Sanctuary.
A community-owned conservation project.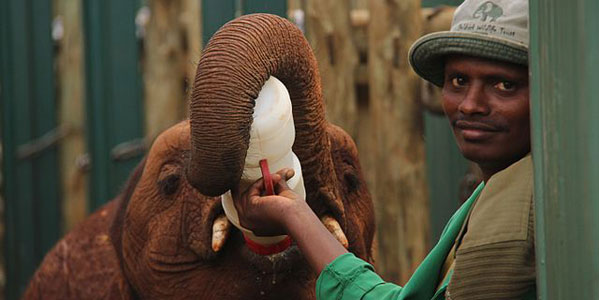 Laos
---
Elephant Conservation Center. Elephants can still be used in the logging industry in Laos, and this centre offers a home to elephants who worked in logging or tourism. As just a few hundred wild elephants remain in Laos, there is also a programme to breed elephants using mothers 'on loan' from their mahouts. The babies will remain at the centre rather than returning to the mahout, and are given the opportunity to live as wild a life as possible.

MandaLao Sanctuary Home to a small number of elephants rescued from the logging industry, there are no rides, or forced entertainment on offer here. Instead guests are able to walk through the forest with the elephants, watch them bathe and feed them (although the elephants forage over 50% of their daily food). The team here is also working with a national park to reintroduce elephants into the wild.
Namibia
---
Elephant Human Relations Aid. EHRA offers well run volunteer projects, including family volunteering, working with wild elephants and communities.
Nepal
---
Tiger Tops Elephant Camp. A tented camp where visitors live amongst the elephants. Elephants live with no chains and no repetitive day to day routines. Guests can walk with the elephants through the jungle and observe them interacting.
Myanmar
---
Green Hill Valley Elephant Park. A family owned refuge for ex working elephants. Visitors can wash the elephants, but their wellbeing and care is central to the operation. Also a reforestation centre tackling the issue of habitat loss.
South Africa
---
Space for Elephants Foundation. No direct interaction with elephants but offers educational experiences and community projects aimed at re-establishing lost migratory corridors.
Sri Lanka
---
Elephant Transit Home. Supported by the Born Free Foundation, there is no direct interaction but orphaned elephants can be viewed from a platform at feeding times before roaming back into the park.
Elephant Freedom Project. This sanctuary shelters just a handful of elephants, including one who is rented from her owner in order to prevent him from leasing her out to a trekking camp or zoo.
Thailand
---
Elephant Nature Park.
This sanctuary acts as a 'retirement home' for rescued elephants. It does not promote elephant riding or performances, and is considered a pioneer in the treatment of captive elephants.
Friends of the Asian Elephant Hospital, Lampang.
The first elephant hospital of its kind in Thailand, it pioneers new methods and technologies to heal sick or wounded elephants and even has its own prosthetics centre.
Elephant Hills, Khao Sok.
One of the few completely chain free elephant parks in Southeast Asia. It's a luxury tented jungle camp offering 'natural' encounters with elephants but no riding or performances.
Mahouts Elephant Foundation
This organisation is working towards establishing a shift in attitude within tourism that facilitates the return of captive, working elephants to a protected forest habitat. They currently run a project with hill mahouts in Thailand to oversee the return of previously captive elephants to a protected forest area while finding an alternate income stream for their mahouts. You can join their 'Walking With Elephants' programme in Thailand to help with funding this.
WFFT Thai Elephant Refuge, Tha Mai Ruak.
Wildlife Friends Foundation Trust takes an active stance against elephant exploitation. It also now has a hospital which treats wild and captive elephants.
Boon Lott's Elephant Sanctuary (BLES), Sukhothai.
All profits from this sanctuary are reinvested into elephant conservation. Guest numbers are kept low and elephant welfare is put first.
Elephant Valley, Chang Rai.
Run by the people behind the award winning Elephant Valley Project in Cambodia, which adheres to strict ethical animal welfare standards.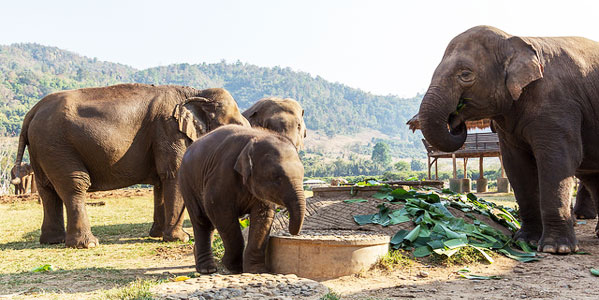 Elephant parks & projects which we do not support
---
The information below was accurate as of January 2018. If you are aware that any of these practices or policies have changed, do let us know and we would be happy to update our stance on these sanctuaries and parks.
Bali
---
Mason Elephant Park and Lodge. Billed as Bali's most unique hotel, it offers elephants up as chauffeurs transporting guests from one part of the resort to another. Elephants play basketball and are required to perform tricks for guests.

Taro Elephant Sanctuary. An awful sanctuary that prides itself on having elephants performing tricks and taking customers on elephant back rides.
India
---
Kodanad Elephant Training Centre and Orphanage.
An elephant training camp in Kerala with reports of malpractice, elephants chained to trees for long periods of time and made to pose for photos in exchange for tips for the guides.
Elephant Junction, Thekkady, Kerala.
Elephants are exploited for tourism, offering elephant rides, photo opportunities etc.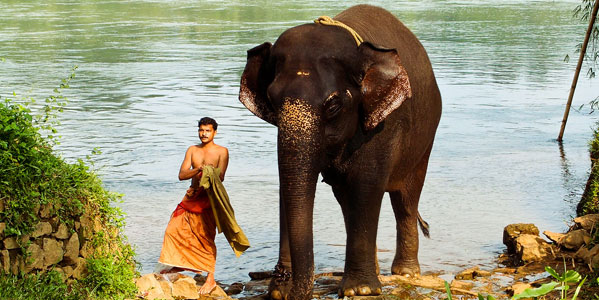 Indonesia
---
Tangkahan Elephant Sanctuary. This sanctuary is not a sanctuary in the sense that the elephants work for tourists, giving multiple elephant back rides a day. They use howdahs for transporting multiple tourists on the elephant's backs and there are reports that the elephants are forced to perform tricks and lie down in the water so tourists can bathe them.

Taro Elephant Safari Park. Elephants chained up and only exercised when out giving a ride. Howdahs are used and multiple tourists ride on the elephants' backs. Elephants are also required to participate in a daily talent show and perform tricks.
Laos
---
ElefantAsia. Described as a conservation centre 'protecting the Asian elephant', guests are allowed to sit on the elephants and go on longer treks with a howdah-style contraption for carrying luggage.

Elephant Village Sanctuary and Resort, Luang Prabang. They have now phased out use of the howdah but still offer bareback elephant rides.
Sri Lanka
---
Pinnewala Elephant Orphanage.
Also spelled Pinnawala, this is a government run centre with questionable conservation projects and low animal welfare standards. See our report on this
here
.
Millennium Elephant Foundation, Kegalle.
We do not support this attraction as it offers elephant rides. However, MEF is making efforts to raise awareness of the plight of captive elephants, and to encourage visitors to choose walking with elephants instead of riding them. They have also campaigned against the use of the howdah. We hope to see more positive progress from MEF in the coming months and years.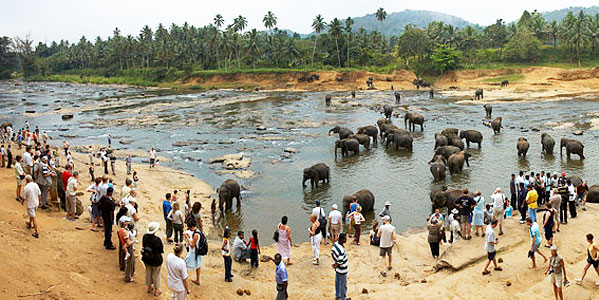 South Africa
---
Knysna Elephant Park. A park offering elephant encounters which include rides, photo opportunities and hiring out elephants for weddings.
Thailand
---
Baanchang Elephant Park. Currently offers elephant rides as part of their 'mahout training' packages. Also reports of overcrowding and elephants being encouraged to make poses for photo opportunities.

Elephant Mahout Project, Pattaya. Offers 'volunteer' placements where participants learn to ride the elephants like a mahout.

Thai Elephant Home, Chiang Mai. Offers an 'own an elephant for the day' experience which includes riding your 'own' elephant. It also operates a captive breeding programme, and visitors are invited to 'play' with the baby elephants. Habituating them in this way ensures they cannot be returned to the wild.

Chiang Dao Elephant camp, Chiang Mai. Training young elephants to paint and perform. Buys and breeds elephants, which are then trained to perform and kept in captivity permanently.

Patara Elephant Farm, Chiang Mai. An elephant breeding farm which offers rides . The babies are bred to be kept in captivity.

Elephant Stay, Royal Elephant Kraal Village, Ayutthaya. A tourist focused 'working elephant village', visitors are given branded t-shirts, ride elephants as part of learning to be a mahout, and pose for photos with elephants.

Thai Elephant Conservation Center, Lampang. Not to be confused with the hospital, this is a separate, government owned elephant camp with daily elephant shows and rides.

Surin Elephant Round-up. This festival has been reported for its abuses of elephants including getting them to perform tricks for tourists, engage in mock battles and an 'elephant buffet'.

Anantara Golden Triangle Camp.
This luxury hotel has an onsite elephant camp/mahout village. It does not offer rides, but instead organises various 'experiences' with the elephants, including dinner, picnics and sunset tours.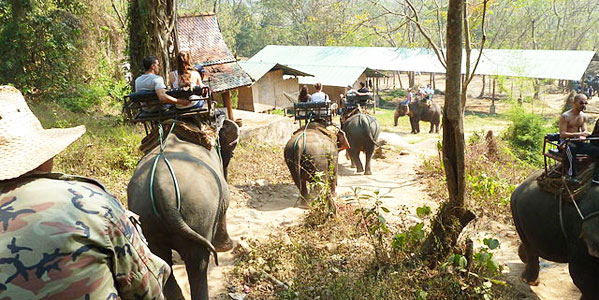 Hello.
If you'd like to chat about elephant conservation or need help finding a holiday to suit you we're very happy to help.
Rosy & team.
01273 823 700