Sanctuary, park, camp or orphanage
---
WHAT IS THE DIFFERENCE?
As commercial logging is slowly being outlawed across Southeast Asia, many elephants are unable to continue working. Without an income their owners cannot feed or support them – this is where the elephant sanctuaries come in.
An elephant sanctuary is, in theory, a place where 'retired' elephants can come and live in peace, no longer needing to work in order to feed themselves. Rescued elephants may also be brought here; those who have been maltreated, injured or
orphaned in the wild or made to 'beg' on the
streets to get money from tourists.
An elephant camp may also contain rescued or retired animals, but it is also traditionally associated with training them. Elephant camps offer rides to tourists, as well as performances such as painting, dancing or music. The elephants may also demonstrate the skills they used when working, such as carrying logs.
Performing elephants
---
SANCTUARY OR CIRCUS?
Unfortunately, there are no regulations regarding the treatment of captive elephants across Asia, so you will need to do more than just look at the name to know what goes on in each location. Despite the name, many sanctuaries and orphanages do use chains and their elephants are forced to perform or give rides – so look at their website, along with review sites to see what other travellers have to say.
All the sanctuaries featured on Responsible Travel have been screened; we do not support any performances or elephant rides – so you know that you are not contributing to the poor treatment of elephants.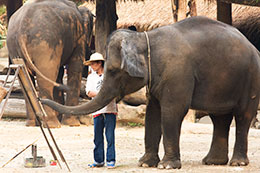 Anne Smellie, from our supplier Oyster Worldwide:
"We have had some very bad experiences. In Thailand I went to visit some elephant 'sanctuaries' to establish volunteer programmes. What I witnessed was elephants in chains, being forced to play basketball, dance, paint pictures and generally entertain western tourists, who sadly were delighted by this. As part of the experience they went for treks with the elephants, which were being hit with bull hooks by their mahouts. What I experienced in those few days was extremely troubling, and actually led to an implementation of policy for us to state what sort of organisations we would work with. Needless to say, it was not this one."

Hello.
If you'd like to chat about elephant conservation or need help finding a holiday to suit you we're very happy to help.
Rosy & team.
01273 823 700
Sanctuary pros & cons
---
WHAT DO THE EXPERTS SAY?
Cons
---
Elephant Family exists to save the Asian elephant from extinction. It works to expose the illegal smuggling of elephants and to stop calves being captured from the wild to supply the tourism industry. Their campaigns manager Jo Cary-Elwes explains more:

"Wild adults are often killed so that the babies can be captured to be sold into tourist camps. After being taken from the forests, calves are tied up, starved and tortured to 'tame' them for a life in captivity. Many die from stress, or because their bodies simply can't take the beatings. At Elephant Family, this illegal trade is the focus of our key campaign because it is having a devastating impact on wild populations.

With the growth of tourism and the constant demand for Asian elephants in captivity there are strong incentives to take them from the wild – it's a lucrative business. People love elephant calves, so they will generate greater revenue and they are also easier to train.
One of the other big drivers of this trade is known as 'buy to rescue', when sanctuaries or camps buy elephants to 'rescue' them. The sanctuaries may take care of the elephants, but they are fuelling the trade by creating a market and providing smugglers with money to go out and capture more elephants."
Pros
---
From a supplier, who wishes to remain anonymous:
"Personally I believe that sending volunteers to help out at ethically-run camps where they may still offer some limited trekking is an equally important part of the equation, especially since the more volunteers that are sent, the more money is raised and consequently, the less time needs to be spent actually offering rides to tourists.
It is a complex problem but it is my personal belief that to only support sanctuaries where no riding takes place could run the real risk of negatively impacting those who are not able to offer that "luxury" at this point in time."