The debate continued through the winter of 2007 during which time we sought the views of our tour operators and balanced these against Born Free's report:
"We take clients to the orphanage to encourage the orphanage not to deviate from their responsible policies. The more people (clients) we take to the orphanage, more the pressure and visibility on the orphanage on any shortcoming in their responsible policies. I think if tourists did not visit this place, the shortcomings would not have been revealed and the pressure wouldn't be there on the administration of the orphanage to get things right. As responsible individuals I think we must get together through our different roles to fix the problem than deserting the place and ignoring the short-comings by not visiting that place." - Concerned tour operator
In spring 2008 however, we came to the decision to remove all trips that included Pinnawala. We asked our tour operators in Asia to change their itineraries and asked them to consider encouraging their travellers to avoid Pinnawala. We suggested that our tour operators visited the Elephant Transit Home instead: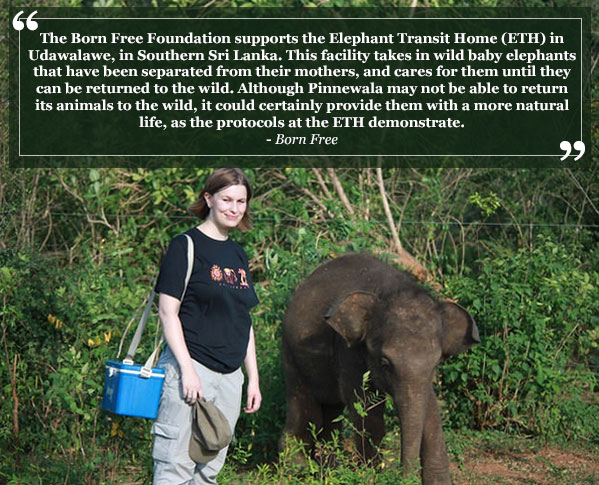 The decision to exclude Pinnawala Elephant Orphanage from our site was not an easy one. Whilst we were certain that the animal welfare standards at the orphanage were not acceptable, the question of whether we were imposing our own, Western values overseas remained an issue. However our decision was made based on the Born Free report. The final trip was removed in August 2008.
"We recognise the report from Born Free and although the short term alternatives to Pinnawala are far from ideal, our belief is that this does not make it acceptable to visit and therefore condone their current practices. Born Free have identified an alternative destination for travellers who wish to see elephants in captivity - the Transit Home - which will also benefit from tourism." - Justin Francis, co-founder and Managing Director of Responsible Travel