Selous Game Reserve travel guide
---
2 MINUTE SUMMARY
Boutique lodges are scattered sparingly around the savannah, each with a just handful of raised tents overlooking its own patch of water or woodland; no permanent structures are permitted within this UNESCO World Heritage Site. A bushwalk with a passionate, naturalist guide could bring you within metres of a herd of buffalo or elephant, where you'll be praying that the thumping of your heart doesn't cause a stampede. A nighttime game drive will sharpen your sense of hearing, too – for a snapped branch, the rustle of dry grass – as you scan the darkness for the reflection of an eye. Selous' geographical location means that both Southern and East African game roam across its grasslands, lured to the sweet waters of its rivers and lakes where boats cruise past bathing elephants and bobbing hippos.
Selous dwarfs the far more famous Serengeti, yet receives just a fraction of the visitors. It is one of Tanzania's most exclusive destinations, and its remoteness, expanse and limited lodging ensure it remains so. Animals far outnumber tourists, and the rare experience of being deep in the East African wilderness is one not to be missed.


Hello.
If you'd like to chat about Selous or need help finding a holiday to suit you we're very happy to help.

Rosy & team.
01273 823 700
Selous map & highlights
---
MAKE THE MOST OF YOUR TIME
When a reserve is the size of a small country, you might be wondering how on earth you go about deciding which parts of it to visit. But in reality, traditional safaris take place only in the far north of the Selous (around 5 percent of the total area) – making them far more accessible from the popular northern game parks – with the south made up of hunting reserves. The north contains the main lodges and camps – as well as the Rufiji River and Lake Tagalala – meaning you can take your pick of accommodation and safari styles – from bushwalks and traditional game drives to sunset cruises. Selous is normally reached via a short flight from Dar es Salaam; but to really experience the vastness of Tanzania, take the 5-hour train journey through the bush. Your daily commute this is not!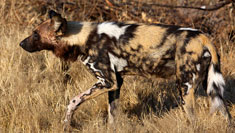 African wild dogs
Wild dogs – also known as painted dogs due to their beautifully patterned fur – are highly endangered. Selous is the best place in Africa to observe them in their natural habitat as they live here in great numbers. The eastern region of the reserve offers the greatest chances of sightings of the dogs – as well as of lions, their main competitor – and predator.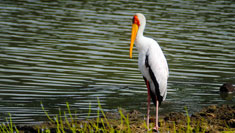 Lake Tagalala
This oxbow lake, bordered by the skeletons of trees which were drowned as the waters rose, draws elephants, wildebeest and zebra from across the plains during the dry season – these in turn attract lions and other predators. The lake is wonderful for keen birders, too, with many species thriving along its banks. Drive around the lake, cruise its tranquil waters or bathe in the natural hot springs nearby.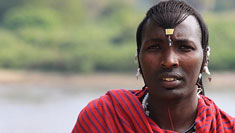 Maasai villages
While Selous may seem like a vast wilderness, people do live along its borders, and visiting a Maasai village may just end up being one of the most memorable experiences of your Selous safari. Far from the contrived "tribal" experiences that may be found in more touristy regions, the villagers here are warm, welcoming and simply going about their daily life – find out what life is like beside Africa's largest game reserve.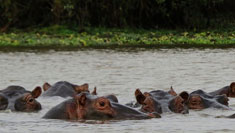 Rufiji River
Tanzania's largest river slices the reserve in two on its journey from the highlands down to the Indian Ocean. Rufiji, and the lakes it leaves in its wake, provide a habitat for hippos and crocs, as well as the opportunity to view wildlife from a boat – a truly tranquil experience. The mighty river winds through forests and grasslands, and small bankside camps guarantee scenic sunset views.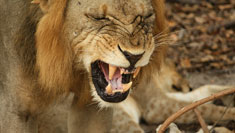 The Big Five
The eastern section of Selous is dense with game – including the Big Five, so named because they were historically considered the most challenging (and dangerous) to hunt. Today, the only (legal) shooting taking place in this part of the reserve is with a camera – and you'll have plenty of opportunities to train your lens on the 120,000+ buffalo and 4,000 lions, some of the highest concentrations in Africa.