Hunting wild dogs
---
By Anna Rice

Tanzania's Selous Game Reserve is four times larger than the Serengeti, yet it's largely undiscovered by tourists. Responsible Travel's Anna Rice had a dream to travel to Selous in search of one of Africa's most endangered predators – and also one of its most elusive: the African wild dog. But with just 800 dogs remaining in an area larger than Switzerland – would the long journey south be worth it?

When I began to plan my trip to Tanzania, I knew Selous was where I wanted to go, not just because I had heard tales of it being like the 'Africa of old' where it's still unusual to encounter other safari vehicles, but because it is one of the best places to see rare African wild dogs in their natural habitat.

I first came across wild dogs some years before, watching the zoologist Jonathan Scott on TV tracking a pack in the Okavango Delta. He spent days watching and drawing them, observing the social bonds, rituals and elaborate greetings of these sadly maligned predators – behavior that brought me very close to home, and to the dogs I had grown up around. Since then, I had always wanted to see them for myself in the wild…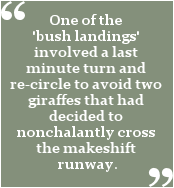 Getting to Selous would be half the adventure however as it involves flying from Dar es Salaam in a tiny turbo prop plane – not an experience I was relishing as a non-confident flyer! Squeezing into the 12-seater Cessna, which seemed to bounce about as people and bags were loaded on at Dar, did not do much to allay my fears, nor did its side to side rocking routine as we climbed through some midday thermals. A man in the seat across the tiny aisle could see I wasn't enjoying the journey and started to point through the window – "just look", he said. The blue and red roofs of Dar had transitioned into miles and miles of dusty red and gold plains segmented by thin, grey river tributaries. Mesmerised by the African wilderness, I soon forgot about everything else. Our camp, as it turned out, was the furthest along the Rufiji River, which meant we were treated to quite a few 'bush landings' before the journey was through to drop off other passengers, post and groceries. One of these involved a last minute turn and re-circle to avoid two giraffes that had decided to nonchalantly cross the makeshift runway.

With the humidity building, we were pleased when we finally landed and were warmly greeted by Vitus and Nenga, who would be our guides throughout our stay. Both were from villages around four hours' drive from the camp and so knew the lie of the land, and its flora and fauna inside out. Vitus asked us what we would most like to track the next morning, suggesting lions, elephants, giraffe and buffalo. "… And wild dogs?" I tentatively added. Vitus responded with a knowing look before telling us that although everyone would like to see the wild dogs there was no guarantee – "they travel huge distances each day in search of food and Selous is a vast place", he reminded us.

Vitus told us that there was one animal we would soon get to know very well. He gestured towards the river behind our camp where 20 boulder-like humps were just about visible above the murky water – "I just hope you like hippo song," he said with a smile. Although it was the season of the short rains, they were yet to arrive and the Rufiji River was at an all-time low. The hippos, who were having to share increasingly small, muddy pools, were not happy about the arrangement and each time one moved, a cacophony of grunting, snorting and splashing would ricochet through the group. "An African lullaby to send you to sleep," Vitus optimistically put it.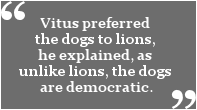 It didn't stop us from sleeping and the next morning we were awoken at sunrise to great excitement – a pack of 10 adult wild dogs with six pups had arrived overnight and were camped out by a dwindling, nearby waterhole. We set off with Vitus and it wasn't long before we heard high pitched whimpering and yelps echoing through the otherwise eerily quiet dawn. Vitus turned off the engine and the pack came crashing through the scrub with the remains of an impala. They were in high spirits having perfectly positioned themselves to intercept any weakened animals which were heading to the river to drink. This presented the adult dogs with a great opportunity to teach their growing pups how to hunt, and daytime preparation – play-hunting with leaves and sticks – was amusing to watch. Vitus preferred the dogs to lions, he explained, as unlike lions, the dogs are democratic. Whereas a male lion will eat first, allowing its cubs to starve if there is not enough food to go around, the dogs take care of the entire pack ensuring that the young, weak and old all get a share.

Their hunting strategy may be formidable but the wild dogs' feeding ritual is by contrast almost gentle. We observed what Vitus termed the 'feed-me dance' where the pups would circle and twitter at adults returned from a hunt until they responded by regurgitating impressively large chunks of the kill for them. The pups that didn't manage to claim their share of the spoils that time around would find a nearby stick - or sibling - to pounce on instead, their white, duster-like tail tips wagging as if to show they knew they would get their fair share from another adult in the group shortly. Observing the tight bonds of the pack in action over the next few days – witnessing their intelligence and their playfulness – felt like such a privilege and I hope that many future generations will have the same opportunity.
How can I help?
The African Wildlife Foundation is working on vital conservation initiatives for wild dogs, including constructing livestock enclosures and engaging scouts. You can
find out more
and
donate here
.
If you spot Wild Dogs while on safari, the Tanzania Carnivore Conservation Project at the Tanzania Wildlife Research Institute (TAWIRI) is running a Dog Watch campaign and is looking for photos of Wild Dogs spotted in Tanzania. For details of how to send them your photos, please see
here
.