Ancient Macedonia history
The Macedonian region covers an enormous area with boundaries that have shifted regularly and confusingly over the centuries, but now can be said to encompass much of northern Greece, as well as parts of North Macedonia, Bulgaria, Albania, Serbia and Kosovo. It has also spanned a vast passage of time from antiquity, with its most notable period during the reign of Alexander the Great during the fourth century BC. Also known as Alexander III of Macedon, the warrior king massively expanded the Macedonian Empire by taking control of the various city states that comprised Hellas (Greece), before embarking on a prolific campaign of conquest that stretched as far as India and encompassed much of Africa.
Macedonia dipped in and out of existence, changing shape through the Roman, Byzantine and Ottoman eras, before finally arriving at an area that broadly corresponds with how it is identified today. Given that heritage, it's hardly surprising that the Macedonian region has an extraordinarily diverse population, not to mention steep cultural and religious differences that have led to shifting loyalties, ethnic conflict and controversy for generations. One of the bitterest disputes of recent years has been over the name Republic of North Macedonia, and to which country the legacy of Alexander the Great (who died in 323BC) truly belongs.
So, given all of that, defining Ancient Macedonia and its boundaries can be a little tricky. Most people will associate it with the region of northern Greece known as Macedonia, where the city of Thessaloniki is located. But can one really understand Ancient Macedonia, or appreciate the military genius of Alexander the Great, without also exploring further, such as into Bulgaria, which was pacified by his father, King Philip II, or North Macedonia from which his brief but mighty empire grew?
History tours of Ancient Macedonia
Touring the historic sites and cities of Ancient Macedonia and the lost empire of Alexander the Great is bound to hold significant appeal for history buffs, not only to see what are often extremely well-preserved monuments, but also to get a firmer grasp on the colourful cultural contrasts between countries whose pasts are deeply entwined.
Heraclea, North Macedonia
Built by King Philip II in the 4th century BC and later taken over by the Romans, Heraclea was abandoned after an earthquake in the 5th century AD, but its ruins, including a small basilica and some beautiful mosaics, survived. A Roman theatre which would have been used for gladiator exhibitions has also been excavated, based solely on the discovery of a ticket made of bone.
Lake Ohrid, North Macedonia
A key destination on North Macedonia holidays,
Lake Ohrid
was known as the 'Jerusalem of the Balkans' for the staggering number of religious sites that lined its shores. Among the most treasured historic landmarks here are the Sveti Naum Monastery, the Samoil Fortress and the dramatic Church of Sveti Jovan at Kaneo.
Pella, Greece
The birthplace of Alexander the Great in 356BC, Pella was a powerful seaport and the capital of the ancient kingdom of Macedon. Archaeological excavations have revealed stunning mosaics, streets of colonnaded houses with frescoed walls, over 1,000 tombs and the remains of a huge palace. A fascinating museum here does a superb job of bringing ancient Pella to life.
Rila Monastery, Bulgaria
Founded in the 10th century and still inhabited by a sizeable population of monks, Rila Monastery is a work of art, renowned for its wood carvings, porticos and vibrant frescoes. A UNESCO World Heritage Site, it is one of the biggest visitor attractions in Bulgaria and a site of great religious significance, set amid a beautiful nature park.
Skopje, North Macedonia
Across a turbulent history, Skopje has passed from empire to empire. Now capital of North Macedonia, the city is overlooked by the Kale Fortress. Much of the city's historic architecture was sadly destroyed by an earthquake, but many Ottoman buildings remain, including many mosques and Turkish baths. The old bazaar is superbly preserved and as busy as ever, a must-see, as is the controversial statue of Alexander the Great on horseback in the main square.
Our top trip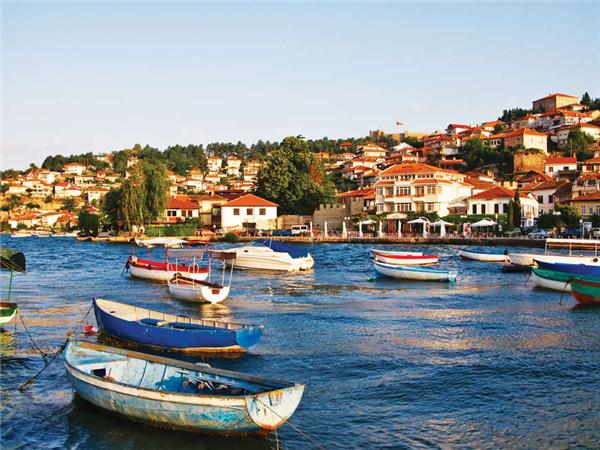 Explore eastern Bulgaria, northern Greece and Macedonia.
From
£2025

to

£2260
15 days
ex flights
Small group travel:
2024: 28 Apr, 5 May, 2 Jun, 21 Jul, 1 Sep, 8 Sep, 15 Sep, 22 Sep
If you'd like to chat about North Macedonia or need help finding a holiday to suit you we're very happy to help.

Thessaloniki, Greece
Greece's second city and the capital of Greek Macedonia, Thessaloniki's architecture documents Roman, Byzantine and Ottoman rule while at the same time feeling wonderfully cosmopolitan. Beyond its impressive museums, the most important sites here include the Roman Rotunda, the White Tower and the Acropolis. Oh and bring an appetite: Thessaloniki is widely regarded as one of the best cities to eat out in Greece.
Vergina
In ancient times, this city was known as Aigai, and was the seat of Macedonian kings. Innumerable significant discoveries have been made, including the bones of Philip II, who was assassinated and buried here, a monumental palace rivalled only by the Parthenon as a treasure of classical Greece, and jewellery, armour and ivory recovered from royal tombs.
More North Macedonia articles