North Macedonia food & drink
It was once illegal to barbecue red peppers in North Macedonia. €50 fines were slapped on anyone caught – red handed – grilling in an outside space from 2008-2016. Not only was this an assault on the age old practice of cooking ajvar but it also stunk of heavy handed government hypocrisy. Pollution from furnaces, factories, chemicals, pharmaceuticals and unfiltered industrial chimneys, especially in the winter, is rife in North Macedonia's cities, including the capital, Skopje. This is what should have caused most concern to the government, not outdoor communal cook outs
Goran Janevski has been working in partnership with our North Macedonia small group tour experts, Explore, for more than 20 years: "Ajvar is a red pepper paste – like a spicy pate – that's made outdoors at harvest time (Sept/Oct) by roasting peppers over an open grill. It shouldn't be cooked inside as it's too spicy for the eyes. That's why people living in blocks of flats cook outside in communal gardens or in front of their garages. All over North Macedonia people take out the seeds and grind the paprika pepper with aubergine, salt, pepper and lots of vegetable oil. When the paste is ready you can run a spoon through the pan so it looks like Moses parting the Red Sea."
Thankfully, in 2017, the ajvar ban was lifted by the new incoming government, and North Macedonia's elderly, especially, rejoiced. This annual event was not just about cooking red pepper paste; it means much more than that. It's a ritual that's been handed down through the generations. It's a joining together of families, friends and neighbours. Everyone makes avjar for two or three days in a massive cook out. Up to 250-300 kilos will be produced, per family, and then stored to eat over the winter.
Slow food revolution
Ajvar production is a slow process that harks back to days when food wasn't mass produced and canned in factories. North Macedonia was one of the poorest regions in the former republic of Yugoslavia. They had to make do with food based around the most available ingredients like seasonal vegetables, flour, wheat and corn. This is why you'll find lots of pies (zelnik) and flaky filo pastries. Everything goes into their pies: feta cheese, meat (usually sheep), pumpkins, spinach, leek, cabbage.

Forget about fast food – home cooking invites a slower and more interactive pace. Try it for yourself and you'll understand what goes into a recipe and why some meals hold much more importance than others. Conversations spark in locally-owned guesthouse kitchens much more readily than a huge hotel's dining hall. There's no better way to unlock a country's secrets than helping out at mealtimes.

As Goran explains, "Over the years we have supported many small projects at local level. For instance, we always take tour groups to visit a man in the village of Kratovo to learn about local history, homemade cooking and the production of their local products, like special herbal salt. He is always unbelievably enthusiastic and happy to receive new people into his home. Since we first started visiting him he has bought an old house in the village and turned it into homestay accommodation where he can continue to receive guests and teach them how to cook."

By getting out of the cities and into the countryside you'll find food that's made the old fashioned way. It not only tastes better than anything you can get out of a packet, but traditional recipes are burned into the nation's psyche just as prominently as Christianity, socialism and border disputes with Greece. Pickling (turšija) sustains an all-year-round larder with everything from cauliflowers and cucumbers to bell peppers, onions and cabbage finding its way into tightly sealed jars.
North/south divide
You'll also find meals vary from north to south. Meat based dishes, root veggies and stews are much more prevalent in the mountainous, cooler north.
"Tavče gravče is a bean stew and a very traditional dish to try in North Macedonia. Turli tava is another traditional stew and includes meat and vegetables cooked in the oven. I personally love sarma which is meat and rice wrapped in cabbage leaves." - Goran Janevski
Salads and fruit are used a lot more in the south, where the climate is more akin to the Mediterranean. In the summer months, down south, local markets are alive with colour. Bursting ripe red tomatoes and freshly cut lettuces sit side by side with watermelons, peaches and apricots.
North Macedonian wines – mainly reds – are also a product of the milder temperatures south of Skopje. Grape growing regions in the centre of the country, such as Kavadarci, Negotino and Demir Kapija, were once the lifeblood of Yugoslavia, although production has decreased significantly since the break up in the early 1990s. Some wineries, such as King Alexander's winery, Villa Marija, have been running since the early 1920s. However, head over the border into Macedonia – which is now officially considered a part of Greece – and viticulture goes back much further.

Other neighbourly influences can be found in the country's coffee which has a distinctly Turkish flavour; whilst a North Macedonian meze has its origins in the Mediterranean, where you'll find flat breads, salads, feta cheese, olives, cold cuts of meat (in the north) and seafood (down south) served with avjar (paprika pepper) and pindjur (tomato) paste. Greek influence also stems to honey, tahini and sesame seeds in lots of breads and pastries. Kebab-style meats and sausages, served with kajmak (clotted cream), also originate from across the border and let's not get started on the origins of baklava. Suffice as to say it's sticky and delicious wherever you eat it.
Our top trip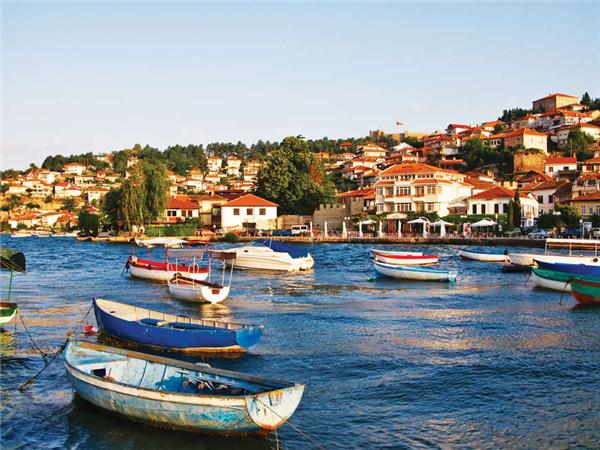 Explore eastern Bulgaria, northern Greece and Macedonia.
From
£1999

to

£2299
15 days
ex flights
Small group travel:
2024: 28 Apr, 5 May, 2 Jun, 21 Jul, 1 Sep, 8 Sep, 15 Sep, 22 Sep
If you'd like to chat about North Macedonia or need help finding a holiday to suit you we're very happy to help.

Trout's off the menu
Goran Janevski has been working in partnership with our Macedonia small group tour experts, Explore, for more than 20 years: "Lake Ohrid has had a very bad time with trout fishing. At one point all the trout in the lake were almost gone. In North Macedonia it became illegal to fish for trout from 2004-2014. Now there are many trout farms where the animals are protected and the population can increase. These farms introduce fish back into the lake as well as selling them as a sustainable source to local restaurants. Unfortunately, on the Albanian side of the lake, there has been no ban on trout fishing. You can still do it. Black market fish is often brought across the border. We recommend avoiding any restaurant with Ohrid trout on the menu unless you know it has come from a sustainable local fish farm."
Travelling through the Balkans, not just North Macedonia, is a great way to find out more about the cross-over cultures related to food and drink. Be brave; ask your guide questions; learn a little of the language. Any experience will be enhanced by what you eat; just make sure to visit small, out of the way restaurants and stay with local people, off the typical tourist trail, to get a true taste of adventure.
More North Macedonia articles